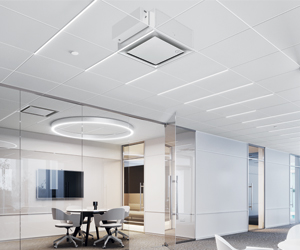 The 24/7 Defend ™ air purification portfolio offers in-ceiling air cleaning solutions, both MERV 13 air filtration and UV-C air disinfection. These products are easy to install and retrofit, do not require HVAC integration, and are recognized as best practices by ASHRAE and the EPA's Clean Air in Buildings Challenge.
In-ceiling air purification is unobtrusive and part of a long-term strategy to improve indoor air quality. Reassure building occupants in spaces where they work, learn, heal and play.
Learn more about using 24/7 Defend™ to achieve superior IAQ at Armstrong Ceilings.