by Theresa Walsh Giarrusso
In the past, designers had to choose between using sustainable, 100 percent regenerated carpet fibers for a project or achieving the perfect palest color or purest white that they envisioned with a less sustainable fiber. But not anymore.
Aquafil has taken its revolutionary ECONYL® carpet fiber even further and created ECONYL® Pure, the first regenerated nylon polymer so transparent and free of impurities it can be used for yarn and piece dyeing in any shade imaginable. The regenerated fiber polymer pellets are fully clean and transparent so even the lightest pastel shade can be achieved and reproduced over and over.
"The carpet industry was lacking a viable solution for space dyed yarns, which are still part of the designer's tool box, and for differential dyeing, which is still fairly popular especially in commercial applications," says Franco Rossi, president of Aquafil USA Inc. "Approximately 12 months ago we realized the caprolactam (the monomer that nylon 6 is made from) coming out of our depolymerization units in Slovenia was as clean and 'pure' as that which is made out of traditional technology. So we thought we could expand the use of it out of the solution dyed field and into something more challenging like yarn and piece dyeing."
ECONYL®Pure took Gold for Carpet Fiber in the 2017 Best of NeoCon competition.
A designer's candy box
ECONYL® Pure is produced in the same way as ECONYL® solution dyed. It has the same properties that make it crush resistant, soil resistant, and wear resistant but instead of being solution dyed, it is white, which means that it could be dyed afterwards, according to any color request.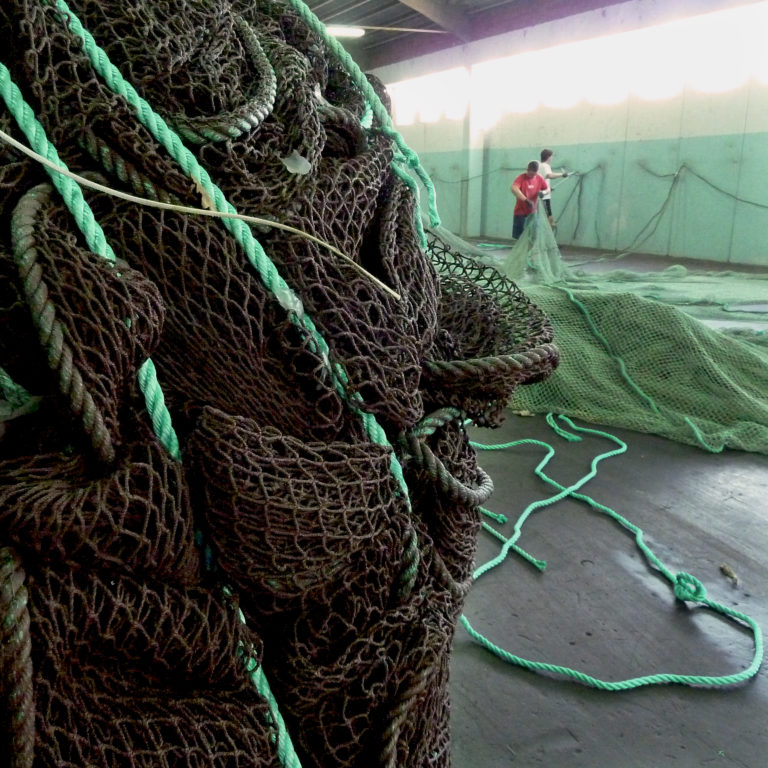 All ECONYL® fibers — both solution-dyed and ECONYL® Pure fibers — are 100 percent regenerated yarns made from nylon waste that can be pre-consumer (industrial) or post-consumer (end-of-life products such as fishing nets or carpets, at right). Traditional industry recycling processes can result in material degradation, but Aquafil's nylon 6 regeneration process returns the waste material back to its virgin state without any degradation or loss of quality. The ECONYL® Regeneration System is the world's most efficient industrial system for the production of nylon 6 from regenerated waste materials.
The ECONYL® Regeneration System has a proprietary depolymerization unit serving as its beating heart. This chemical process "un-zips" the nylon 6 molecules and returns them to their monomer state of caprolactam. This regenerated caprolactam can then be turned back into new nylon 6 polymers which are identical to the ones made from fossil fuels. This process can be repeated an infinite number of times with no loss of quality. Here are the steps in the process:
1)    World-wide waste rescue: Identification, localization and recovery of waste all around the world.
2)    Storage and preparation of pre- and post-consumer waste.
3)    Depolymerization: Transformation of waste back into raw material (caprolactam).
4)    Polymerization: Transformation of raw material (caprolactam) into polymers.
5)    Polyamide 6 chips are turned into yarns.
6)    Recommercialization: Yarns are used by our customers to produce sustainable final products.
"In carpet fiber ECONYL® Pure is available in 4 different dye affinities (3 acid and 1 cationic) and several counts and luster levels. It is a designer's candy box. It can also be used as a print base or for solid continuous dye ranges and as a space dyed raw material. In textiles, there are microfibers and more conventional sizes, all with perfect dyeing properties," says Rossi.
Certifiably sustainable                                                    
As more and more projects are seeking environmental certifications, such as LEED and Petal, architects and designers should know that ECONYL® Pure can help achieve these goals without compromising their designs.
"We have seen a dramatic increase in demand for ECONYL® yarn and for environmentally sound products. We believe this will continue especially when more and more recognizable brands embrace the idea of promoting conscious business behaviors in the choice of raw materials and manufacturing processes," says Rossi.
According to the U.S. Green Building Council, every day 2.2 million square-feet are LEED certified and to date, there have been nearly 37, 800 projects in 165 countries and territories that have achieved LEED certification.
The 2015 Green Building Economic Impact Study found that green construction's growth rate is rapidly outpacing that of conventional construction and will continue to rise.
And with ECONYL® Pure, designers and companies can rest easy that they can prove sustainability.
"ECONYL® Pure is certified by UL.  It is also Cradle-to-Cradle gold certified — which means that when carpet manufacturers go to certify their final product, ECONYL® Pure has already met the threshold for Gold level and lower certifications, making C2C certification easier," explained Rossi.