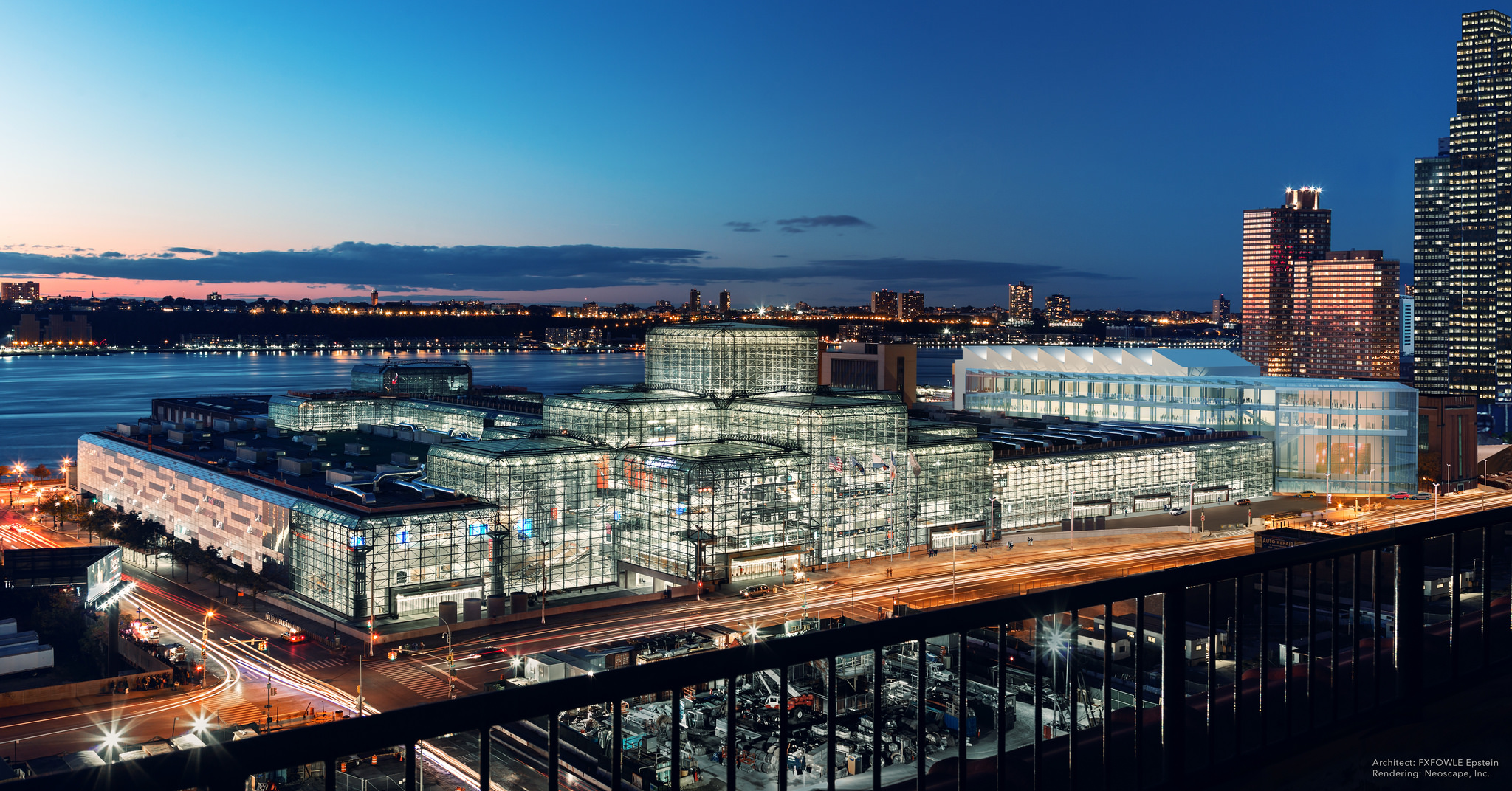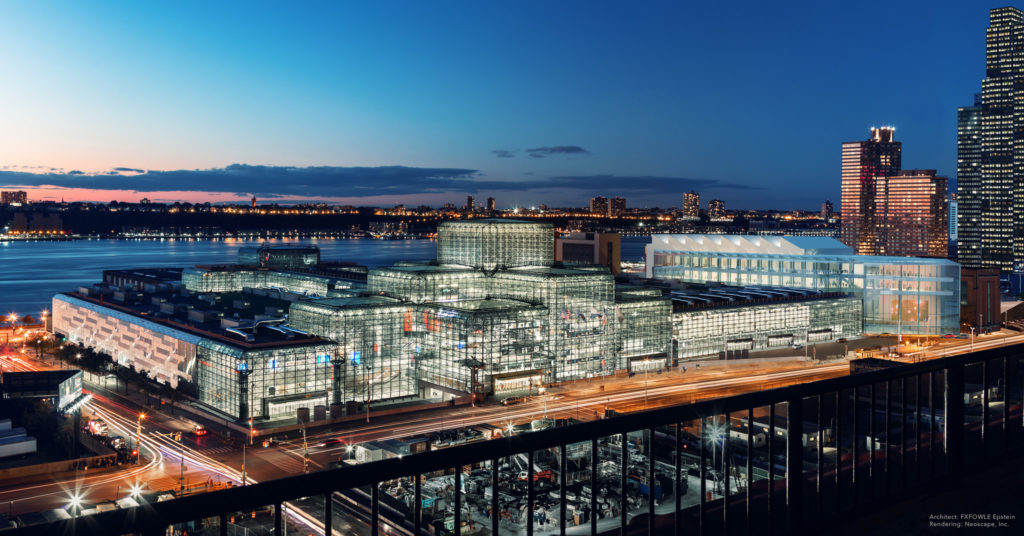 New York Gov. Andrew M. Cuomo has unveiled the seventh signature proposal of his 2016 agenda: Dramatically expand and improve the Jacob K. Javits Convention Center to stimulate the regional economy. The proposal will expand the Javits Center by 1.2 million square feet, resulting in a fivefold increase in meeting and ballroom space, including the largest ballroom in the Northeast. A four-level, 480,000-square-foot truck marshaling facility capable of housing hundreds of tractor-trailers at one time will also be constructed to improve pedestrian safety and local traffic flow. The proposal's total projected cost is approximately $1 billion, paid for by the Javits Center within existing resources. Construction is expected to begin in late 2016.
"The Javits Center has long been an economic generator for this state, but we want to build and expand it to ensure it remains a premier venue for the next generation," Governor Cuomo said. "Through one of the most aggressive development plans in the history of the State of New York, we are transforming one of our largest convention centers into an unparalleled, world-class venue. The new Javits Center will continue to garner millions in economic activity, create jobs and keep New York's economic momentum moving forward."
The Javits Center is the busiest convention center in the United States. Located on Manhattan's West Side on 11th Avenue between West 34th and West 40th Streets, the six-block facility hosts trade shows, conventions and special events that spur economic activity and job creation. In 2014, the facility hosted 177 events and more than 2 million visitors – ultimately supporting 17,500 jobs locally and generating an estimated 478,000 nightly hotel room reservations. In total, the Javits Center had an economic impact of $1.8 billion last year.
The Governor's proposal is designed to build on this success – increasing the Convention Center's size by more than 50 percent, from 2.1 million square feet to 3.3 million square feet, and adding new features to help the facility remain competitive both nationally and internationally.
The Governor's proposal is outlined below,
Increase Event Space: The proposal will provide Javits with more than one million square feet of event space. This includes a 60,0000-square-foot ballroom, which will be the largest such space in the Northeast. Additionally, of the exhibition space, 500,000 square feet will be contiguous space on one level. This 500,000-square-foot distinction is an industry benchmark that will allow the Javits Center to pursue additional attractions and enhance its overall competitiveness.
Increase Truck Parking: Each year, approximately 20,000 truck trips deliver and retrieve materials for events at the Javits Center, and these vehicles are forced to park on nearby streets – and a nearby marshaling yard – during an event's move-in and move-out periods. The Governor's plan includes a four-level, 480,000 square-foot marshaling facility constructed on the Javits Center's property, which will remove these trucks from the area's streets, reducing truck trips by 50 percent and improving air quality and traffic flow.
Increase Solar Power: The proposal includes the installation of a 34,000 square-foot solar energy array, the largest of its kind on a public building in New York State. As a part of the expansion project, the Javits Center will seek LEED Platinum certification.
Create a Terrace on the Hudson: The proposal includes the construction of a new green roof terrace with dramatic views of the Hudson River, capable of accommodating 2,500 guests, further diversifying the types of events the Javits Center can host.
Ultimately, the Governor's proposal will strengthen the regional economy, create more permanent jobs, and increase tourism and business involved with the Javits Center. Specifically, it is projected to:
Create 4,000 full-time jobs, 2,000 part-time jobs and 3,100 construction jobs; and
Generate $393 million in new economic activity a year, a 22 percent increase to the $1.8 billion of activity generated in 2014;
Generate 200,000 additional hotel room nights a year, a 42 percent increase in the number of room nights booked by event guests.
"The Javits Center was constructed to create economic opportunity, and by reinvesting in this iconic facility, we are ensuring those opportunities continue for years to come," said Howard Zemsky, President, CEO and Commissioner of Empire State Development. "Through this expansion project, we will significantly increase the efficiency of operations at Javits and attract more events and support the local tourism, hotel and restaurant industries."