From treating mass numbers of COVID-19 patients to evacuating facilities due to record-setting wildfires and then dealing with the aftermath of choking black smoke, West Coast medical facilities managers have had to be smart and nimble during the last nine months. Their facilities had to transition from pumping in massive amounts of fresh air to stop the spread of COVID to shutting that down rapidly when smoke threatened their patients. They had to convert emergency departments to respiratory triage areas and transition acute care spaces to ambulatory care. Could you and your facility adapt this rapidly and efficiently?
VirtualCast's latest 1 Hour episode  "Recalibrating Medical Facilities Amid Disasters," A Special 2-Part Report from California and Oregon interviews four of the top West Coast medical real estate executives to find out exactly what they faced and how the coped.
The guests are:
Liz Brott, Principal Architect, Office Facility & Property Services, Sutter Health System.
Ken King, Chief Administrative Services Officer, El Camino Hospital.
Kerrie Bartel-Christensen, Executive Director-Oregon, Real Estate Strategy & Operations, Providence Health.
Joel Swift,  Director Facilities Planning & Development, UC Davis Health.
The Interviewers are:
Heather Chung, Vice President & Healthcare Studio Leader, SmithGroup
Jon Inman, Principal, Mazzetti, President, AMFP Northern California Chapter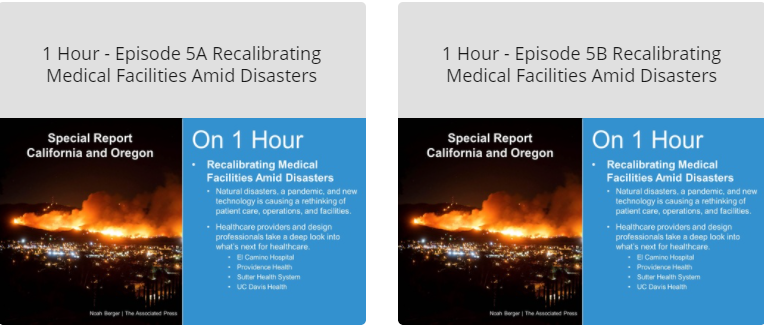 Both parts of this episode are available now on-demand. You can watch at your convenience.  The episodes are free for healthcare provider employees & AMFP members or $30 per episode. A season pass is available. You can earn 1 CEU and certification of attendance is provided. Also, registrants receive a copy of the key takeaways following the viewing, so no need to take notes.
New episodes are scheduled to be released Oct. 21, Nov. 4, Nov.18, Dec. 2, Dec.16, Dec. 30, and Jan. 13.
Click here to see past episodes that are still available for viewing.