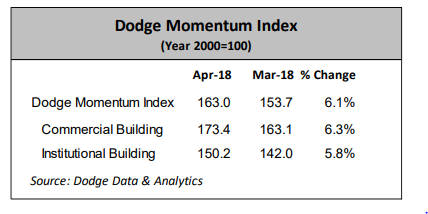 The Dodge Momentum Index jumped 6.1 percent in April to 163.0 (2000=100) from the revised March reading of 153.7. The Momentum Index is a monthly measure of the first (or initial) report for nonresidential building projects in planning, which have been shown to lead construction spending
for nonresidential buildings by a full year. Both components of the Momentum Index moved higher in April, with the commercial component up 6.3 percent and the institutional component up 5.8 percent. Over the last two months the commercial portion of the Momentum Index has posted the most aggressive growth, fueled by continued low vacancy rates for commercial buildings as well as the potential benefits from the tax cuts passed in December. The gains for the institutional component, while healthy, have been more moderate reflecting the ebb and flow of public funding for larger education and public building projects.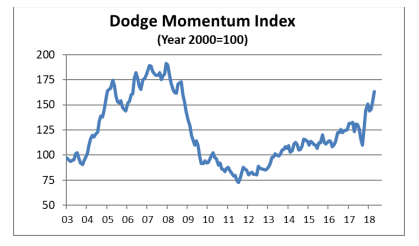 In April, 12 projects each with a value of $100 million or more entered planning. The two leading
commercial projects were office buildings – a $200 million building in Boston and a $175 million building in Atlanta. The leading institutional projects were a $100 million hospital in San Luis Obispo, Calif., and a $100 million training center in Pelham, Ala.