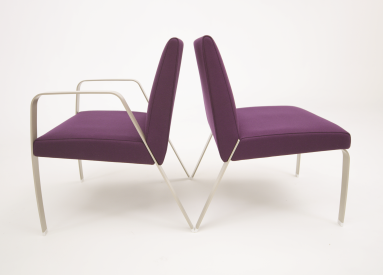 The Valayo Collection offers a combination of striking design with superior strength and comfort. From Integra Seating, the chairs have both the wall-saver and clean-out design elements with replaceable or recoverable components for maximum sustainability. All units have incredible strength with a 2000 lb. static capacity and a 1000 lb. drop capacity and a lifetime warranty in the 24/7 environments. Three chair widths of 26- 32- and 46-in.  comfortably accommodate all users and are available in both standard and armless versions. Brushed chrome and powder coat finishes are offered as well as urethane arm caps. Three bench sizes with arms or armless give design and function flexibility. Coordinating tables with a unique and durable wood top option as well as solid surface tops are all part of this striking collection.
Armless and arm chairs can be ganged together to keep the room layout in place or separated for movement when needed;
Steel arms/legs with power coat and brushed chrome finish options gives durable color option;s
Upholstered benches in three sizes with or without arms gives flexibility; 
Solid surface table tops and durable and unique wood top for benches or tables in three sizes with custom finishes available to harmonize with other products and built details in the same area;
 Integrated bariatrics with a 2000 lb capacity and 1000 lb dynamic capacity allowing a person of any weight to sit safely and securely;
Replaceable and/or recoverable components allow for maximum sustainability and cost effectiveness;
Just damaged or worn components/pieces can be recovered, repaired or replaced; and
Valayo Collection's superior strength lessens risk management for the facility.