Education sessions and Product Zones are the most important reason to attend NFMT Remix in Las Vegas, November 2-3. For Pro and Elite attendees, there are 60-minute sessions focused on foundational principals of Facilities Management. The key trends of technology, safety and sustainability tend to be cross-functional and have a major impact on overall facilities strategies. These sessions are geared as more introductory sessions. Think Tanks, for Elite attendees, are 60-minute informal discussions focused around either a specific building type or trend. This will allow you to network with your peers in a small group environment. Attendees can pull up a chair and ask your questions to like-minded facilities managers from around the country. Each roundtable will have an official moderator to help guide the conversation.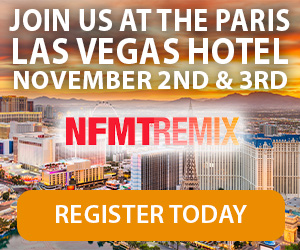 Concurrent Sessions run on Wednesday and Thursday while Product Zone Sessions are featured during the expo hours between 11:30 a.m. and 3:30 p.m. The women in FM panel and a reception concludes Wednesday's activities.
Sessions that will resonate with our readers include:
Driving Performance Management Through Optimized Maintenance to Mitigate Risk and Deliver Value with John Rimer, CFM, president, FM360 Consulting.
How Training Can Help You Retain the 66% of FMs Considering Leaving Your Team presented by Eileen McMorrow, editor, The McMorrow Reports & FMLink, and Randy Olson, VP, Global Business Development, ProFM Credential. One of the biggest challenges facing FM employers in 2022 has been hiring and retaining qualified staff. Join the panel as they share and discuss results of the 2022 FM Training Outlook Survey. Discover the top three ways to improve retention, see the top training priorities for FM managers and staff and learn how FM training and credentials can address your team's skill gaps and impact performance.
The Biological Basis of Complacency with Sharon Lipinski, CEO, Habit Mastery Consulting.
Public Building Energy Efficiency and IAQ with Timothy Unruh, PhD, PE, CEM, National Association of Energy Service Companies, along with Steve Ramirez, Amar Tiwari of Engie Service US, and Charlie Zitnik, Public Finance, DA Davidson Companies. Public buildings have a need to reduce their carbon emissions while also improving indoor comfort in air and light quality. Using the savings generated from a project provides a pathway to achieve these goals.
The Hybrid Workplace Threats, Liabilities, Employer Exposure/Employee Life Safety Issues Work from Home with Bo Mitchell
President and CEO, 911 Consulting. The Hybrid Workforce multiplies the threats, liabilities and legal exposure for all employers regarding the life safety of all their employees. Employers have the sole duty of care for employee life safety for both work from home and work at office. Under federal law, the employee has no duty of care for their own life safety. Thus, the hybrid workforce doubles the employer's legal exposure regarding employee injury and death.
Better Planning for Today's Unknowns, presented by Angel Garcia, Sunbelt Rentals.
Commissioning is an Energy Code Requirement: Lesson learned that you need to know, presented by Tony Di Leonardo, LEED AP, CxA and president, Wick Fisher White and Andrew O'Pella, PE, senior mechanical engineer, Wick Fisher White.

Click here to see the conference offers many sessions over two days.
NFMT provides extensive Product Zone Tracks during expo hall hours where exhibitors explore topics in 20-minute sessions. Product Zones explore parking safely, consolidating facility operations with service request workflows and vendor management, how to implement BACnet Secure Connect (BACnet/SC) as described by ASHRAE Standard 135-2020 Annex AB ( building automation systems are becoming more IP based, so a more cyber secure installation is required), creating space with modular solutions, green large scale back up power, and upgrading your facility to meet today's health and hygiene standards, among others.
Pricing is offered at several tiers based on the interests and options that suite each attendee.