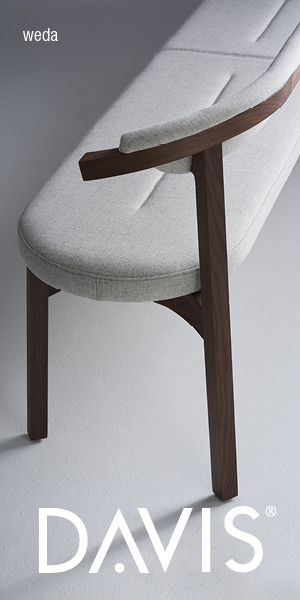 Weda is an elegant solid wood bench collection by Daniel Wehrli from Davis Furniture. It is distinctly linear with gentle angles which slope together with old world craftsmanship at every joint. The upholstery is precise and geometric with a soft cushioned seat and backrest. Weda's design is minimal but comfortable, with an entirely unique look for the modern office, lobbies, hotels, and university settings.
Davis Weda took Gold for Seating Benches in the 2017 Best of NeoCon competition.
Each solid wood piece is crafted by wood artisans to leave a lasting impression of timeless quality. Weda offers Oak or Walnut solid wood frames, an abundant scope of upholstery options, and is offered in several sizes with back or backless models. This contemporary piece is constructed by merging old world craftsmanship and modern technology. Precise mortise and tenon joints are coupled with a hidden steel frame to ensure stability and strength. Weda's honest design outlasts popular trends. Weda utilizes basic forms and the finest aesthetic standards to create a piece which will last the test of time. The gentle curves of its backrest encourage the users to rest their arms and turn and face each other, channeling the spirit of the bench as the original form of shared seating.
Davis products conform to BIFMA Emission Standards. Based upon the construction and materials used, we are confident Weda will also meet the standard. All Davis products are Level 1 Certified.  Recycled Content is available upon request.
NeoCon Showroom 3-115