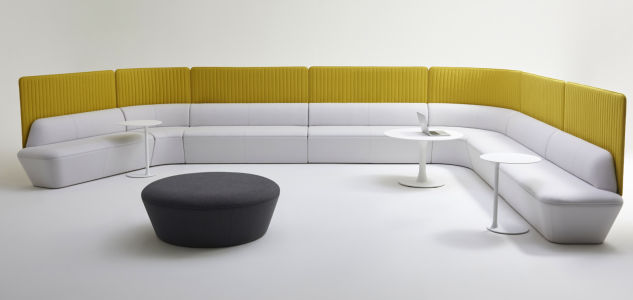 Inspired by how people work today, Davis's Q6 by Jonathan Prestwich has built onto the motivation of the Q5 collection and created an all-inclusive line which addresses the need for different kinds of working spaces. Comprised of open seating, screens, powered tables, and ottomans, the collection provides a versatile line of stylish and highly functional pieces and encourages collaboration in a mobile workplace.
Extended configurations can offer private work areas in conjunction with open seating and work or lounge tables can be utilized for individuals or small groups. Smaller configurations offer booth style seating and small meeting areas, plus ottomans for on-the-spot seating and touch down areas.
Q6 took an Innovation Award for Furniture Collections and Collaboration at the 2017 Best of NeoCon competition.
Inspired by the success of Q5, the Q6 collection keeps th  same silhouette with options to add backs, privacy screens, and tables at varying heights to create unique meeting spaces. Bench and ottoman units have added padding and a new seating suspension for even more comfort. A ¾" CNC machined piece of plywood provides the foundation for a durable and accurately aligned frame. High-density foam is applied making itideal for high traffic applications. Q6 is a comprehensive line which features all of the necessary components with a consistent design vocabulary. Davis products conform to BIFMA Emission Standards. Based upon the construction and materials used, we are confident Q6 will also meet the standard. All Davis products are Level 1 Certified.  Recycled Content is available upon request.
NeoCon Showroom 3-115