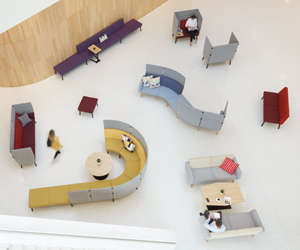 Inspired by the infinite variety of underwater worlds where no coral reef is like the other Reefs system seating provides solutions for the open office environment by offering comfortable structures with visual and acoustic privacy.

The Reefs modular system adapts to the unique requirements of organizations, individuals and tasks and allows unlimited design options from configurations that foster engagement and collaborative teamwork to hideaways that provide a quiet place to focus.

Color and pattern options are as diverse as the coral reefs themselves with seating that can be upholstered in a wide range of fabrics and paired with legs of polished aluminum, black powder-coating or light oak. A power module can be incorporated to the underside of the seat to allow for quick recharges.

See Reefs at Dauphin Space 393