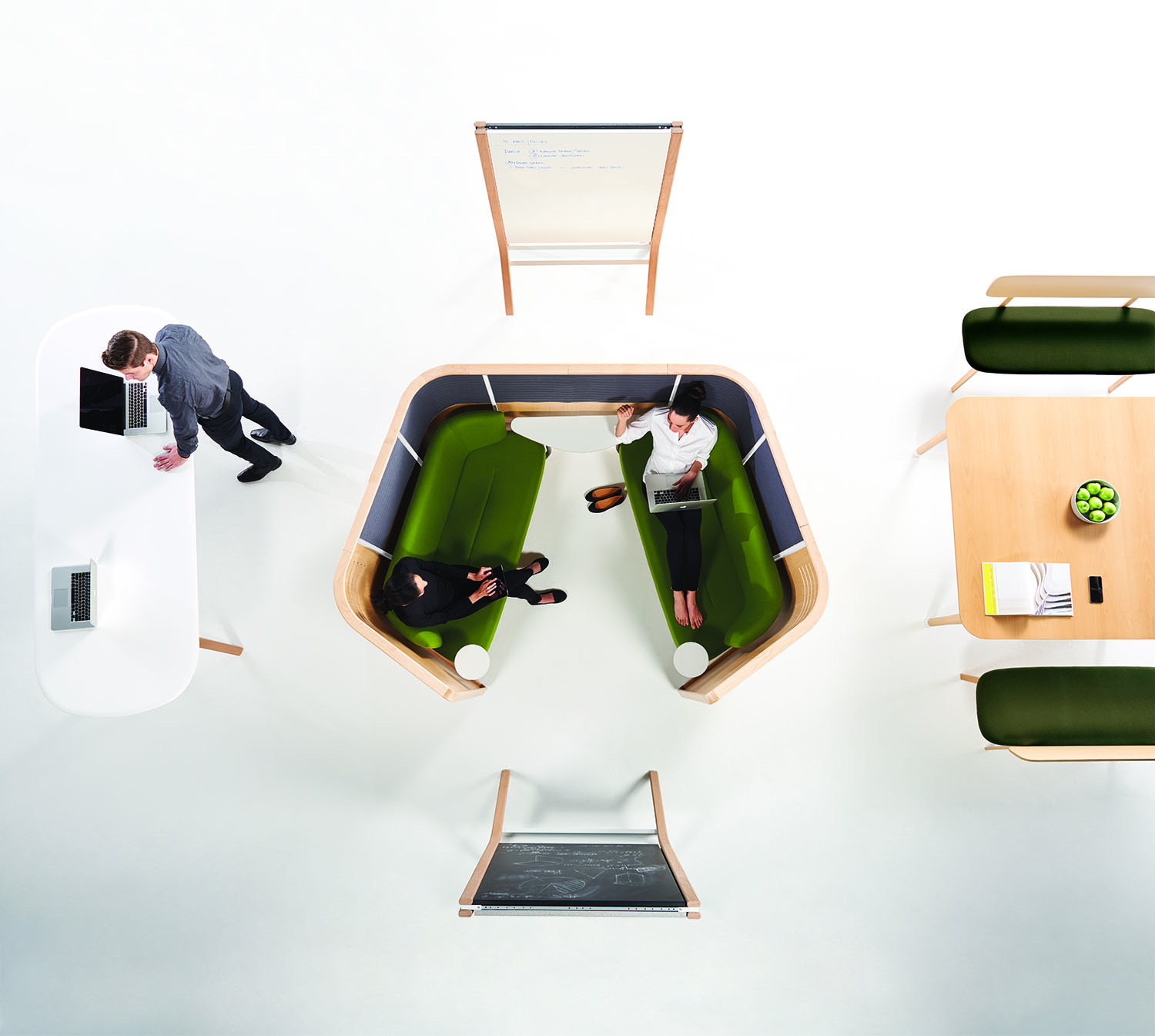 The Best of NeoCon 2016 Best of Competition honor went to Teknion for Zones, in the Furniture Collections for Collaboration category. The comprehensive series of furniture products addresses the needs for focus, collaborative, and workshop areas within the office environment. It includes products, applications and settings for contemporary work styles ranging from creative intimate collaborative settings to places of retreat. Zones addresses the growing importance of hospitality spaces as a new form of workplace.
Designed by Tom Lloyd and Luke Pearson of PearsonLloyd, a London-based design consultancy, Zones is influenced and inspired by the untethered, modern worker who seeks movement, flexibility and convenience. Zones transitions the workplace from one that's fixed and formal to a space that suits a variety of preferences and working habits. The collection represents an exploration of design concepts that addresses the social and technological changes driving behavior at work. Zones embraces a merging of technology and tactility. Combining craft/natural materials (wood) and industrial materials (cast metal, molded plastic) leads to efficiency. It departs from traditional workstation typologies, balancing comfort and function, softness and rigor, craft and precision engineering.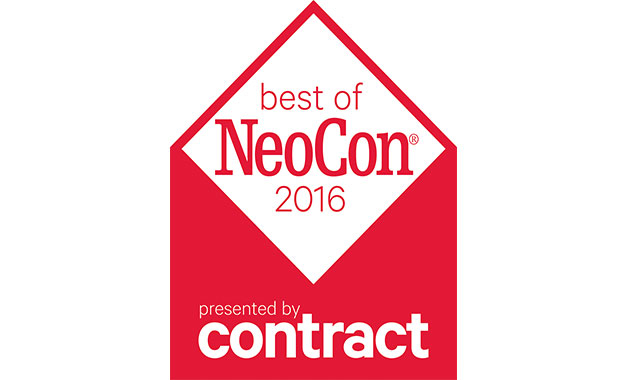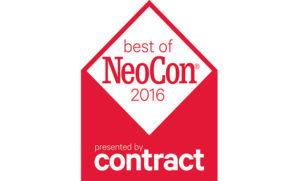 Winners of the 2016 Best of NeoCon Competition were announced on June 13 in Chicago. Ninety-four awards were distributed in this year's competition of contract furnishing products, including ten Innovation Awards and four Editors' Choice.
It was a record-breaking year with 424 entries.
Forty-three interior designers, architects, and facilities management professionals were assembled in nine teams and judged products over 22 hours in 43 product categories. The judging process commenced Thursday, June 9, and concluded Saturday, June 11.  To view all the Best of NeoCon entrants, please visit the Contract Network, Contract magazine's online guide to the Best of NeoCon.
The winners are:
ARCHITECTURAL & DECORATIVE GLASS
Gold: CARVART: CARVART Contract
Silver: Skyline Design: Glass Gradients
ARCHITECTURAL PRODUCTS
Gold: Unika Vaev: ecoustic® Veneer
Silver: Construction Specialties: Acrovyn Wall Panels
CARPET FIBER
Gold: Universal Fibers: Thrive
CARPET: BROADLOOM 
Gold: Tarkett: Open Archive: Over Stitch and Moquette
Silver: Shaw Contract: Modern Edit
CARPET: MODULAR (tiles) 
Gold: Tarkett: Milliken: Lapidus
Silver: Inteface: World Woven Collection
Innovation: Mohawk Group: Topograhy
Innovation: Tarkett: Open Archive: GeoKnit and Cache Tweed
CASE GOODS
Gold: Geiger: Geiger Rhythm
Silver: Allsteel: Approach
CONFERENCE ROOM FURNITURE
Gold: Andreu World: Ratio
Silver: Teknion: Zones Table
Innovation: SiS Ergo: Ellehaven
EDUCATION SOLUTIONS
Gold: PS Furniture: Müm
Silver: RT London: Evolve
FILES & MOBILE STORAGE SYSTEMS
Gold: Steelcase: High Density Storage
Silver: Knoll: Rockwell Unscripted
FLOORING: HARD-SURFACE
Gold: Tarkett: Collections Infinies
Silver: Mannington Commercial: Infused Collection
Editors' Choice: Shaw Contract: Modern Edit Resilient
FURNITURE COLLECTIONS for COLLABORATION
Gold/Best of Show: Teknion: Zones
Silver: Keilhauer: Hangout
Editors' Choice: Bernhardt Design: Studio: twenty-something
FURNITURE SYSTEMS
Gold: HALCON Furniture: FOUNDRY
Silver: Vitra: Hack

FURNITURE SYSTEMS: ENHANCEMENTS
Gold: HALCON Furniture: FOUNDRY
Silver: Vitra: Hack
FURNITURE: BENCHING

Gold: DeskMakers, Inc.: Hover Benching
Silver: Scale 1:1, EYHOV 120 Hub
HEALTHCARE FABRICS & TEXTILES
Gold: CF Stinson: Ethereal + Effervescence
Silver: Carnegie: Ombré

HEALTHCARE FLOORING

Gold: Mannington Commercial: Divergent Collection
Silver: Patcraft: Admix
Innovation: Tarkett: Mesto Configuration

HEALTHCARE: GUEST/LOUNGE SEATING

Gold: KI: MyPlace
HEALTHCARE: PATIENT SEATING
Gold: Nemschoff, a Herman Miller Co.: Ava Recliner
LIGHTING: DECORATIVE

Gold: Koncept Inc.: Z-Bar LED Pendant
Silver: Barbican: The Wave
Innovation: Green Furniture Concept: Leaf Lamp Series

LIGHTING: TASK/DESKTOP/FURNITURE-INTEGRATED
Gold: Teknion: Teknion Sanna by Pablo
Silver: Luxo: Trace

LOUNGE FURNITURE COLLECTIONS

Gold: Inscape: Longo
Silver: Bernhardt Design: Modern Family
Editors' Choice: HBF: Conexus
OFFICE ACCESSORIES

Gold: BuzziSpace: BuzziBalance
Silver: IdeaPaint: IdeaPaint Mobile Writable Surfaces

SEATING: BAR STOOLS
Gold: Bernhardt Design: Laine
Silver: Andreu World: Flex S-Series
SEATING: BENCHES
Gold: Teknion: Zones Bench
Silver: Keilhauer: Visit
SEATING: CONFERENCE
Gold: Andreu World: Alya Chair
Silver: Davis Furniture: Cloud
SEATING: ERGONOMIC DESK/TASK

Gold: SitOnIt Seating: Novo
Silver: Inscape: TurnAround
SEATING: GUEST
Gold: Gunlocke: Metta
Silver: Andreu World: Couvé Chair ; Editors' Choice: Davis: Zen
SEATING: SOFAS & LOUNGE

Gold: Andreu World: Flex Lounge
Silver: Davis Furniture: Ginkgo Lounge Low Back

SEATING: STACKING

Gold: Andreu World: Duos
Silver: Vitra: Belleville Chair & Armchair

SIGNAGE & WAYFINDING
Silver: 2/90 Sign Systems: Klik Sign System
SOFTWARE FOR SPECIFICATIONS 

Gold: Shaw Contract: Shaw Contract Design Tool
SPACE DIVIDERS/PARTITIONS/SCREENS

Gold: Knoll: Rockwell Unscripted
Silver: LOFTwall: BLOX
SURFACING MATERIALS/FINISHES 
Gold: Designtex: Designtex Bespoke Surfaces
Silver: Carnegie: Xorel Artform
TABLES: OCCASIONAL 

Gold: Andreu World: Reverse Lounge Tables
Silver: Bernhardt Design: Clue / Chance
Innovation: Steelcase: Bassline Tables
TABLES: TRAINING & WORK 
Gold: Nucraft: Approach
Silver: Davis Furniture: Techniq
TECHNOLOGY SUPPORT 

Gold: Humanscale: QuickStand Lite
Silver: Innovative Office Products: EVO 5900
TECHNOLOGY-INTEGRATED SOLUTIONS
Gold: Teknion: Tek Pier
Silver: Dekko: Low Voltage System: USB Charging
TEXTILES: UPHOLSTERY

Gold: BHF Textiles: Christiane Müller Collection
Silver: Bernhardt Design: Anabela Chan Collection
Innovation: Steelcase: New Black Collection

WALL TREATMENTS
Gold: DuChâteau Floors: Metamorphosis
Silver: Snowsound USA: Snowsound SIPARIO
Innovation: 3form: Viva (Powered by E Ink)
WALLS: MOVABLE
Gold: Maars Living Walls: lineaCube,
Silver: Maars Living Walls: PanoramaCurve,
WINDOW TREATMENTS
Gold: Carnegie, Atomospheres Collections: Creation Baumann for Carnegie
Silver: MechoSystems: EcoVeil Sheer Shadecloth
Innovation: MechoSystems: Daylight Sensor
WORKPLACE TECHNOLOGIES

Gold: Dekko: Low Voltage System: USB Charging
Silver: Steelcase: Steelcase Workplace Advisor