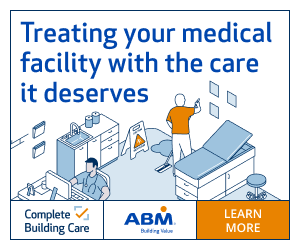 Like so many clinics and medical office buildings, we share your patient-first mindset. That's why our skilled, caring facility service professionals are trained for the unique challenges and responsibilities of healthcare facility maintenance. It's also why we impact budgets—and so much more as well.
ABM delivers above-and-beyond facility solutions that live up to the care that your teams provide for your patients every day. We achieve this by providing a critical 1:1 partnership to understand your priorities—and then provide the right services, flexibility and support for your medical facility needs.
Learn how our Complete Building Care helps the heart of your healthcare organization.