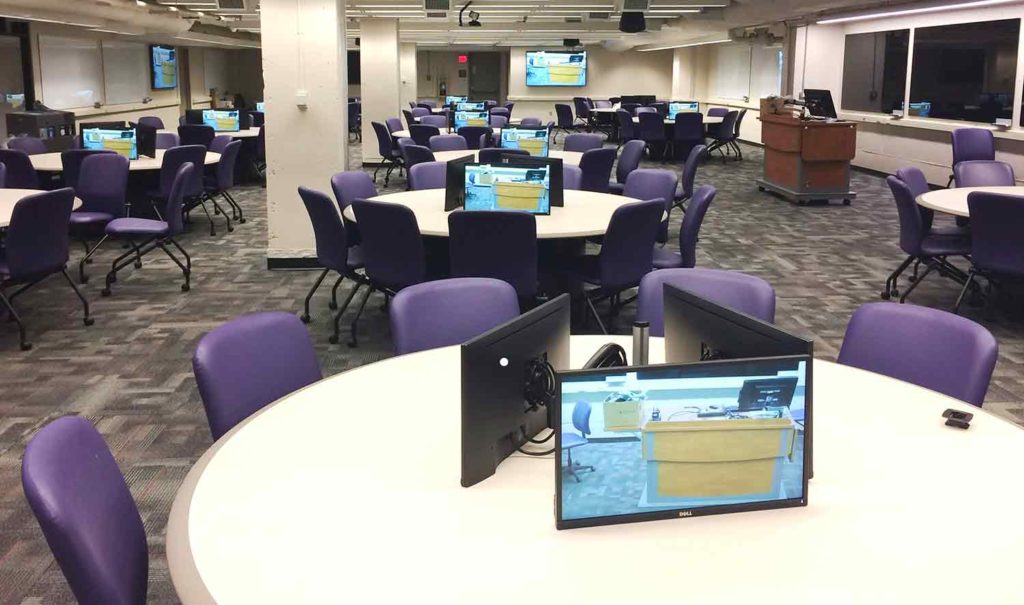 by Diana Mosher
Almost every student at Clemson University is required to take at least one math class as part of the general education curriculum, and when students pass through the School of Math and Statistics, they experience learning in the two most technologically advanced classrooms on campus. The focal point of Clemson's successful scale-up renovations is the striking Ovation drum tables specified from SurfaceWorks, a leading manufacturer of innovative tables for the contract furniture industry.
"I think students are intrigued by seeing round tables. They seem to enjoy the fact that it's not the same old linear classroom set-up," says April Haynes, office manager, Clemson University, Clemson, South Carolina.
The scope of the two-phase project was to create interactive classroom space for Clemson's baseline calculus and other introductory classes taught to freshmen and sophomore students, according to Haynes, who managed all aspects of the renovation project including soliciting input from the administrative team and course coordinators, as well as furniture procurement from their SurfaceWorks dealer, Quality Office Products, Inc., Greenville, South Carolina.
According to Kelly Ciezki, business development/contract manager at SurfaceWorks, the driving force behind this project was Charles Durham, principal at Quality Office Products. "Charles has such a great relationship with Clemson University. He's worked with them for 20 years. We collaborated with Charles on the custom aspects of the order and made suggestions that he took back to the client."
"Clemson wanted something that would really pop when people came in," says Durham. "They told me what they needed as far as functionality, and I immediately went to SurfaceWorks because I had worked with them on other projects, and I was comfortable with their quality and spot-on customer service."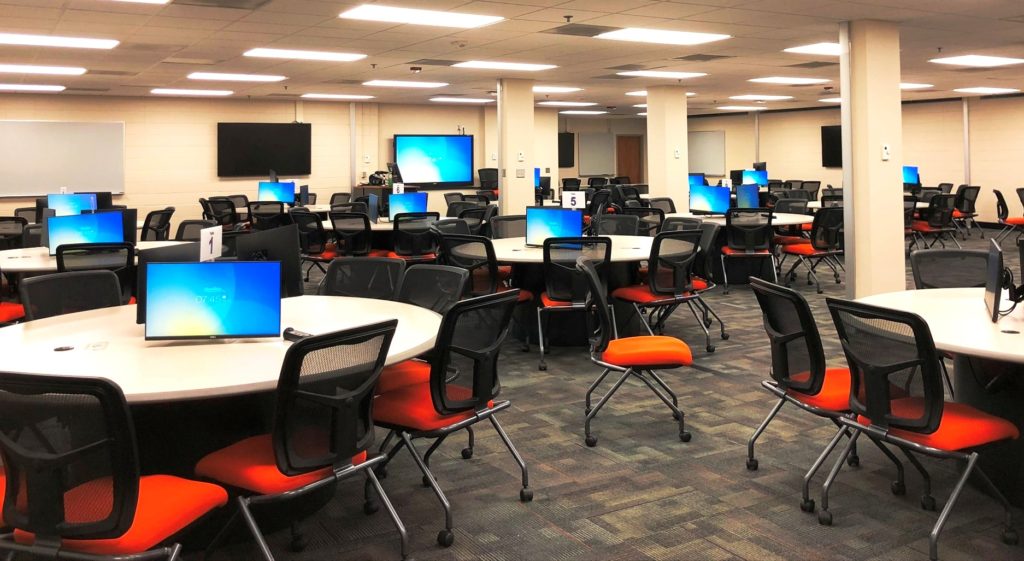 During Phase One in 2018, Clemson converted Cooper 200B to accommodate 144 students in a scale-up classroom setting. Haynes and her team worked closely with Durham and Quality Office Products to envision and produce 16 custom 7-ft. Ovation tables to accommodate nine students and three monitors at each table. This configuration enables students to view in real-time what the instructor is writing on his laptop at the front of the room.
"With this approach, Clemson captures the instructor on video that is projected on a dozen or so large screens on the walls around the room. The professor's notes go directly to the three screens that are on each table so the students can see the math formulations and so forth that the instructor is teaching," explains Durham. "Custom pop-up grommets were put into these tables for USB, power outlets to plug in laptops, and a light."
Ciezki notes that SurfaceWorks' proprietary urethane formula was absolutely a key selling point to the university. Reducing the spread of infection among college students through environmental initiatives and product specification is also a priority for Clemson.
The urethane results in extremely durable and puncture-resistant edges that are perfect for heavy use applications like education; and the urethane gives a comfortable transition between the tabletop and the edge so students can rest their arms while working continuously. Comprised of approximately 65 percent vegetable oil, SurfaceWorks' PURTech and PURWood urethane edges are rapidly renewable and can contribute toward LEED credits. The urethane's anti-bacterial and anti-fungal additives reduce the spread of infection, and they're offered in over 66 standard colors. Permanently bonded seams do not allow liquids to seep into and collect at the seam between laminate and the edge.
The first classroom renovation became a prototype for the second classroom, M-1 Martin, which was renovated in the summer of 2019. For this second phase, which required seating for 126 students, Clemson ordered another 14 custom Ovation drum base tables. According to Haynes, the 7-ft. size is ideal for facilitating group work activities because students are usually divided into groups of three with three groups at each table working on problem sets or projects.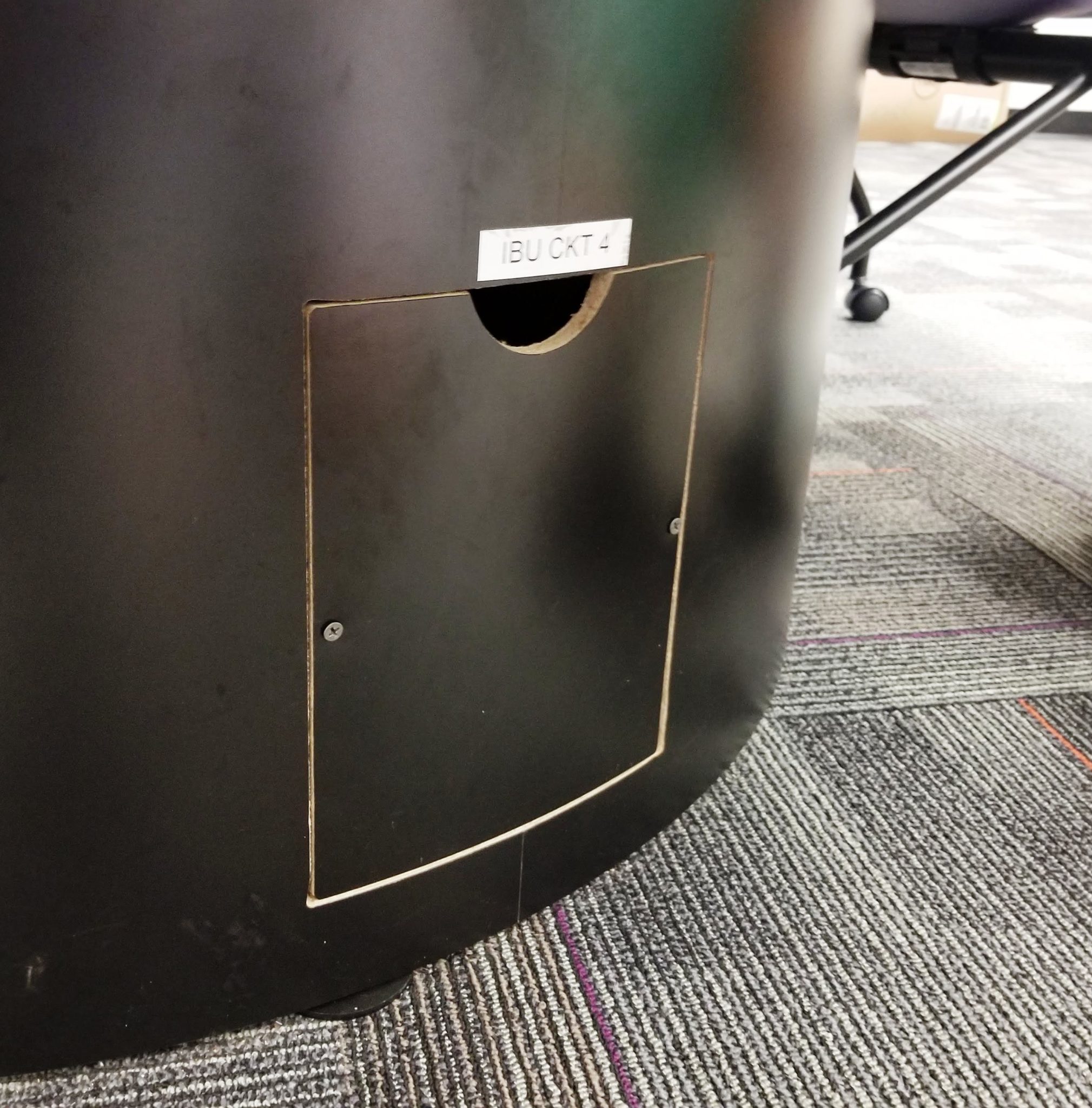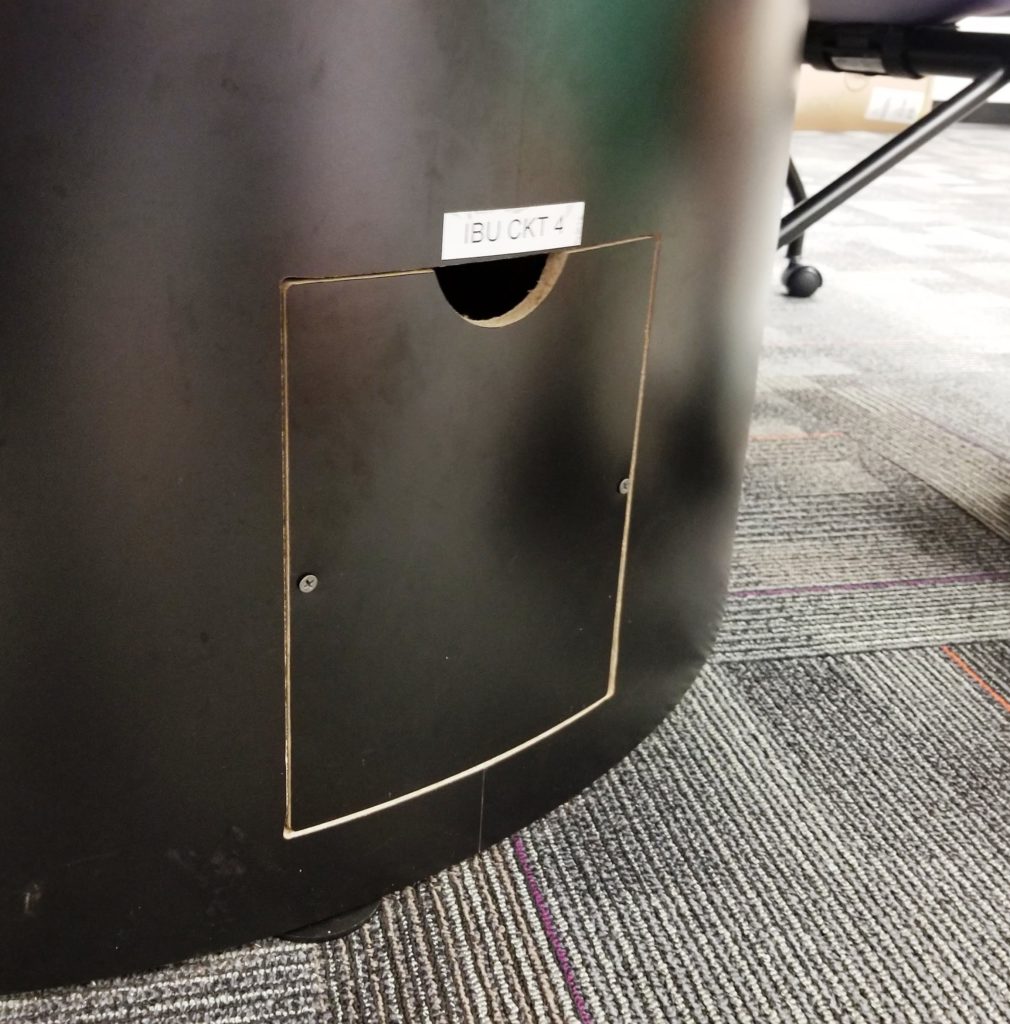 Haynes says, "We selected the Ovation tables not only because SurfaceWorks could produce the 7-ft. diameter that was needed, but also because Ovation's circular base conceals and stores all of the cabling such as Ethernet and HDMI in one location."
Both classrooms are used fully every day with only 15-minute increments between class periods. "Having the access panels and making sure everything was organized inside the table base was key for us," says Haynes. This feature helps the IT and facilities teams complete necessary work during the small windows of time.
For the second classroom project, Clemson opted out of the standard Velcro closure instead of requesting a custom locked access panel on the table base. This ensured that students would not be able to unplug and detach classroom wires to make room for their own. Clemson also specified grommets on top of the table for electrical outlets.
"Along with the custom 7-ft. size, having the circular base was a big selling point for us," Haynes adds. "When students sit around the tables, they're not fighting table legs or any of the other traditional obstacles that you might have with a different base set up."
SurfaceWorks has built a loyal following around its ability to customize every aspect of its products. Clemson selected from a wide range of laminate colors for the table base which is a wood-like fabricated composite material. "It was black, so we chose a lighter laminate to go with the paint colors and other elements in the classrooms," explains Haynes. "The wide range of laminate choices was an asset."
Haynes is just as pleased with the overall construction of the Ovations. "Once the glides are set, they don't tip or wobble. Also, when students doodle on the laminate top, it's easily cleaned by the custodial team."
Since the renovations, Clemson has learned that scale-up classrooms have helped with its DWF (drops, withdrawals, and fails) rate because students actually do better in a setting with more than one way to interact with the instructor.
"I think the students are impressed by the way we're trying to help convey instructor presence even in a large classroom setting," says Haynes. "It makes them feel like they're more participatory in the classes as opposed to just being a number."