Experience Bradley's exclusive WashBar technology that combines soap, water, and dryer in one complete handwashing fixture.
No more touching dirty faucet handles. The touchless technology ensures a germ-free handwashing experience, reducing exposure to harmful pathogens.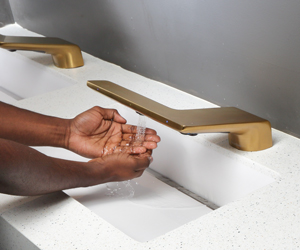 With the soap dispenser included, you'll have access to soap right at your fingertips, making the transition from soap to water as efficient as it gets.
Say goodbye to paper waste! The built-in hand dryer eliminates the messy water dripping across the floor. Eliminating paper towel waste is environmentally friendly, promoting sustainable practices.
Perfect for high-traffic areas, the touch-free WashBar fits seamlessly into airports, restaurants, schools, offices, and more. Upgrade any restroom design with the Bradley All-in-one WashBar and provide users an enhanced handwashing experience. Visit BradleyCorp/WashBar now to transform your next commercial handwashing space.