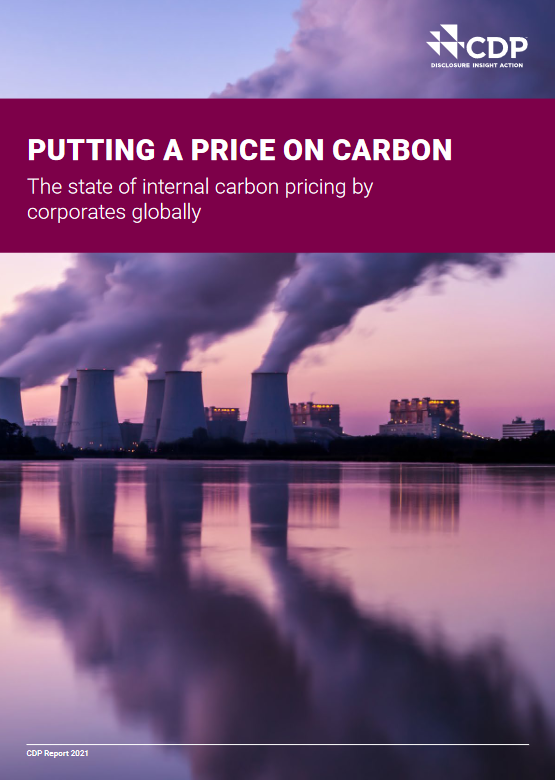 Corporate accounting for the cost of carbon is rising, with the number of companies using or planning to use an internal carbon price1 increasing 80% over just five years2 , according to new research from CDP (Carbon Disclosure Project), a nonprofit that runs a global environmental disclosure system.
Of nearly 6,000 companies surveyed on carbon pricing in 2020, more than 2,000 — representing over US$27 trillion in market capitalization — disclosed that they currently use an internal carbon price or plan to implement one within the next two years.
The latest CDP research reveals that nearly half of the world's 500 biggest companies3 are now factoring this type of carbon accounting4 into their business plans. This includes Microsoft, Ørsted and Mitsubishi Corporation, all of which disclosed that they have already adopted an internal carbon price.
CDP's analysis found that the median internal carbon price disclosed by companies in 2020 was $25 per metric ton of CO2e5, with companies in Asia and Europe implementing the highest average price of $28. However, with more countries bringing in carbon pricing regulation, and carbon prices soaring to all-time highs in the EU emissions trading scheme this year (rising to over €40 / US$44.80 in March), it is clear that corporations need to up the carbon prices they are currently accounting for internally, says CDP.
That said, the data does indicate that the majority of companies use evolutionary prices that adjust over time, suggesting that corporates worldwide may be preparing for greater risks from their carbon emissions in the years to come.
A full 11 out of the 13 sectors covered — including fossil fuels, manufacturing and financial services — saw an increase in the share of companies using or planning for an internal carbon price between 2019 and 2020. This is a notable shift from 2018 to 2019 where only 4 of the 13 industries saw an increase. Internal carbon pricing is most common in the power industry, with 56% of companies currently using internal carbon pricing and 15% planning to implement this within the next two years.
The research covered 5,952 corporates from 84 countries. All regions — bar Africa — saw an increase in the number of companies already using or planning to use an internal carbon price since 2018, with the largest absolute increase in Asia. In the region, China — which launched the world's largest emissions trading scheme this year — saw a significant yearly increase, with 27% more companies saying they currently use or plan to use an internal carbon price from 2019 to 2020.
The data demonstrates a correlation between companies setting an internal carbon price and taking other actions to reduce emissions, with a higher percentage of the companies currently implementing an internal carbon price also setting comprehensive emissions reduction targets or using more renewable energy.
In terms of why companies use internal carbon pricing, 60% of all respondents flagged driving low-carbon investment as a key reason (a 15% increase from 2019), while improving energy efficiency and changing internal behavior were also highlighted as objectives.
Companies also disclosed that they use internal carbon prices to address current or future regulation that could increase the cost of emissions and have a financial impact on their business.
This is in the context of an increase in regulation globally — 64 carbon pricing initiatives are currently in place or scheduled by governments and regulators, up from 61 in 2019.
However, despite 1,830 companies saying that they currently face or expect regulation on the price of carbon, 60% of these (over 1,100) did not identify it as a substantive risk to their business. This is concerning as it shows a potential gap in climate risk data being provided to investors, according to CDP.
Nicolette Bartlett, global director of climate change at CDP, commented, "Our latest data shows a clear correlation between companies putting a price on carbon and those taking other strategic decisions to combat climate change. With the urgency of the climate crisis requiring a systemic shift in corporate behaviour, it is encouraging to see such an increase in the number of global companies taking positive steps forward, and pricing carbon risks into their businesses.
"However, with more carbon pricing systems emerging every year, prices rocketing and an increase in regulation which places an effective price on carbon emissions, companies need to start anticipating these inevitable policy shifts, taking action in their value chains, and disclosing these risks to their shareholders.
"Governments, too, should take note of this trend and be confident in upping their ambition on carbon regulation as a key lever to incentivize corporate and societal progress in reducing global emissions."
CDP is said to be the largest repository of corporate information on internal carbon pricing, with data collected every year since 2014.
Policymakers, regulators and international institutions engage with CDP to understand corporate exposure to carbon pricing regulation, alongside the uptake of internal carbon pricing as a tool to support the transition to a low-carbon economy.
Putting a Price on Carbon: The state of internal carbon pricing by corporates globally is available for free download online.
Historic data on internal carbon pricing can be access on CDP's tool, Carbon Pricing Connect.
1An internal price places a monetary value on greenhouse gas emissions, which businesses can then factor into investment decisions and business operations
2 Since 2015
3 226 of the top 500 companies by market cap in the FTSE Global All Cap Index
4Currently using an internal carbon price or planning to do so over the next two years
5 Carbon dioxide equivalent