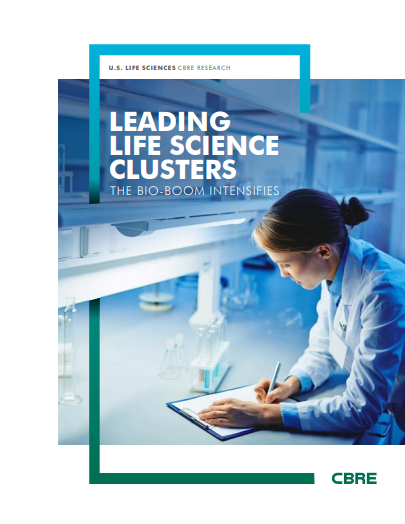 A CBRE report examines how the life sciences industry has thrived during the pandemic. CBRE has found that investors have a greater interest in the life sciences industry as it looks for a vaccine and treatments for COVID-19. And that has created an increased demand for commercial real estate.
From CBRE's "Leading Life Science Clusters The Bio-Boom Intensifies:"
"The industry has displayed remarkable resilience to the economic downturn, with new sources of demand and a flood of venture capital to support various initiatives. Across the various U.S. life sciences lab clusters, our data shows a market undeterred by disruption and, if anything, recharged for an intensified expansion."
Here are some of the report's findings:
Boston-Cambridge, the San Francisco Bay Area and San Diego remain the nation's top three life sciences clusters, while Pittsburgh, Houston and Austin are top new emerging ones.
While life science employment was down by just 1.3% in July from its peak in March, it was 1% higher than a year ago compared with the 7.6% decline in total nonfarm employment. Biotech R&D employment has been particularly strong, up by 4.9% from a year ago and outpacing tech employment growth.
Total venture capital funding for the life sciences industry for the year ending Q2 2020 was a record $17.8 billion.
National Institutes of Health funding to major universities and institutions for health-care research is forecast to grow by 6% this year to $42 billion.
Total commercial laboratory space has grown by 12% this year to 95 million sq. ft. Another 11 million sq. ft. is currently under construction.
Reflecting a broad pullback in commercial real estate investment, lab/R&D property sales totaling $9.6 billion for the year ending Q2 2020 fell by 18% from the same period a year ago. However, pricing remains intensely competitive.
A continued positive outlook is underscored by new growth drivers, such as government emphasis on the life science industry's pivotal role in combating the COVID-19 pandemic, onshoring trends and rapid expansion of biomanufacturing.
Download the full CBRE report here.