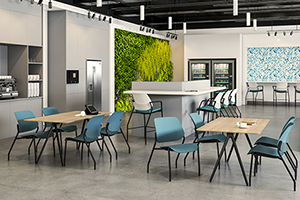 Cavo from 9to5 Seating is a groundbreaking new high-design multipurpose chair addressing the needs of today's fluid workspaces that crave a beautiful aesthetic and functionality. Engineered for reliability and style, Cavo answers the call of multipurpose seating with guest, stool and bariatric models that fit enterprise-wide, from meeting rooms, patient rooms, and collaboration spaces to cafes or classrooms.
Cavo's Italian designer Claudio Bellini, whose work "seeks the harmony of beauty and efficiency," believes that today's work requires it, offering solutions that are aesthetically appealing.
With all its visual appeal, Cavo is also durable. Designed for high-traffic environments, Cavo withstands frequent cleaning. The wall-saver frame prevents scuffing, while the edge-to-edge under-seat cover enables stacking four on the floor and 10 on a dolly, with weight ratings of 350 lbs. for guest and 750 lbs. for bariatric applications.