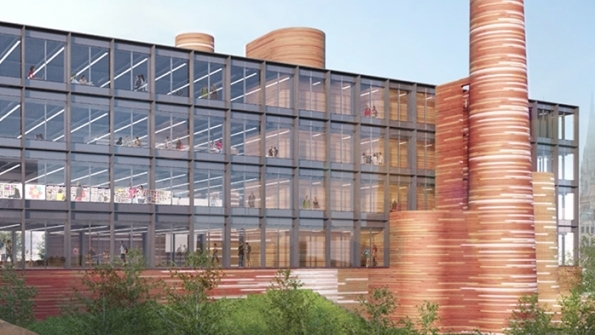 Carnegie Mellon University and Tata Consultancy Services, a leading global IT services, consulting and business solutions organization, took another historic step in their partnership by breaking ground on a new facility to be built on the CMU campus in Pittsburgh. The new "TCS Hall" is supported by an unprecedented $35 million grant from TCS, the largest ever industry donation to CMU.
Facing Forbes Avenue, at the western entrance to the CMU campus, TCS Hall is slated to open in 2018. The building will house research and academic spaces where the two institutions will collaborate on promoting next-generation technologies that will drive the 4th Industrial Revolution, including cognitive systems and autonomous vehicles. In addition to the research and academic spaces, the 48,000-square-foot building will feature an innovation courtyard, an eco-sustainable rain garden and a "robot yard." The high-tech facility will feature a steel-and-brick architectural design, to pay homage to Pittsburgh's historical contribution towards previous Industrial revolutions.
"The history between the Tata Group and Pittsburgh has roots that go back more than a century. Our founder, Mr. Jamsetji Tata, came to the world's steel-making capital in the early 20th Century to understand technologies that he would later use to launch India's own industrial revolution," said N. Chandrasekaran, Chairman of Tata Sons. "We are pleased to come full circle and launch this facility, fostering further digital technology research in driving what is the largest economic and development opportunity ever faced by mankind — the 4th Industrial Revolution."
"The leadership of TCS and Tata Sons are harnessing the power of one of the world's largest business groups to bring some of most promising new technologies to the marketplace," said Subra Suresh, President of CMU. "We believe that, operating at the intersection of technology and humanity, CMU and TCS each bring extraordinary strengths to this unique partnership."
"This is an exciting time for Pennsylvania and Carnegie Mellon University," said Governor Tom Wolf. "We are very pleased to have TCS break ground in Pittsburgh, as they join a number of cutting-edge companies which recognize the many benefits of locating in southwestern Pennsylvania. We look forward to increasing the state's economic growth by supporting university partnerships, which create jobs and enhance communities."
The $35 million TCS grant also supports TCS Presidential Scholarships and Fellowships, with the first 'TCS Scholars' selected and enrolled at CMU by the Fall of 2017 and Spring of 2018.