by Eileen McMorrow
Operating in 20 diverse clinic locations around Roanoke, Virginia, was not an optimal method for delivering pediatric services to its community. When Carilion Clinic realized the opportunity to develop space in a local mall with an ideal two-story space of 128,000-square-feet with vaulted ceilings, formerly occupied by JCPenney, the hospital's management realized a longtime vision for its professional and support staff, caregivers and patients.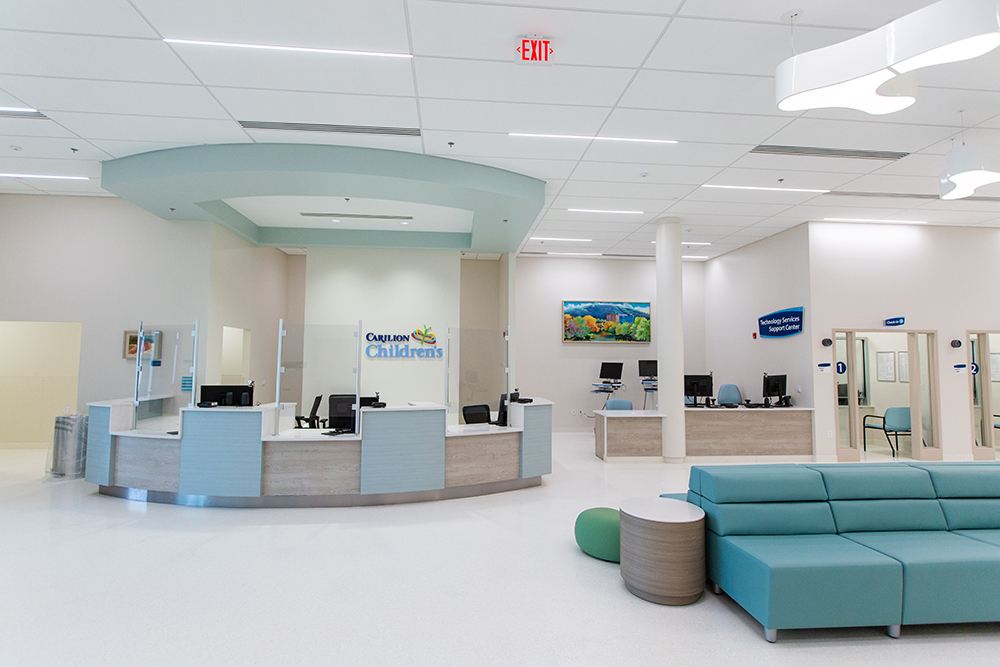 The Carilion Children's Center at Tanglewood, which opened in October 2021, has united services for patients and caregivers around one location easily accessible to all, offering general pediatric care and sub-specialties. In addition, the mall space accommodates adult and pediatric dental services and adult ENT.
Carilion Clinic is a nearly $2 billion not-for-profit integrated health system headquartered in Roanoke, Virginia, serving more than one million people in southwest Virginia and neighboring states.
"Renovating the former JCPenney allowed us to accommodate all 20 clinics at one convenient location," says Jennifer F. Rotenberry, Project Manager, Construction, Carilion Clinic Design & Construction Management.
"It was my pleasure to partner with AECOM, Carilion executives and providers to prepare the plans. The Martin Brothers Construction team worked from the top down at the old JCP site. We had many meetings with clinicians after clinic hours to develop the plan."

Jennifer F. Rotenberry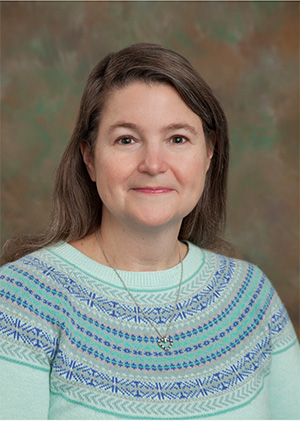 With 26 years of service to Carilion Clinic, 18 years as an interior designer and a project manager for eight years, Rotenberry inherently understood what Carilion Children's needed and wanted to accomplish for the united pediatric environment. "We had completed the abatement, and AECOM (the structural architect of record) had prepared design plans. I made some modifications to the plans to incorporate our unique workflow and requirements."
She tackled separate yet intertwined medical specialties: ENT and dental (for pediatrics and adults), where there are outpatient surgeries, audiology, behavioral health, PT and OT, speech therapy, child development, general pediatrics, full labs, radiology, gastroenterology, endocrinology, neurology, genetics, pulmonary, allergy, cardiology and adolescent health.
Pediatrics' staff were accustomed to the smaller practices, but they learned the advantages of a larger facility. All 20 clinics offer exam and consult rooms with shared team stations for nurses and providers with interconnecting doorways. Outer hallways are for staff only where they can traverse behind the scenes while patients access suites via their dedicated hallway from the main lobby, Rotenberry explains. "In an emergency, the staff knows which hallway to go to. Each individual suite off the main lobby is badge-secured. We have 120 exam and seven procedure rooms, as well as conference space."
Nature-themed yet with faux wood elements
While those features are important for pediatrics' parents, the children need a welcoming environment that reduces anxiety. For inspiration, Carilion referenced the deep woods and vibrant foliage of its western Virginia locale.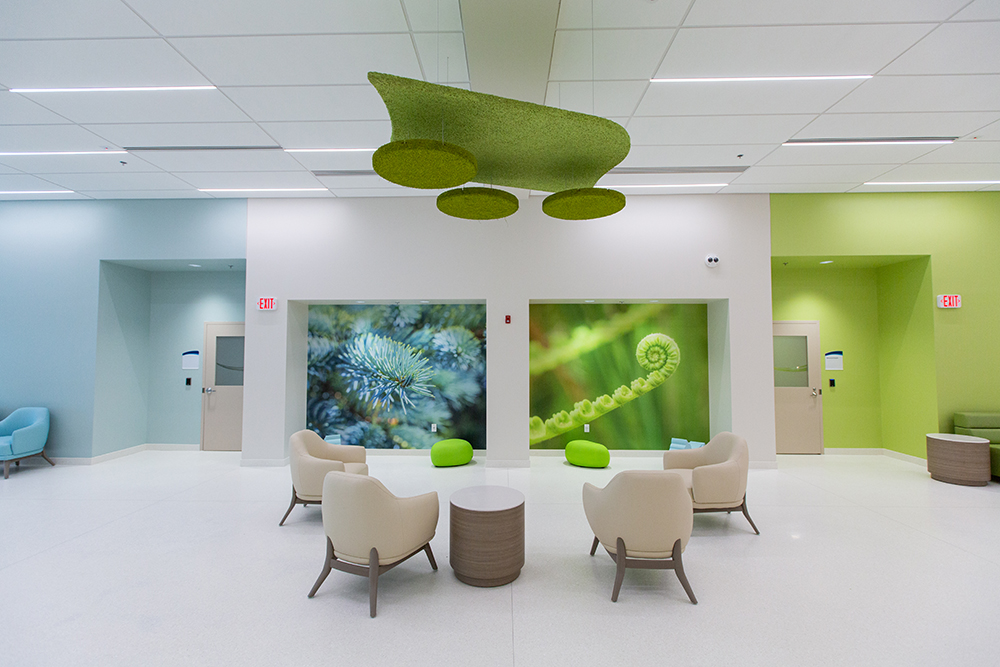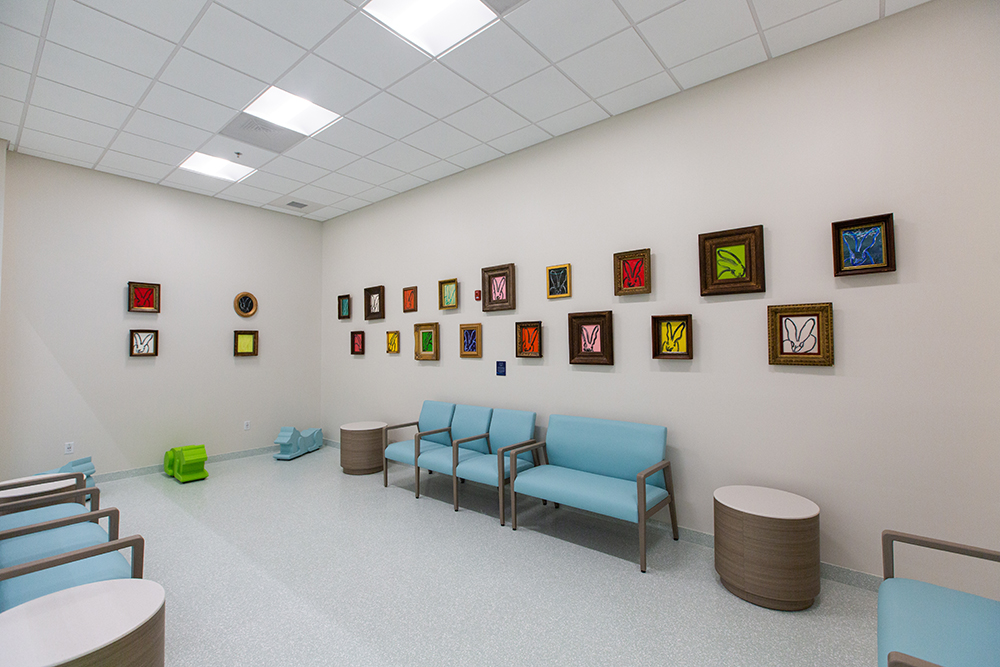 Waiting areas offer vivid imagery and displays representing woods, trees, flowers, and butterflies. However, real wood furniture has no place in healthcare settings; it is too porous, and agents of infection are trapped when wood is scratched. "There's not a lot of alternatives to wood, but performance is critical, and hospitals do not want metal as bacteria and germs get trapped in scratched metal that also rusts," says Sylvia Nash, vice president of healthcare, Kwalu, the furniture manufacturer chosen by Rotenberry and AECOM that offers durable finishes that look identical to wood but use no wood.
"Nature-themed waiting rooms and lobbies have calming natural colors appealing to children in waiting areas, yet all the wood-like finishes and vinyl fabrics are virtually indestructible," Nash explains.
"We installed in October 2021, and it still looks brand new; there are no chips or fails in the furniture," follows Rotenberry.
Relief and recovery for harried staff, too
Carilion Clinics' management knows medical talent is in high demand, so its priorities for doctors and staff include: a generous break room with a TV, healthy food options for breakfast and lunch, Starbucks coffee, an ice machine, areas for doctors to conduct telehealth meetings and research, dedicated places for nurses, residents, and all providers to relax away from patients, and showers as well as changing areas—accommodating employees for the balance of their life before or after the work shift.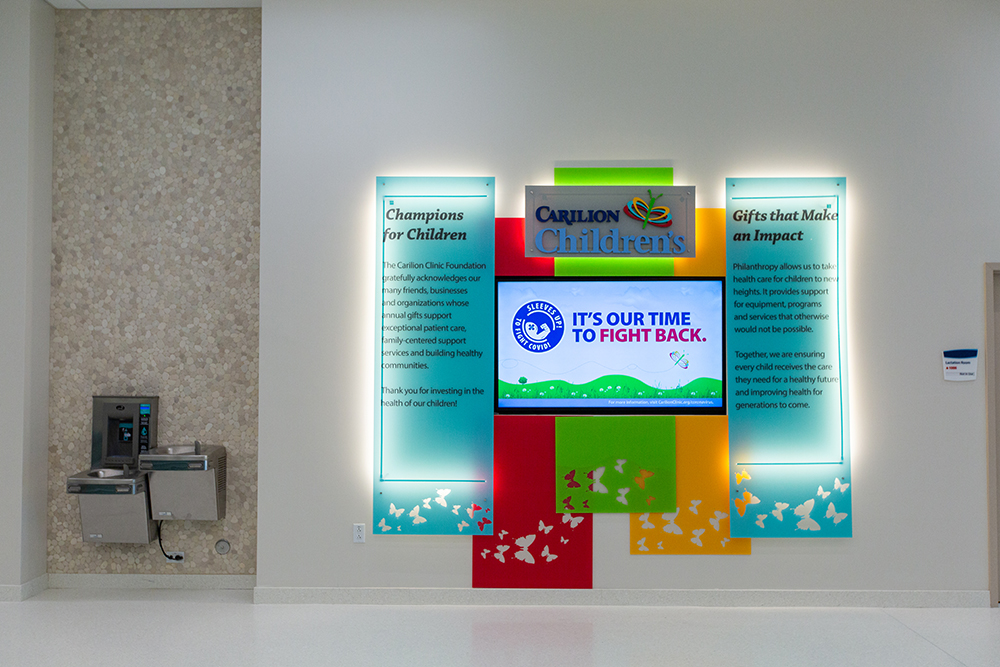 "Patient safety is our number one priority. Choosing furnishings for care and comfort of our patients is of utmost priority, and we look at ADA, durability, flammability and cleanability," Rotenberry explains. "We are a bariatric center of excellence. At least 20 percent of the seating must comply with the bariatric standard, but we always go over and beyond that standard."
Quality and patient care drove every design decision for Rotenberry, who says she loves the people part of designing new clinics and spaces for Carilion. She also enjoys drawing in CAD to outline the solutions her team will deliver. Her leadership team noticed, and she was honored with Carilion's award for Excellence in Advancing Care Delivery.
Tables are tip-proof, ergo child-friendly
Specifying pediatric-safe furniture was key to the design. "It had to be modern, curvilinear and weighted inside so it would not tip over when children climb and play," says Rotenberry, "All the spaces have curved elements, and I wanted curved furnishings, too. We found Kwalu to be the furniture solution. The Kwalu Drum tables have Corian tops—everything can be wiped and sterilized."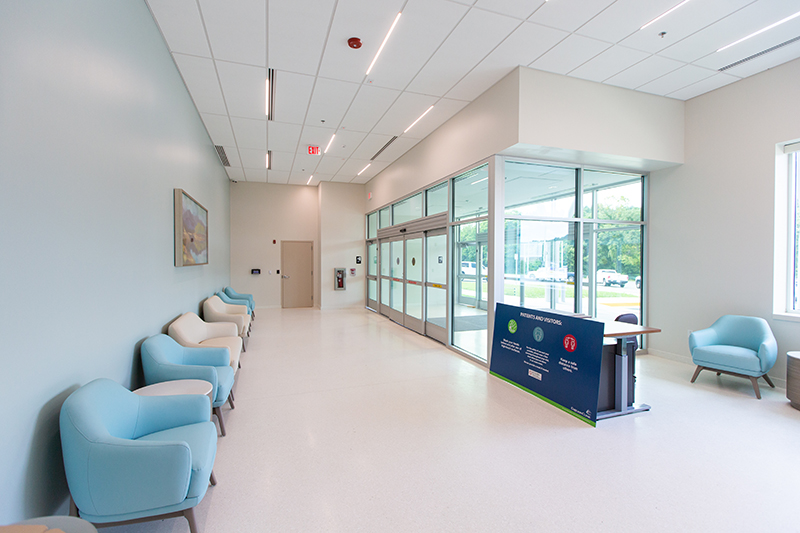 "We know our furniture can withstand pediatric interaction. Active little hands touch everything, and children can interact with Kwalu products without limitations as the furniture is virtually indestructible," declares Sylvia Nash, vice president of healthcare, Kwalu. "Kids can sit on the tables—they are sturdy and will not tip. Kids can move, push and glide furniture. It is interactive. There's even a bariatric chair that works for a child and a mother to sit together."
"This was an opportunity to reinvent the patient experience, delivering a fresh environment that will be easy to keep clean while children are touching walls, moving around, and engaging with the surfaces," says Kwalu's Nash.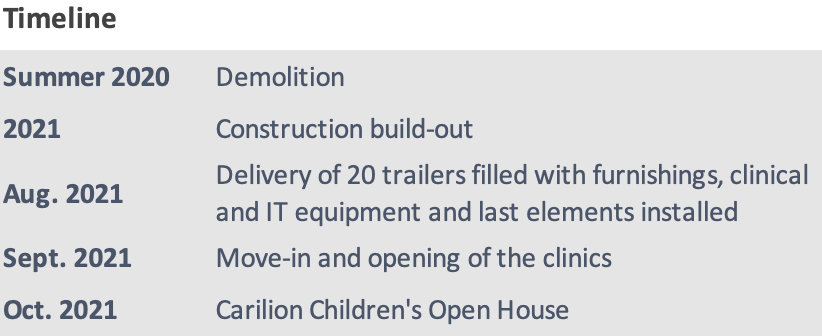 With seven hospitals and 100 clinics in Roanoke, Virginia, and the surrounding region, Carilion Clinic always has a renovation or addition in process, making the work of its project manager both demanding and rewarding. "We anticipate additional growth at Tanglewood, allowing more services for patients and families at Tanglewood," says Rotenberry. "It's really taking off."