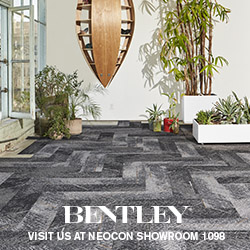 Color outside the lines. Be bold, get creative and blur boundaries – in life and in design. With its graphic geometrics, deep texture and layers of metallic accents, Outlier™ from Bentley challenges traditional design conventions.
Outlier plays perfectly with interiors' increasingly blended home/play/work spaces. Its geometric design gives the illusion of having grown over the highly textured, organic background – a unique pattern-over-background element that is as unexpected as it is elegant. Inflections of silvers, bronzes and golds sync with commercial finishes, subtle yet sexy.
Available in 9-inch by 36-inch, 18-inch by 36-inch and 24-inch by 24-inch NexStep® Cushion Tile, AFIRMA™ Hardback Tile and AFFIXX™ Hardback Tile, Bentley's adhesive-free hook and loop system for modular carpet tile. Outlier is also offered in High PerformancePC Broadloom.
Outlier is made with Antron® Lumena™ Type 6,6 Nylon for ultimate color and performance. It is Cradle to Cradle Certified™, NSF® 140 certified, CRI Green Label Plus certified and produced in a LEED®-EB:OM Gold-certified manufacturing facility. Along with Environmental Product Declarations (EPDs) and Health Product Declarations (HPDs), Outlier contains a Declare® label and has achieved LBC Compliant status through the Living Building Challenge.
Visit Bentley at NeoCon Showroom 1098.