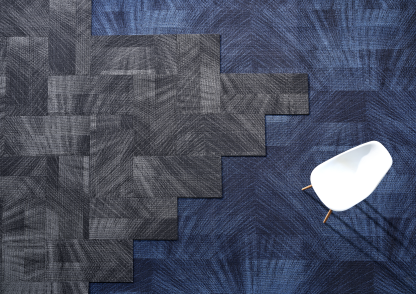 Perception is everything. Night Vision from Bentley brings to light an innovation in yarn technology, illuminating the floor in soft striations of monochromatic color. The variegated yarns alternate between low and high luster, mixing color within the angled design in unexpected ways. Its bold patterning and subtle ombré effect – available in a range of gradient color combinations – combine to give the broadloom unique dimension that morphs the design as you move across it. Advanced pattern tufting technology produces flexibility and durability for a variety of commercial spaces. With the proprietary color-changing technology of Bentley's COLORCAST™ program, designers have access to infinite possibilities of color combinations (with no additional minimum order requirements).
Night Vision won Editor's Choice in Carpet:Broadloom in this year's Best of NeoCon.
Available in 12-foot broadloom for spaces that don't desire the interrupted pattern aspects of tile, Night Vision's variable dye lots – available in limitless colors – create a beautiful expanse of color that only broadloom can deliver. Bentley's COLORCAST™ allows designers to match color from any source – including paint chips and fabric swatches. As durable as it is luxurious, Night Vision features Ultron® Nylon 6,6. The tufted textured loop is designed to withstand heavy traffic. Soil and stain protection is provided by Bentley's XTERA® application. Night Vision comes standard on Bentley's high performance broadloom backing, ensuring excellent tuft bind and pattern registration. Optically luminous, the design mirrors a large-scale, geometric pattern that reflects fragmented pieces of lines and hues. Night Vision's color flexibility is only limited by imagination. Night Vision is Cradle to Cradle Certified™, NSF® 140 certified and CRI Green Label Plus certified, and produced in a LEED®-EBOM Gold-certified manufacturing facility. NeoCon Showroom 1098.