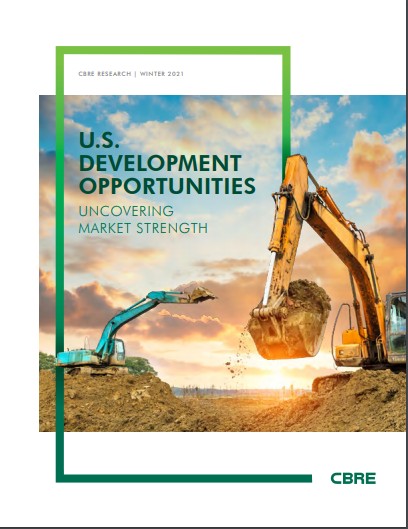 The Southeast and Texas offer the most favorable conditions for commercial construction, claiming seven of the top 10 markets in CBRE's inaugural Development Opportunity Index. CBRE's Index analyzes a spectrum of variables in the 50 largest U.S. markets to determine rate the highest for development opportunities across various asset classes.
U.S. construction activity is expected to bounce back in 2021, after a slowdown in 2020 due to challenges brought by COVID-19, including temporary work stoppages and difficulty sourcing various materials from abroad. Since the start of the pandemic, momentum has varied across commercial real estate sectors – development largely progressed in the multifamily and industrial & logistics sectors, but activity slowed—and in some cases stalled—for retail, hotels and speculative office development.
"We expect to see an uptick tenant fit-out projects in 2021 as employers redesign and reconfigure spaces to accommodate new standards in health, wellness and safety," said Jim Dobleske, CBRE Global President of Project Management. "Costs, however, aren't likely to change much; markets with high costs of land and labor won't get much cheaper, if at all."
CBRE's Development Opportunity Index ranks markets based on development conditions including property performance across each of the major commercial real estate asset classes, construction costs, strength of supply, prior and forecast performance.
CBRE Development Opportunity Index Top Markets of 2020
| | | | |
| --- | --- | --- | --- |
| Market | Score | Market | Score |
| Atlanta | 84.32 | Seattle | 81.26 |
| Dallas | 83.18 | Raleigh | 80.81 |
| Phoenix | 83.17 | Austin | 80.65 |
| Orlando | 82.35 | Houston | 80.64 |
| Denver | 81.79 | Miami | 79.94 |
"Southern states continue to rate highly for development and construction conditions, though investors looking for development opportunities can find them in every market," said James Millon, a vice chairman in CBRE's Debt & Structured Finance practice. "Southern states often have job growth, in-migration and cost advantages that drive high volumes of construction activity."
An overall top-10 ranking doesn't necessarily mean that market is among the best for every asset class.
For example, CBRE's analysts ranked San Jose as the best-positioned market for office construction due to its supply growth and strong absorption. Phoenix – reflecting its shrinking vacancy and strong absorption — and San Francisco – with strong rent growth – also are attractive office markets for development.
For industrial & logistics construction, Atlanta ranks highest due to its balance of strong inventory growth and net absorption. Also ranking well are Phoenix because of its affordable land and labor, and Dallas due to its relatively low costs and strong population growth.
Houston tops the index of ideal markets for retail construction due to that market's strong consumer spending and sustained absorption of retail space. Next are Dallas and Atlanta, which both offer stable costs and good absorption of retail space.
For multifamily construction, the top markets are Orlando, Phoenix and Denver. Each offers strong population growth, job gains and relatively low costs.
To download the report, click here.
Listen to CBRE's Jim Dobleske and James Millon and Trammell Crow Company's Ann Sperling discuss this report and related topics in more depth on the latest episode of CBRE's The Weekly Take podcast with Spencer Levy, available on the Weekly Take website, Apple and Spotify.