The National Founding President of the Association of Medical Facility Professionals (AMFP), Jeffrey S. Kent, has been reappointed for a fourth consecutive year by the organization's National Board of Directors.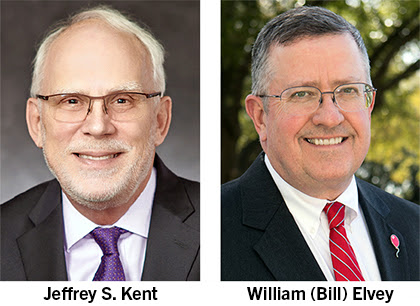 Kent, a recipient of the 2022 Texas A&M School of Architecture Outstanding Alumni Award, retired in 2019 after 20-plus years as head of Facilities Planning, Design and Construction for Nemours Children's Health and SwedishAmerican Health System (now UW Health). He has led AMFP as National President from a start-up 501(c)(6) organization with 200 members in 2019 to 12 chapters and over 1,300 members throughout the United States.
Jeff has been the central figure in leading the organization from a start-up, and through the pandemic the following 18 months. He works tirelessly in supporting and growing the organization.

Rod Armstrong, a business development executive with AHF Products and AMFP National Vice President in charge of Chapter Development
Armstrong said the Board of Directors also appointed William (Bill) Elvey, Executive Advisor at Children's Health in Dallas, as AMFP National Vice President.
Elvey has been serving as Vice President of the AMFP North Texas Board of Directors since 2019. His professional experience includes more than 45 years in facilities management in healthcare, higher education and the U.S. Navy Civil Engineer Corps.
The Association of Medical Facility Professionals is "The hub where healthcare built environment leaders share ideas, gain knowledge, solve challenges, connect with peers and shape the future of the industry." The member-based, non-profit organization currently operates chapters in Boston, Central Florida, Charlotte, Chicago, DC/Baltimore Region, Greater Philadelphia, Houston, Nashville, North Texas, Northern California, New York City, and the Upper Midwest. AMFP expects to launch new chapters this spring in Atlanta and Colorado.