Following on the heels of the first-ever Platinum NSF/ANSI 332 sustainability assessment certification in resilient flooring for its ASPECTA FIVE contract LVT range, Metroflor has won again with both ASPECTA ONE and ASPECTA TEN achieving the Gold level.
Under this widely recognized industry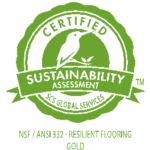 y standard, resilient flooring products are evaluated for environmental performance and sustainability attributes in five key areas: product design, manufacturing, long-term value, corporate governance, and innovation. Performance is scored on a 100-point scale.
Corey Carter, Director of Safety & Sustainability for Metroflor, said "As a company, sustainability is a core part of how we do business, and we are continually improving our environmental performance and social responsibility. These new certifications reflect our unwavering commitment to sustainability in both the products we produce and our corporate practices."
A global LVT brand developed by Metroflor, ASPECTA was developed based on consultation with architects, designers and contractors to outperform current market offerings from an aesthetic as well as practical perspective. The new ASPECTA TEN was launched and the new ASPECTA ONE was previewed at NeoCon.