Pathways to Resilient Communities available to elected officials and decisionmakers looking to protect communities against natural and manmade disasters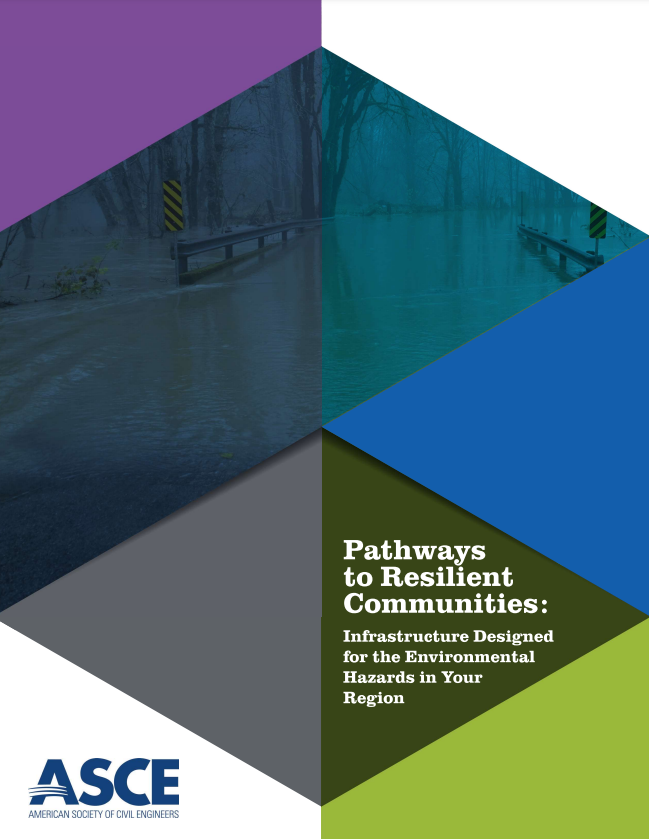 November 6, 2023 — The American Society of Civil Engineers (ASCE) has released a new online toolkit, Pathways to Resilient Communities. This clearinghouse of available technical tools and resources is designed for community leaders looking to improve their built environment's ability to respond to increasingly severe storms and other threats to vertical and horizontal infrastructure.
The toolkit summarizes the difference between codes, standards, and manuals of practice and denotes where local leaders can take action to ensure these resources are put into practice. The resource also features ASCE's hazard-specific standards for threats to the built environment by region, including flooding, earthquakes, wind, hurricanes, tornadoes, tsunamis, winter weather and more.
Civil engineers are trusted to protect the safety and health of the public through the construction and maintenance of infrastructure systems people rely on every day. This new toolkit will help decision makers understand why modern codes and standards matter when improving current infrastructure and building for a more resilient future.

Maria Lehman, ASCE president
In addition to highlighting ASCE's standards, the toolkit also highlights the Envision program, operated by the Institute for Sustainable Infrastructure, and developed by ASCE, the American Public Works Association (APWA), and the American Council of Engineering Companies (ACEC). The Envision Program is a comprehensive tool which helps businesses and government design and build civil infrastructure that addresses climate change, public health, environmental justice, and the project's economic benefits. Envision verification provides an evidence-based approach to demonstrate a project meets the community's needs and expectations.
ASCE is a leader in standards development which incorporates the best available hazard data to ensure buildings and other structures can withstand conditions communities currently experience or may see in the future. Standards undergo extensive peer review to ensure that buildings and structures are safe and resilient to climate threats. Recently, ASCE 7-22 was given an update to its flood mitigation chapter, which will improve the expected performance of buildings and structures located in flood hazard areas by using the 500-year flood as its threshold, up from the 100-year threshold.
Widespread adoption and enforcement of current codes and standards is the best way our infrastructure and communities can handle threats from nature and other hazards. Additionally, the construction of resilient infrastructure can also reduce the cost of rebuilding after a major event. Building infrastructure to the latest codes and standards also has potential financial benefits. Many federal grant programs incentivize the use of the most current standards, including some operated by the Federal Emergency Management Program (FEMA).
Download Pathways to Resilient Communities (PDF) from ASCE. Founded in 1852, ASCE represents more than 150,000 civil engineers worldwide and is America's oldest national engineering society.