One of the most important trends in building construction and building management is the continuing focus on energy efficiency, because of it's impact on climate change and on customer operating costs.
Intelligent, variable speed fluid management has emerged as a significant energy-saving technology, with Armstrong Fluid Technology at the forefront of this change with Design Envelope.
Because energy and cost savings can reach up to 70% with the new technology, pump owners see an opportunity to reduce operating costs and improve profitability with variable speed equipment. Now with the new Armstrong Design Envelope Vertical-In-Line Retrofit, they can upgrade existing Vertical In-Line (VIL) constant speed Armstrong pumps. They simply install a new Design Envelope rotating assembly, consisting of integrated motor, controller, shaft, impeller, adapter, flush line, seal and casing gasket.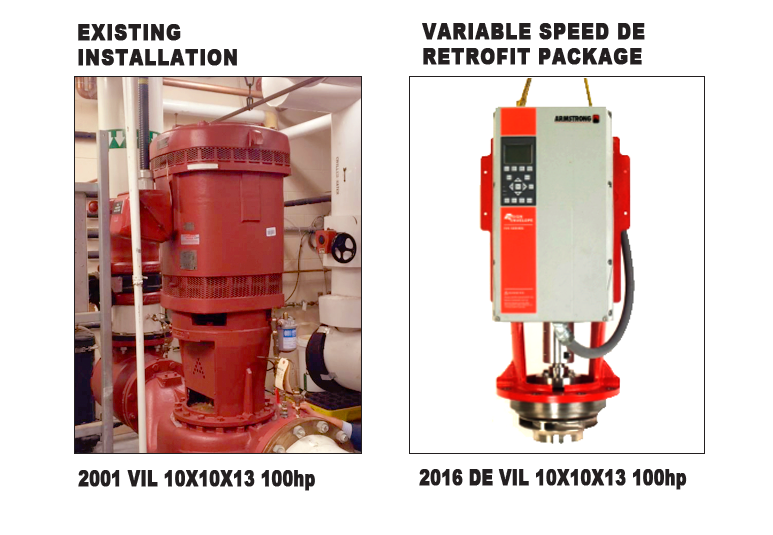 Keep the old casing, piping and pipe insulation in place, while replacing the moving parts in our older VIL pumps, upgrading them to intelligent, variable speed Design Envelope technology.
There are numerous benefits to this program including:
Energy savings are so significant that paybacks are typically 2-3 years (60% – 70% savings with Design Envelope variable flow). After this short payback period the client enjoys these annual savings each and every year.
Equipment, shipping and scrap costs that are reduced because you re-use the casing.
Labor cost is less than half (of a complete new variable speed pump) because you use existing piping and insulation, and no pressure test is required. Downtime is reduced too. In general, it's a much less intrusive procedure than a complete replacement.
Intelligently engineered Design Envelope pumps don't require sensors or wall-mounted drive units.
In many municipalities superior energy performance qualifies for utility or government rebate programs.
This easy and economical retrofit is a rational choice that fits the client schedule rather than taking place under duress when an old pump fails.
Design Envelope technology ensures no issues with future flow changes, and optimal speeds mean longer equipment life (20% – 30%), and greater reliability.
Sustainable operations: Energy savings reduce emissions, and the retrofit also keeps casings out of landfill.
Compared to a third-party retrofit, the Armstrong approach replaces all the moving parts, and does not require sensors, wall-mounted drives or additional wiring.
Compared to other variable speed technology, Design Envelope:

Saves 60%-70% through advanced engineering, intelligent, embedded Sensorless flow control
Is remotely accessible and compatible with all BMS systems and leading staging software
Installs fast, with no on-site alignment required
Provides built-in harmonic mitigation, pump-specific control logic, soft start and motor adaptation
Means factory calibration for each individual pump
Includes integrated controls to eliminate wall mount drives, and provide convenient on-pump flow and pressure readings.
Includes a 5-Year Warranty, just like a brand new Armstrong Design Envelope pump.
Ideal customer situations 
This program is ideally suited to customers already thinking about new motors or variable flow; with 5hp+ constant speed VILs older than 5 years, and especially those between 8 and 20 years.
Additionally, it is perfect for systems that are used in critical applications such as hospitals or other 24-hour demand operations and/or regions where energy is relatively expensive.