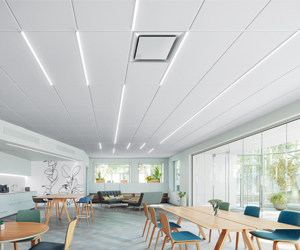 The 24/7 Defend™ air purification portfolio offers in-ceiling solutions for air filtration and disinfection. Recognized as best practice solutions by ASHRAE and the EPA, StrataClean IQ™ and VidaShield UV24™ improve indoor air quality. Health Zone™ ceilings combine exceptional acoustics, sustainability, and functionality.
AirAssure™ panels reduce air leakage with factory-gasketed edges that seal the ceiling plane. Help create healthier, safer healing spaces with ceilings designed for superior indoor environmental quality.
Learn more about Armstrong Ceilings and Healthy Spaces.