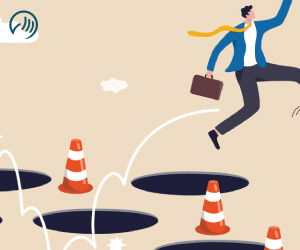 Facilities management (FM), which includes commercial cleaning, constitutes more than emptying a wastebasket nightly. The benefits go beyond anything we can see at first glance (although a just-cleaned office is easier to work in than a filthy one). Your FM and janitorial company are protecting you from many issues that could lead to lost profits, personnel issues, and a tarnished reputation.
If your facilities management company isn't protecting you from these specific issues, it might be time to make a change:
1. Your Talent Pool Running Dry‍
Today, knowledge workers, or any worker for that matter, have their choice of where they want to work. They can choose a hybrid, online, or in-person office, and if you don't have what they are looking for, they'll find it somewhere else. But that's a discussion for another time! Right now, what you have control over is your office's appearance.

A clean and tidy office not just attracts new hires, but keeps employees focused and feeling comfortable. In addition, following properly cleaning and maintenance protocols removes risk of injury and illness by removing harmful germs and removing slippery surfaces. This regimen includes a process for keeping floors professionally cleaned.
2. Maintaining Regulatory Compliance and a Favorable Brand Image
If you oversee a warehouse or transportation site, you may have additional regulatory compliance from OSHA and the FDA to be concerned about. A professional facilities management company understands those regulations and decreases your chances of having a violation. Workers in these industries demand safe, clean, and organized places to work. If there is no standardization or a lack of cleaning consistency, workers could threaten to call a union representative and demand action. This type of disruption can be detrimental to a site's brand, as well as our nation's supply chain. Another risk that can be avoided if you have the right facilities management company on your side.
3. Outbreaks of Illness‍
Cleaning and disinfection aren't just about appearances. Germs and viruses that can cause serious illness, including the flu and Covid-19, can easily spread throughout a large space quickly without proper disinfection. Even dust, mold, and mildew can cause respiratory distress in sensitive individuals.

Cleaning and disinfection contribute to keeping your space safe and comfortable for customers and employees. Simply wiping down high-touch surfaces on a weekly basis isn't enough. Norovirus can last 350 hours on surfaces and E coli (found mainly in kitchen areas) can last up to 500 days on surfaces. A qualified commercial cleaning company will have access to advanced tools and materials that are needed to maintain a healthy environment. Tools like electrostatic sprayers and antimicrobial surface protection products allow professionals to disinfect almost any surface and give long-lasting protection.
‍
4. Increasing Insurance Rates
If you are outsourcing your facilities management tasks, including janitorial duties, you won't really have to stress about increased insurance costs. That's because your facility management company should be protecting you from liability. A professional facilities management and janitorial company will have business insurance that covers everything from damage from harsh chemicals and workers' compensation.

So, as a company, if you choose to take on all facilities management duties including cleaning, know your insurance rates may continue to rise. In this case, you may need more than general liability coverage.
Should you outsource, check to make sure the facilities management company carries:
—General liability coverage: Pays to clients, vendors, and third parties who suffer property or bodily damage.
‍
—Workers' compensation insurance: Covers medical bills for employees who get injured or sick on the job.
‍
—Commercial property insurance: Covers repairs or replacement for a business building, equipment, and other assets after a fire and certain natural disasters or a burglary.
‍
—Fidelity bonds: Repays clients who suffer property loss because of theft or negligence by employees.
‍
—Commercial auto insurance: Pays for property repairs or replacements, as well as medical expenses when company vehicles are involved in a road accident.
5. Increasing Downtime and Losing Profitability‍
Disruptions in supply chain facilities (whether due to government regulation non compliance, employee strikes, employee absenteeism, injuries, and the inability to move goods) could result in delayed product delivery.

Manufacturers must build a competitive advantage by ensuring minimal disruption to their plant, warehouse, fulfillment centers, and transportation network. Commercial cleaning and quality facilities management will help assure you're running at optimum efficiency.

If you work in an office, when folks call in sick or even quit, your ability to finish projects is severely affected. Plus, keeping employees healthy is part of your responsibility. With the move to a more hybrid work schedule (working part of the week remotely and the other part in the office), employees need to feel motivated and comfortable working outside of their home.
The OpenWorks Difference
OpenWorks offers coast-to-coast commercial cleaning and facilities management services that will keep your warehouse and fulfillment center working safely and fully operational. Trusted by brands like General Mills and Pepsi, OpenWorks ensures each member of our proven network of service providers understands the importance of quality cleaning and careful maintenance and repair of your facilities. Click here to learn more and to get your OpenWorks estimate.