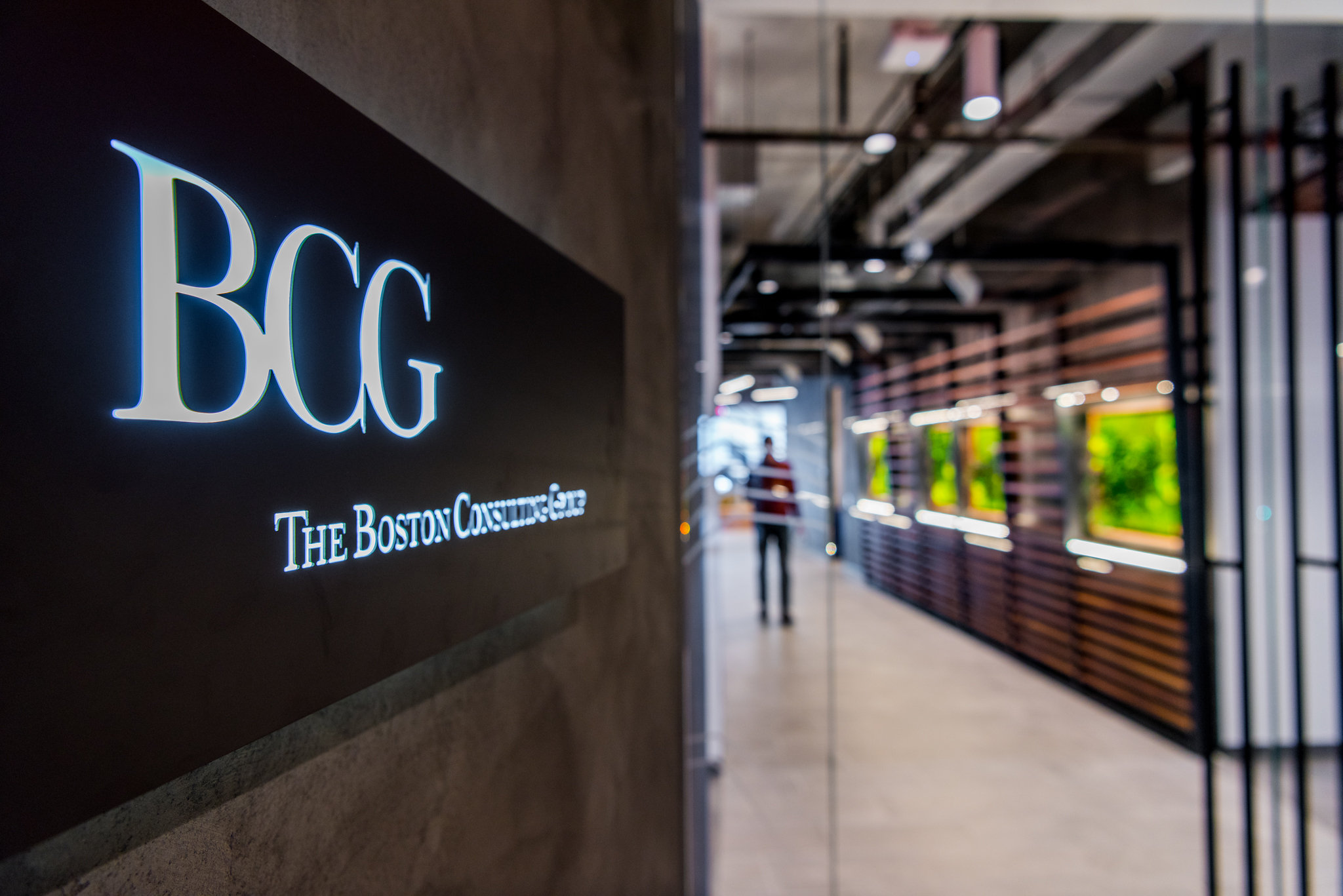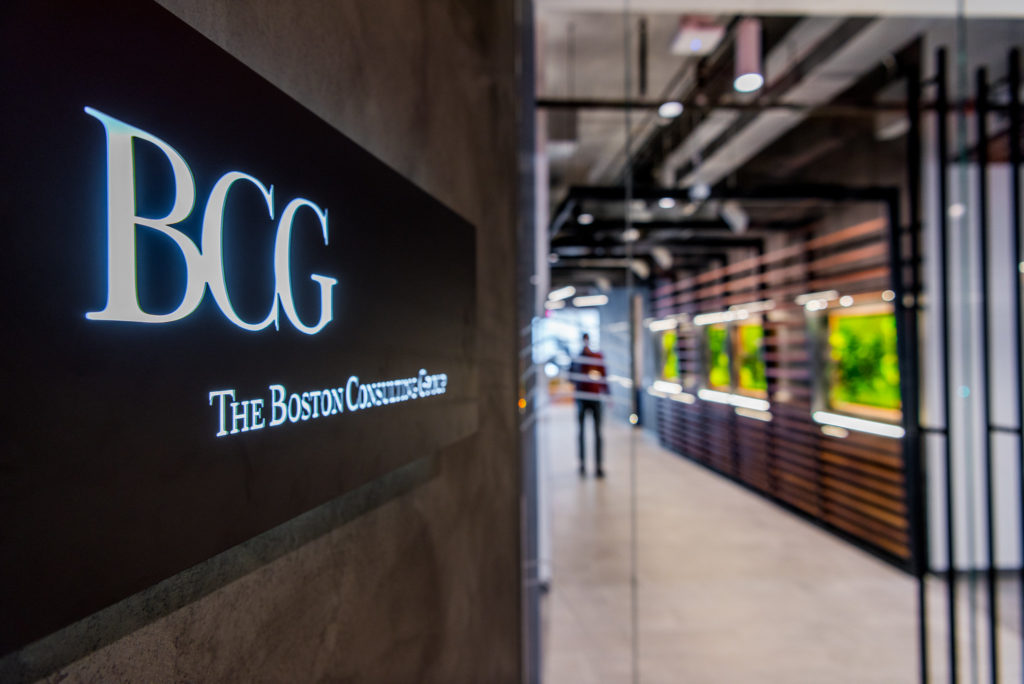 "The office of the future is not a place where people come just to do work. It's a place to make personal connections with colleagues," says Ross Love, The Boston Consulting Group's managing partner for New York. "We wanted to create a significantly higher level of unplanned collisions to transform our office culture."
Love is explaining a key element behind the design of the firm's bold new office at 10 Hudson Yards. BCG—one of the world's leading management consulting firms, consistently ranked near the top of Fortune's annual Best Companies to Work For survey—relocated there late in November 2016, consolidating its two former New York City offices.
BCG is among the first tenants to move into Hudson Yards, the largest private real estate development in US history, joining Coach, L'Oréal USA, SAP, and VaynerMedia in the first building to open.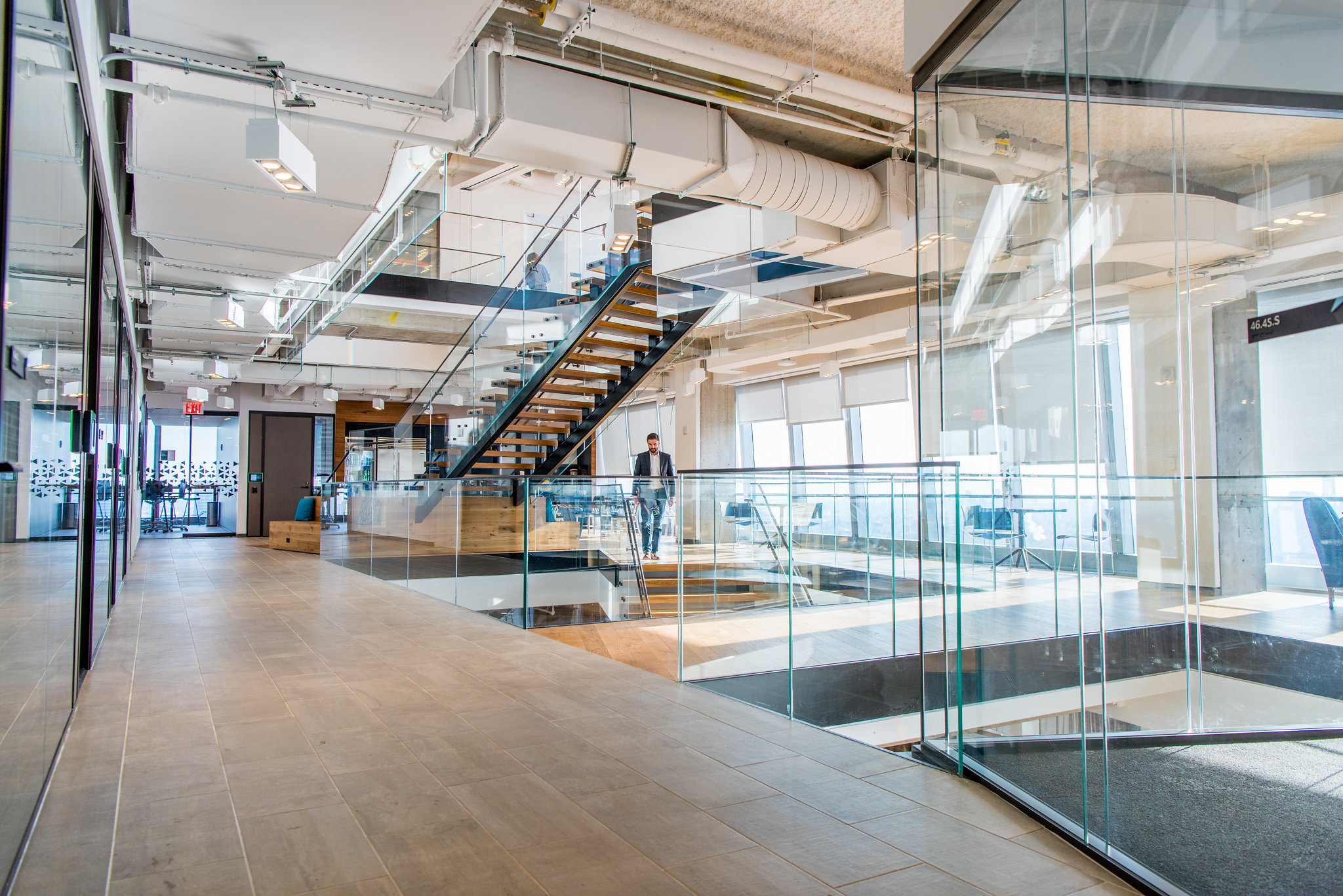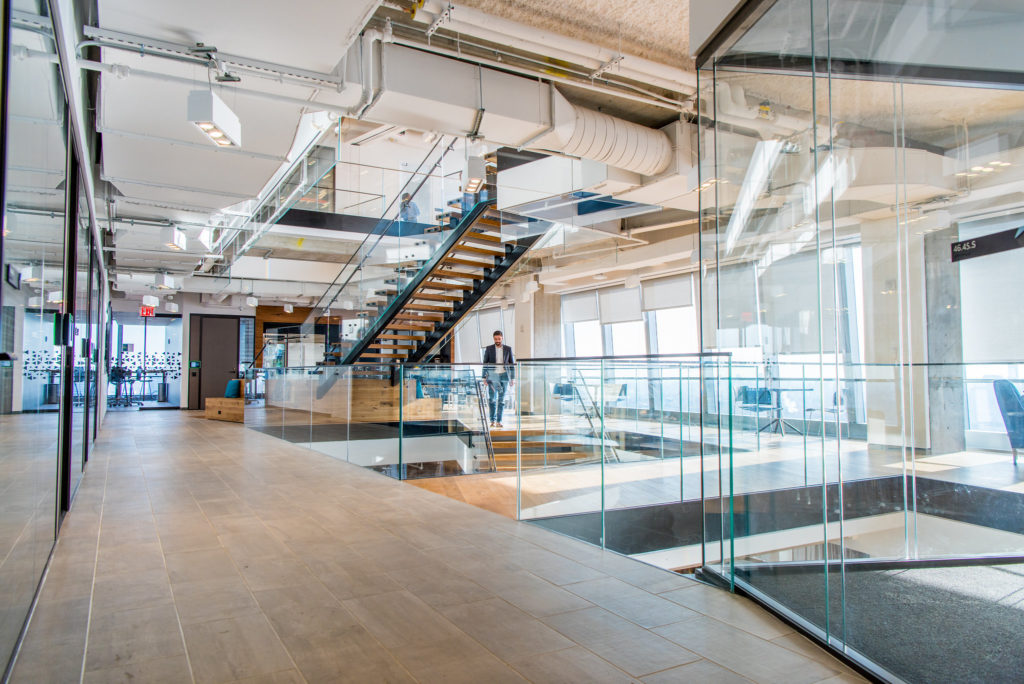 Now that well over 500 employees have settled into six upper-level floors (193,295 square feet of space) in the 52-story tower, located at the northwest corner of 30th Street and 10th Avenue, Love is ready to pull back the curtain and share further details about the office, which boasts many distinctive features, technologies, and amenities.
"Uniting the two locations in a new building has allowed us to align our physical space with new ways of working, our brand, and our values," he says. "The new office communicates the characteristics of our work and our firm as never before. It is a flexible and adaptable environment that fosters a strong, connected community and encourages creative, team-oriented problem solving."
Maximizing Collaboration and a Sense of Community
From the start, Love and his colleagues wanted to create a workplace that emphasized serendipitous interaction and connectedness. "The more efficient we can be in exchanging information, the more challenging and insightful we can be in thinking about each other's issues." The design will be a conduit to drive organizational change at BCG New York and beyond.
BCG hired Gensler, a global architecture and design firm, and together they partnered to achieve four key goals: collaboration and connectivity, a wide variety of flexible spaces, seamless technology, and a compelling experience for employees and guests.
"Innovative companies such as BCG empower their employees to work when, where, and how it best suits them," says Jean Anderson, a Gensler principal and design director who advised the firm. "BCG really pushed us to develop a design that would maximize collaboration and a sense of community and culture. With Hudson Yards being brand new with state-of-the-art IT infrastructure, we had a blank canvas to help BCG realize its vision."
To encourage serendipitous interaction and connectedness, the office features:
A large, centrally located café (named after the High Line park directly below), which offers free breakfasts, lunches, and barista-made beverages by Joe Coffee, a local merchant
"Landing zones" that feature communal seating and comfortable chairs around all the main staircases
A neighborhood seating system to promote small-group affiliation and idea sharing, organized by practice area or function
A wide variety of room types and flexible spaces to support different work styles and uses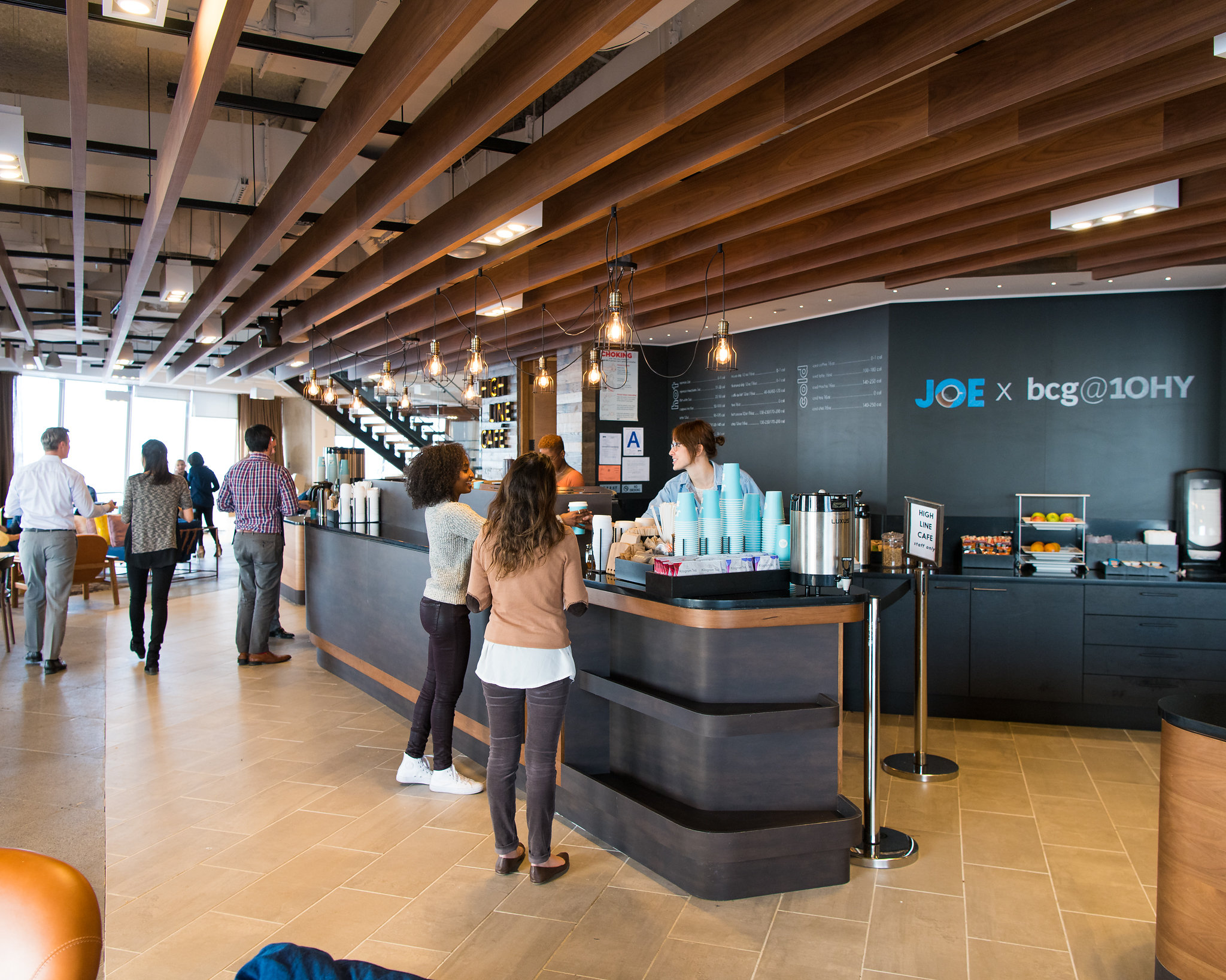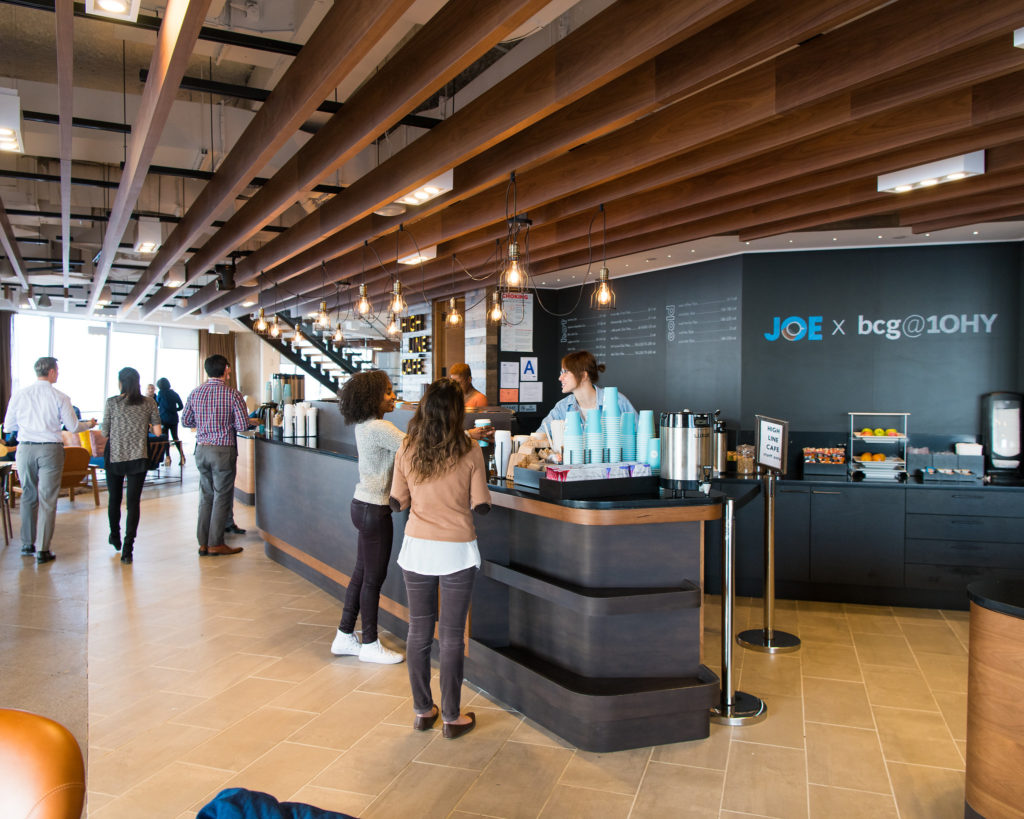 App-centric, wireless and paperless work space
BCG worked with an array of leading experts for input into the design and use of innovative technologies. In addition to Gensler and Humanyze, their partners included UnWork and the Cordless Group, both led by Philip Ross, an authority on the future of work, emerging technology, and workplace design.
Philip Ross, CEO of UnWork says: "This collision between people and space is creating an 'App-centric workplace,' in effect creates a physical social network facilitates the 'bump' factor that people want – engineering serendipity is a key ingredient in future high performing workplaces."
BCG staff can enter the building using the Bluetooth enabled HID Global Mobile Access app. Once in, they can use the BCG NY office App to book a space to work based on what they need to do – an activity based approach – or just check in using the iPad mini screen at each workstation. This can then be personalized to, for example, show pictures from a user's smart phone.
People are able to morph the space – a 'user-defined environment.' Elegance and ease of use were key ingredients. The end result is an environment that is minimalist, ergonomic and utilitarian – but not sterile.
BCG had a vision for a 'paperless-first' space, and meeting spaces all have high quality screens to display PowerPoint decks or other content. The technology, as well as being less visible, is also more integrated, laptops and mobile phones work seamlessly with the IT network. A fully immersive Cisco VC system ensure that so that remote participants feel as though they are in the same space during videoconferencing.
The space is 'WiFi first' – in effect a 'cableless office' – and the default is that people connect wirelessly for voice and data.

A new arrival experience for visitors
There is no reception desk and visitors experience a very different sense of arrival. Instead guests enter a Multi Purpose Room (MPR) with a touch-panel surface using laser phosphor display screen technology as the focal points, setting the tone for the technology that lays within the office.
The heart and nerve centre is created here with a large is a large café, informal work and meeting space, with a nearby concierge desk (complete with large Microsoft Surface Hub) for client 'meet and greet' and a main internal staircase.
This flexible environment can be morphed to allow TED-like events and entertainment along with live streaming and presentation facilities, centered on a transparent OLED screen.
Connecting Workplace Strategy to Performance
A model that seeks to connect workplace strategy to performance was at the heart of BCG's approach, which went beyond the traditional focus on cost management. Its primary considerations: driving performance and, ultimately, investment value.
That said, the firm made a number of decisions to keep expenses down and ensure a relative cost reduction: selecting an emerging rather than an established location, creatively designing high-value collaborative spaces to reduce individual space needs, making senior consultant and staff offices "convertible" so that they can be booked when people are out, and leveraging an electronic room reservation system to allow flexible space use.
Because of these decisions, BCG's move to 10 Hudson Yards has reduced the floor space per person by 32%, while almost doubling the proportion of seats in collaborative spaces to more than 50%.
Performance rises as a result of frequent informal interactions, enhancing speed in decision making, employee focus, and creativity. At the same time, fewer formal meetings, shorter time to finish tasks, less idle time, and shorter workdays augment productivity.
Prior to the move, BCG engaged a firm called Humanyze to capture employee interaction patterns and movements throughout existing workspaces. A group of volunteers wore sensors developed at the MIT Media Lab to quantify where people spent time and how they moved around, and to map the knowledge and influence network. The data was then analyzed at an aggregate level to determine the "collision coefficient," as Love calls it. In the coming weeks, the firm will do the same thing in the new office to analyze the shifts in time allocation and networks, which provide an objective view of how the space influences work culture, and to assess the improvement in organizational performance.
Other Goals Reflected in the Design
Benjamin Rehberg, a New York partner who worked closely with Love in leading the BCG-Gensler design team, notes that beyond promoting connectedness and collisions, the office—which is characterized by a light, bright, visually open appearance and an eclectic, noncorporate feel—reflects several other important goals: to convey BCG's preeminence as a professional services firm and employer, celebrate BCG's people and support their diversity, engage the firm's talent to promote its thought leadership with the community, and provide an environment where clients can explore new ideas, immerse themselves in world-class thinking, and develop innovative strategies.
As part of this, the office promotes health and wellness in multiple ways—with sit-to-stand desks in 75% of the open seating, ergonomic furniture, treadmill work stations, healthful food and beverage options, and internal stairs connecting every floor—and offers such amenities as concierge services (instead of a traditional reception), lounges and pantries on every floor, wellness/mother's rooms with refrigerators and sinks, shower/changing rooms, gender-neutral bathrooms, and panoramic views of the city and Hudson River through floor-to-ceiling windows.
In terms of sustainability, BCG has invested significant resources to reduce the office's environmental impact—including the installation of LED lights and occupancy sensors—and is aiming to earn at least LEED v4 Silver certification.
Kathryn Bell, a Boston-based partner who leads BCG's global operations including real estate, points out that the new office is part of a firmwide strategy to create a vibrant, enjoyable workplace experience that will inspire people to build relationships and share insights to deliver outstanding client value.
"Disruptive technologies have brought new opportunities for both virtual and physical collaboration, and an increasingly diverse workforce with new expectations is challenging us to continually innovate in our workplaces," Bell says. "Whilst we reflect the unique local context in each project, we leverage each one to inform our broader change program; 10 Hudson Yards is an important part of that learning."
All of these features, technologies, and amenities are already having a noticeable impact on employees' ways of working, Love says. They're also helping with recruiting—a key consideration as the number of New York employees is expected to grow substantially over the next five years.
Bringing Everyone Together Under One Roof
Formerly, BCG occupied approximately 96,500 square feet at 430 Park Avenue, where the company had been located since 2002. The firm also subleased 34,000 square feet of office space from Credit Suisse Group at 315 Park Avenue South.
The new office brings together several BCG businesses under one roof for the first time. It serves as a dedicated New York center for BCG Digital Ventures, the firm's corporate innovation, incubation, and investment arm, which is rapidly expanding globally. It also houses subsidiaries BCG Platinion (IT architecture and solutions), BCG Gamma (advanced analytics and data science), and Expand Research (financial decision-support services).