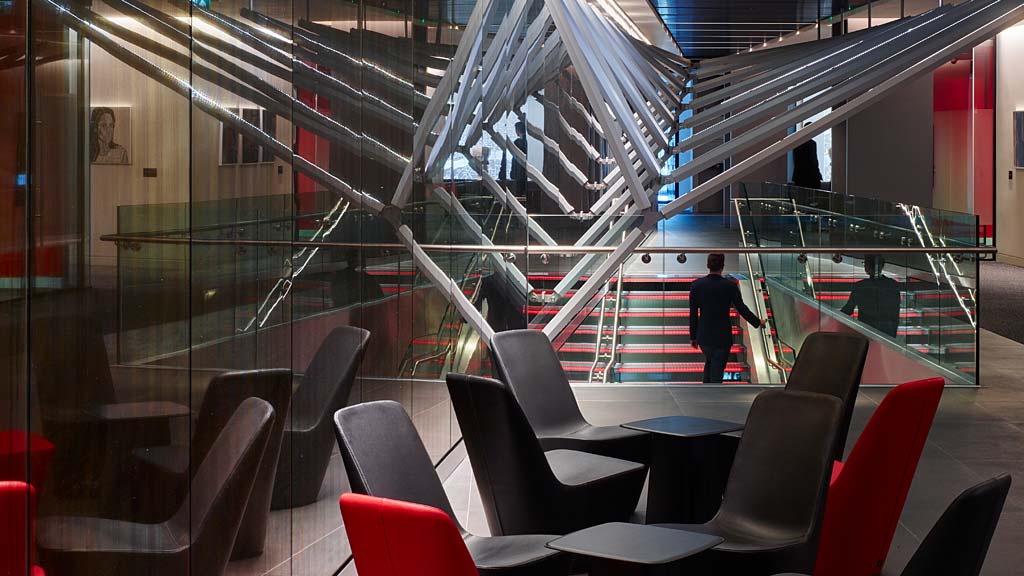 The Aon Centre at 122 Leadenhall Street strategically relocates the world's largest insurance broker's headquarters from Chicago to an iconic building at the epicenter of London's insurance world. The strategic shift also moves Aon closer to the Lloyd's of London insurance market while boosting London's status as a global financial center.
Aon's move to The Leadenhall Building, commonly known as "The Cheesegrater," helps consolidate the firm's UK property portfolio from five London sites into two. The 190,000-square-foot vertical campus unites its more than 2,000 employees and reinforces the global connectivity of the firm. Spread across 11 floors, the design supports agile working, collaboration and connectivity to give employees the choice of where and how they work.
Informed by extensive surveys of Aon's former sites, Gensler delivered a forward-thinking workplace strategy to transform day-to-day office life; reinforce Aon's culture of oneness; and facilitate the next generation of the firm.
"Once Aon realized the potential of a radical shift to a fully mobile, free-address system, the challenge was designing a versatile platform to support this and sustain a growing business," explained Matt Jackson, design director at Gensler. "Our scheme incorporates collaborative spaces that instill different working behaviors to shake up Aon's traditional way of doing things, and has the agility to well surpass initial mobility objectives as Aon extends its programs in the future."
Public areas located on The Aon Centre's lower floors are arranged to maximize the deepest floor plates and take advantage of the impressive views over Leadenhall Street and the public realm. This multi-use space can be employed to host events or client meetings. It is supplemented by a large business lounge, which offers a comfortable area to relax after a flight or work remotely between meetings.
David Ledger, COO, Aon UK Limited, said, "At Aon we are committed to delivering the best for our clients and employees. The design of the interior offers an incredibly creative environment for our employees, as well as allowing us to work in an agile and more effective way. The new building also allows us to deliver an engaging experience for our clients."
Gensler addressed the challenge of making the contemporary business fit-out at one with the building by marrying its distinct architectural language, exposed base build materials, highly reflective surfaces and geometric design forms. Deep tones contrast with the industrial City backdrop, creating a cinematic atmosphere and emphasizing visual links between The Aon Centre and the Lloyds of London building.
Todd Budgen, real estate UK director at Aon, said, "The Aon Centre at 122 Leadenhall is an example of an inspirational design model that has increased productivity, brought cost savings and allowed us to unite our business in one of London's landmark buildings."