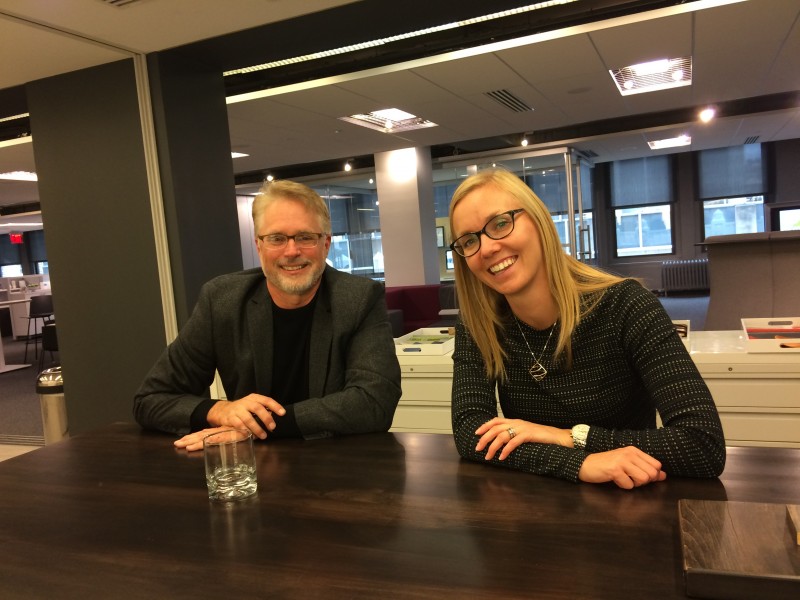 Warm and welcoming, Allsteel's Harvest tables invite workers to gather and collaborate. McMorrow Reports recently spent a rainy afternoon around this rustic table with Allsteel's Andrea Gauss, senior product portfolio manager, (right), and Mitch Bakker of IDa Design, (left), discussing workspace trends and how the company's café portfolio meets these needs.
"Our clients want their clients to feel welcomed. They want them to feel like they are sitting at a kitchen table," explains Gauss. She says that employees do not want a space that feels sterile or that is a sea of sameness. She says they want "microsettings" where they can quickly come together and collaborate.
Gauss sees three demands for space:
Employees want a comfortable space in which to eat, have coffee breaks and celebrate as an office.
They also want comfortable collaborative space they don't have to reserve ahead of time. They want an alternative space to conference rooms that they don't need to schedule.
They also want a space where they can escape for a change in scenery. Sometimes they want to stretch their legs. Sometimes they are looking for fresh perspective by changing their view.
Harvest is just one part of Allsteel's line up of table and seating solutions for the evolving café and other multipurpose spaces increasingly found in today's active workplace.
Developed in partnership with IDa Design, the café portfolio comprises three offerings: Vicinity™, a group of small tables and coordinating chairs, including a lounge; Harvest™, a gathering table available in either a rustic or an industrial aesthetic; and Community, a meeting table with a sleek, urban look. All provide wide-ranging functionality while projecting a simple elegance that reflects the increasing influence of residential and hospitality design on the workplace.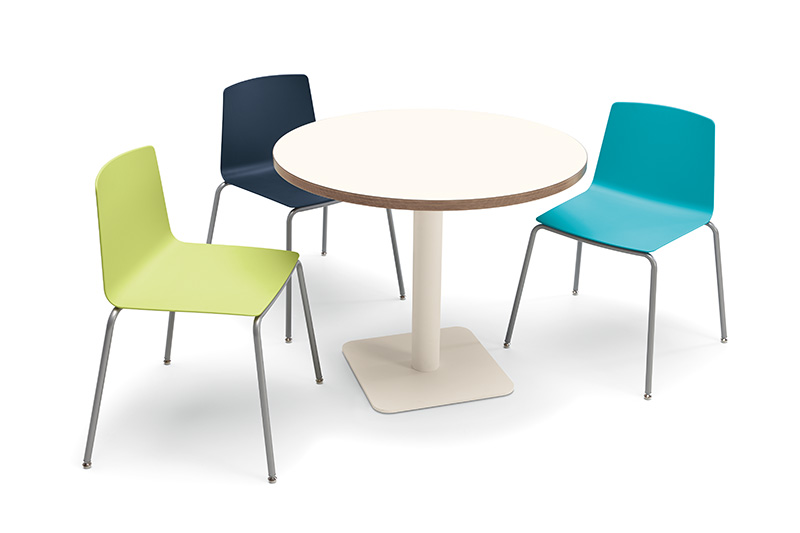 Simple in design, light and easy to move, Vicinity chairs comprise an armless polymer shell on either four legs or a wire sled base suitable for stacking. There is also a stool option, in either bar or counter height. The shell is available in eight colors ranging from soft neutrals to bright solids, while the legs and frame are offered in a choice of seven finishes. By specifying different combinations of color and finish, designers can produce a wide spectrum of looks: quiet and subtle, bold and lively or something in-between.
Vicinity chairs are joined by coordinating tables with a similarly broad choice of design and material options. These include round or square laminate tops that accommodate up to five people and are available in six colors or fourteen wood-grain finishes. The disk base comes in three finishes and three heights—seated, counter or bar, with a footrest for the taller options—so that all preferred sitting or standing positions are supported. Wire management through the base column allows for a power outlet at the center of the table.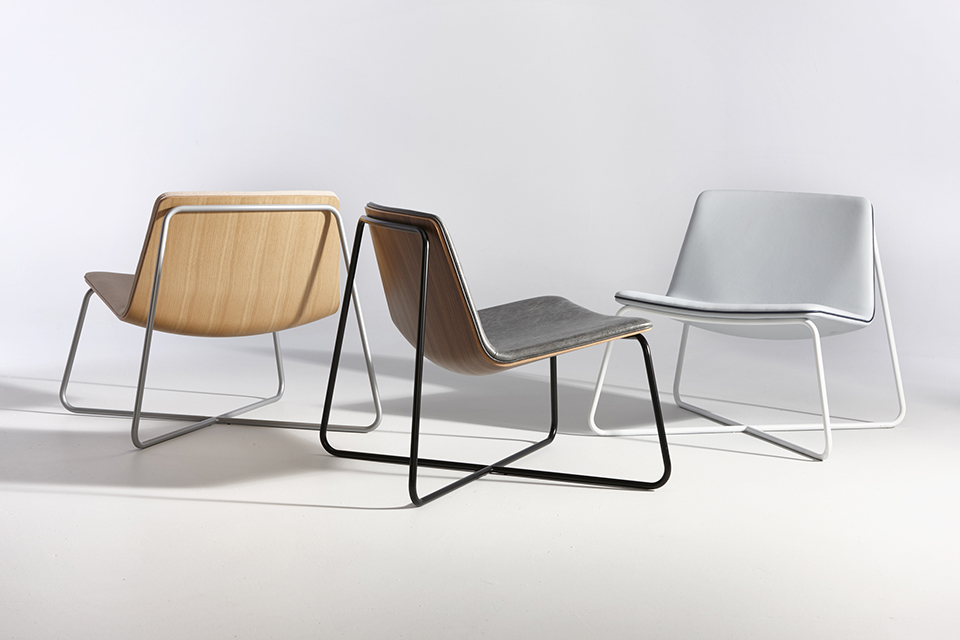 The Vicinity lounge brings the clean aesthetics and lightweight strength of the chairs to a low, comfortable seat. Comprising a partially or fully upholstered shell cradled on a tubular steel base, the lounge allows for a variety of postures, from sitting upright to work with a laptop to slouching down and stretching out in a thoroughly relaxed style. The lounge is available in the same seven base finishes as the chairs, as well as six shell veneer options, including beech, walnut and natural or gray rift oak, and a wide variety of standard or COM upholstery fabrics. Because it is easy to move and offers so many different looks and sitting modes, the lounge can be used individually or in group applications, from the casual to the more structured, and in a diverse range of settings. But whatever the environment, the lounge's simple lines and elegant proportions will add a note of understated sophistication. (McMorrow Reports spent a lot of time in these elegant lounges when visiting the collection. They were comfortable and perfect for discussions.)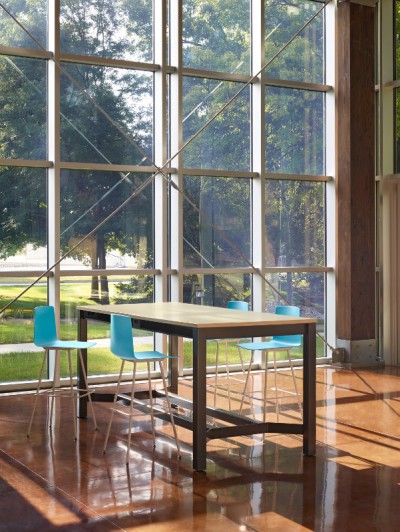 The café collection also has two large table offerings—Harvest and Community—each of which has its own distinct aesthetic. Harvest, currently available in a Classic version, is joined by two new models: Harvest Rustic and Harvest Metal. "As their names suggest, these are welcoming tables to encourage individuals to gather," said Mitch Bakker of IDa Design, who developed the new offerings with Allsteel. "With the option of a solid wood top and base, Harvest Rustic evokes the warmth of a traditional farm table. Harvest Metal's choice of laminate tops and metal bases gives it a more urban, industrial feel." Both tables are ready for the contemporary collaborative workplace, with features like the capability to add power and technology that make them as suitable for meeting or conference rooms as they are for cafés and common spaces. (Harvest Rustic is so warm and inviting that Gauss actually bought one for her Dad's house! McMorrow Reports loved Harvest's secret stash space under the lip of the table, which is perfect for your cell phone. We also loved the easy plug access to keep our phones and laptops full charged.)
Both tables can be specified with square or rectangular tops in a wide range of sizes to host smaller or larger groups. Harvest Metal surfaces are offered in a variety of laminates and veneers, while Harvest Rustic surfaces feature solid wood or laminates. Both models offer two heights, seated or bar, the latter with a footrest. Power and data delivery is available by way of a concealed wire-management system. Outlets are located in a convenient shelf at the table's edge.
Community is a sleek, modern seated-height table with angled legs that give it a bold and striking silhouette. The round, square or rectangular top is available in laminate or veneer with a square or knife edge. Each shape is offered in various sizes to accommodate smaller or larger groups, and there is a choice of painted or anodized metal for the base. Optional power and technology delivery is through a hidden wire-management system built into the leg extrusion, which gives the table a crisp, tailored look. And while Community's distinctive profile creates a strong visual impact, the extensive selection of materials and finishes mean this contemporary table readily adapts to a variety of workplace design environments.
"The collection's functional and aesthetic flexibility allow a company to create a café with an appealing environment, one that facilitates impromptu encounters, encourages the exchange of ideas and promotes active collaboration," said Bakker. "As suitable for a youthful tech start-up as it is for a blue-chip financial services company, the café portfolio will also serve to attract and retain talent and to act as a corporate brand ambassador."