Created for the way we live, AirAssure ™ panels:
Combine the performance of our best ceiling panels – plus more. Collectively these benefits improve the Indoor Environmental Quality (IEQ) in spaces where we work, learn, heal, and play. Not only do AirAssure ceilings contribute to space cleanliness, they offer ISO Class 5 Clean Room performance and direct airflow for better containment of odors, dust, particulates and pathogens. Panels install on standard or existing grid with no hold down clips while maintaining accessibility above the ceiling.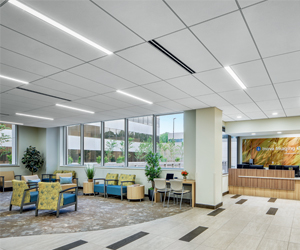 AirAssure™ panels reduce air leaks and improve room pressure.
• Designed with a factory-gasketed edge to reduce air leakage through the ceiling plane.
• Achieve Clean Room performance up to ISO Class 5 (Class 100) with standard non-gasketed suspension systems.
• Supports easy conversion to negative or positive pressure-controlled spaces (without hold down clips).
• Offers Total Acoustics® performance while meeting the most stringent industry sustainability standards.
Learn more at armstrongceilings.com/airassure