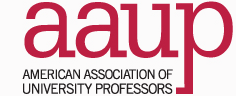 In the wake of last summer's uprising against police violence and white supremacy, many students, faculty, and staff around the country are organizing to reimagine public safety on their campuses. Joining this growing chorus of voices, the American Association of University Professors (AAUP) established a working group of activist chapter leaders and specialist scholars to draft a report exploring the history and role of campus police forces.
The resulting report contains:
A brief history of the development of campus police forces that contextualizes their relatively recent existence in the US academy;
A position statement detailing how campus police forces exist in tension with the AAUP's core principles and can perpetuate structural forms of racist violence;
Guidance for AAUP chapters that wish to organize to transform campus safety, including a set of questions that any group of faculty members can use to begin exploring the nature of law enforcement on their campus; and
Detailed profiles of three chapters currently engaged in campaigns to defund, disarm, or abolish their campus police forces.
As the United States continues to grapple with racism in both the past and present, the academic profession is uniquely positioned to rethink public safety, and there is no better place to start than our own campuses, says AAUP.
The On Campus Police Forces report is available for free download from the AAUP website.