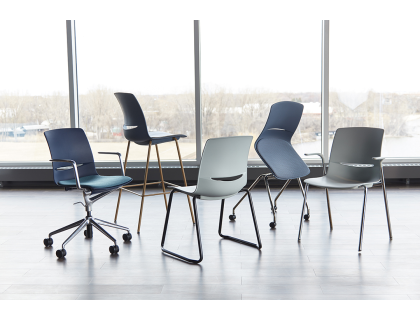 The design intent behind LimeLite was to create a seating line that addressed the three main reasons KI clients specify and purchase stack seating:
Architectural-inspired design aesthetics
Ergonomic comfort
Comprehensive offering to address any application
LimeLite seating, winner of the Best of NeoCon 2022 Silver Award for stacking seating, offers an elevated aesthetic with its slim, contoured profile. Comfort is derived from an inherent flexing shell made possible through the architecture of the shell and use of select materials. The comprehensive collection includes stack, task, nesting and high-density chairs at an appealing price point and supports cohesive design throughout a space in a variety of applications.
Designed by Aaron DeJule and the KI Design Team, the slim profile of LimeLite seating belies its comfort, strength and durability. The curved shape of the seat shell and mix of materials creates an inherent flex for optimal comfort. It is perfect for spaces where movement is the norm and flexibility a must. From the classroom to the office, a variety of styles supports learning and training environments as well as anywhere spontaneous seating is desired. The seat is available as all poly or with an upholstered seat cushion for added comfort. Frame finishes include chrome, KI standard powder coat paints and select colors in a textured matte finish.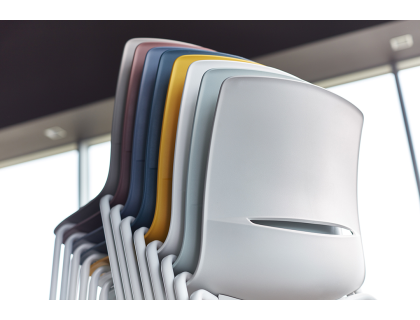 An integrated handle makes it easy to lift, move and stack the chair as a space is reconfigured. A variety of glide options (plastic, steel, non-marring rubber or felt) accommodate any flooring material. Glide caps are interchangeable and field replaceable; ganging glides are also available.
The high-density stack chair fits 30 on a dolly (15 with upholstered seat) or 12 on the floor; high-density stools stack 20 on a dolly (10 with upholstered seat) or eight on the floor.
LimeLite seating is tested to exceed BIFMA standards, has a weight rating of 300 pounds and offers a 15-year warranty. Further, LimeLite meets the WELL Building Standard that integrates human health and wellness into the design, construction, maintenance and operations of buildings. It meets the HHI and Indoor Advantage/Indoor Advantage Fold (SCS).
KI selects materials that can be recycled at the end of a product's use and designs its products so that it can be easily disassembled and separated for local recycling facilities. Disassembly Instructions can be found online or by request.