by Crystal Icenhour, Ph.D.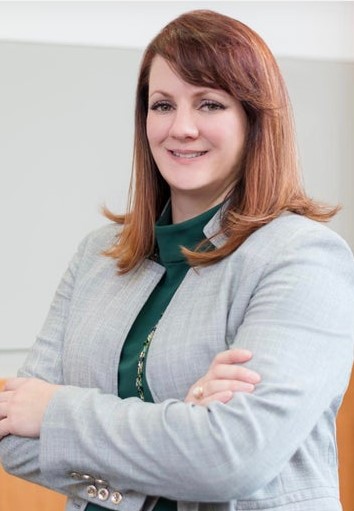 After months of COVID-19 lockdowns, many are moving to reopen the economy, betting that we have flattened the epidemic curve enough to safely resume economic activity.
In conversations with business owners, their chief concern is figuring out how to reopen in a way that keeps employees safe. With employees looking to return – especially in industries where work cannot be done from home – what role will employee COVID-19 testing play in creating a secure workplace?
Should facilities be testing employees?
While it is always critical to respect employees' rights to health privacy, employers can require testing for COVID-19. Guidelines released in April by the U.S. Equal Opportunity Employment Commission state that:
"Employers may take steps to determine if employees entering the workplace have COVID-19 because an individual with the virus will pose a direct threat to the health of others. Therefore, an employer may choose to administer COVID-19 testing to employees before they enter the workplace to determine if they have the virus."
Overseeing a laboratory and testing company, Aperiomics, that has been performing tests for COVID-19, we recommend that workplace managers who plan to require testing also speak to human resources and legal counsel to ensure that the testing is rolled out in compliance with federal and state regulations, including HIPAA and the ADA. This includes ensuring that health information is kept private and that test samples will be collected by a healthcare provider.
Should workplace testing be required?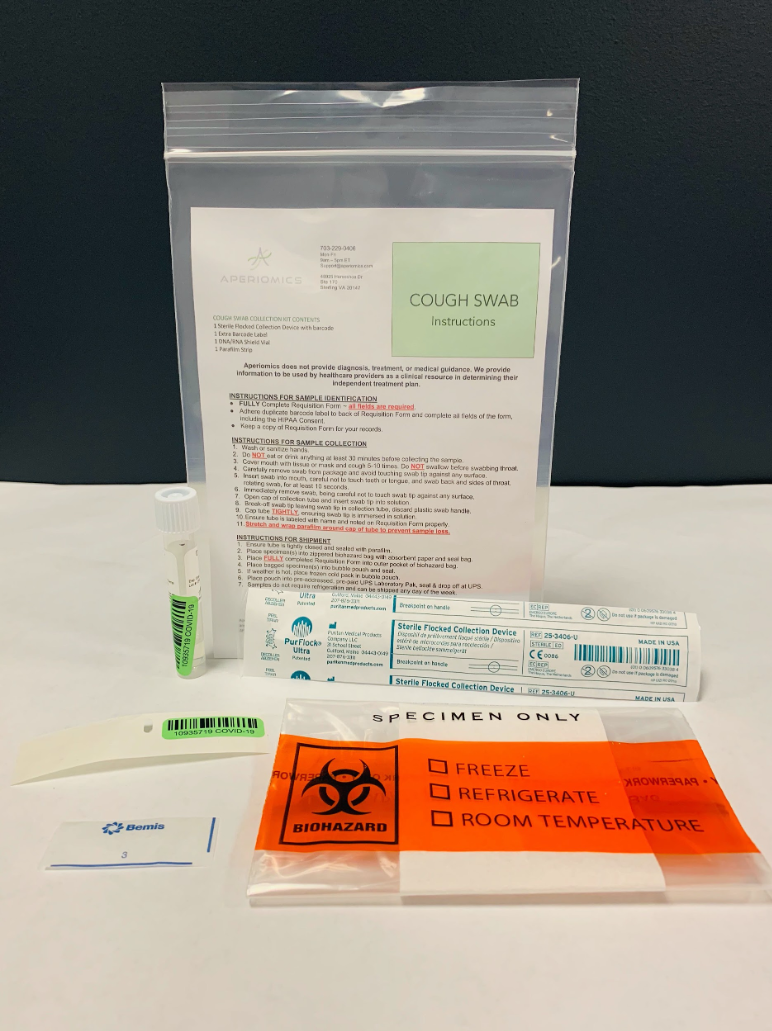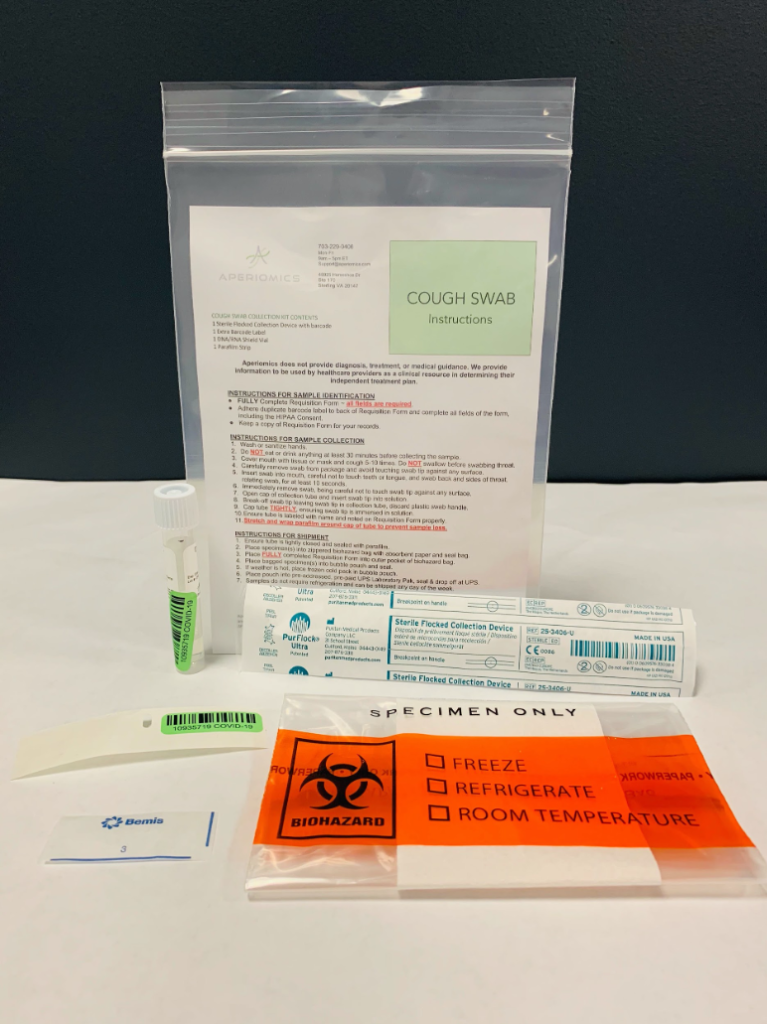 For all workplaces, we recommend requiring testing to resume working on-site. Facilities should plan to provide a set time, three to five days ahead of reopening, during which any employee who will be returning to work can be tested for COVID-19 at a site set up by the company. Employees who receive a negative test result can be cleared to return to work, while any who test positive should quarantine and then retest after 14 days.
After this, a company, university campus or healthcare provider, may consider testing 10 to 50 percent of employees depending on the size of the workforce each week or every two weeks to continue to monitor for the virus and ensure that it is not spreading via asymptomatic carriers.
In scenarios where workers can be more spread out or are not spending significant time in enclosed spaces, continued testing may not be as crucial. Instead, you may consider performing non-invasive tests like temperature checks and health questionnaires before entering the workplace. Testing then can be offered to anyone who may be exhibiting COVID-19 symptoms – for instance, if they are showing a temperature above 100.4 degrees.
What kind of tests should be given?
For most facilities, there are two kinds of tests that need to be considered – one that looks at infection and one that identifies potential immunity:
PCR Testing: PCR tests are what most people mean when they talk about testing for COVID-19. These tests take a sample via a nose or throat swab and analyze it using specialized instruments. These tests identify RNA markers that are unique to the coronavirus that causes COVID-19. PCR tests usually take between 24 and 72 hours to perform and identify if someone is currently infected. If positive, this person should quarantine for at least 14 days and seek medical help if symptoms are severe. To perform these, a laboratory can send collection kits to a workplace, where a qualified healthcare provider can collect samples to send back to the laboratory.

Antibody Testing: These tests use a blood sample from a patient to look for antibodies generated as part of the immune response to the COVID-19 virus. While these tests do not let you know if someone is currently infected with the virus, they can let you know if the person has been infected and developed a natural, presumed immunity.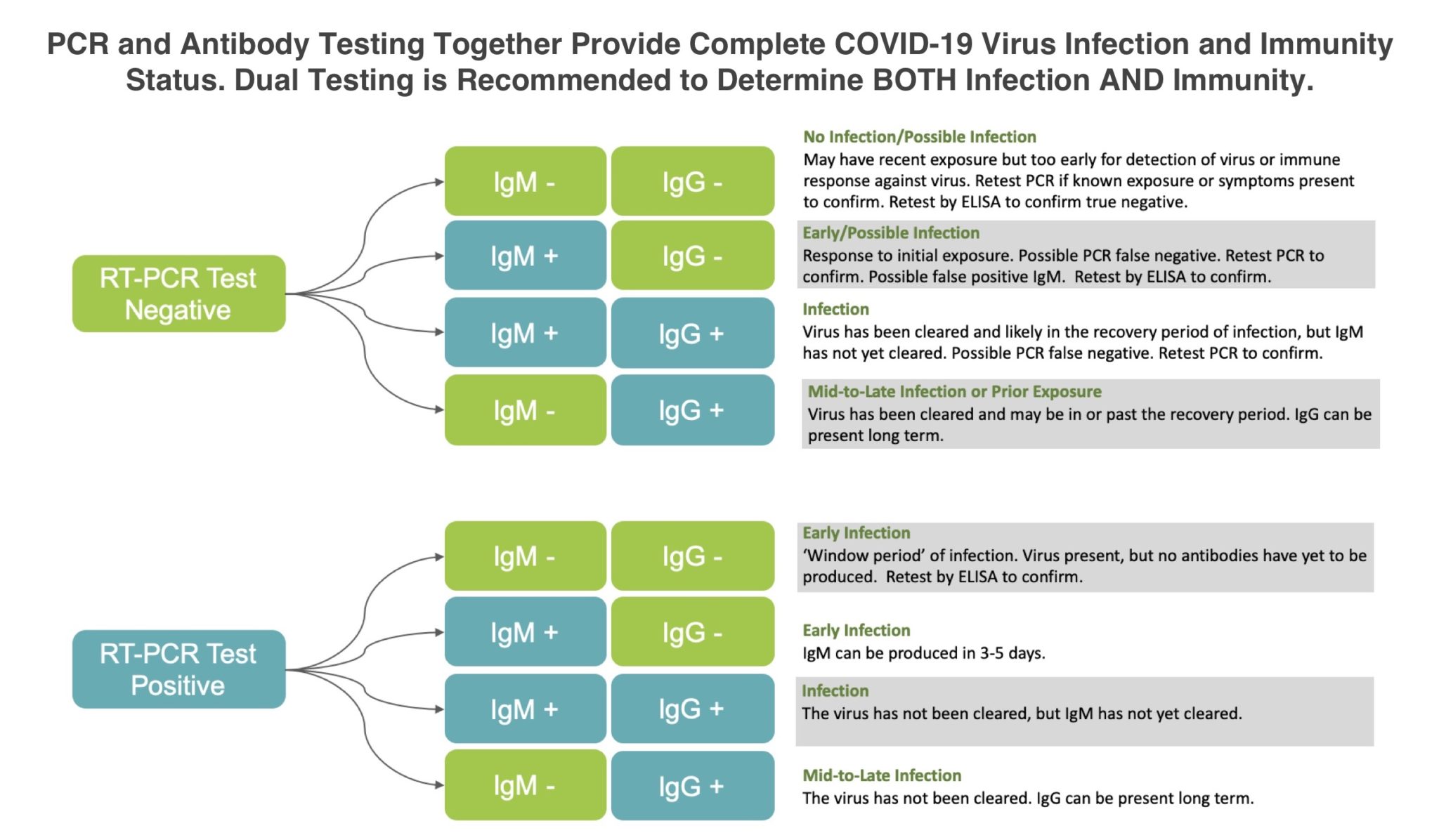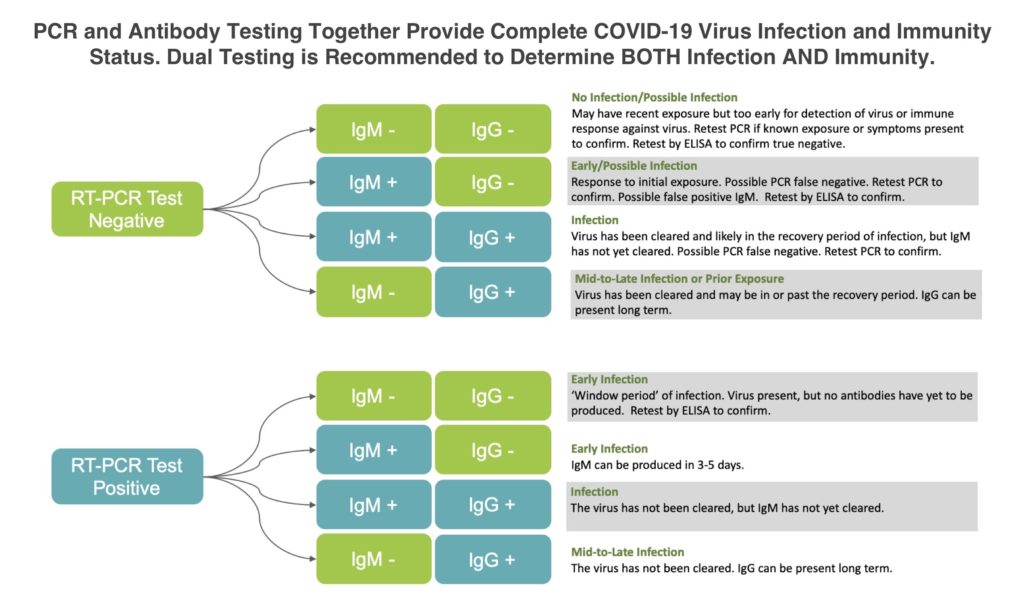 Antibody tests can come in two forms – the first, a rapid antibody test, returns results in 15 minutes by placing a blood sample on a special cartridge. This convenient test has some pros including its speed and the fact that it can be performed on-site, pending FDA authorization. But it has drawbacks, namely, it tends to have lower accuracy than in-lab tests.
The second, more accurate type of antibody test is an enzyme-linked immunoassay or ELISA test. This test also uses a blood sample, but the sample is sent to a laboratory and results can take 24 to 48 hours to process. This more thorough test is the best way to see if someone has developed antibodies to the virus and can be used to validate the less accurate but less complicated rapid test.
We recommend using a combination of all three tests: The PCR test to identify current infections, the rapid antibody test to gauge immunity and then the ELISA antibody test to confirm results from the rapid testing. This provides the most comprehensive look at the risk the virus currently poses to your facility.
How do these tests keep us safe?
Workplaces that want to stay ahead of the virus and lower the possibility of an outbreak should be looking to learn two things:
Do any employees currently have the virus – and, if so, who could they have spread it to?
How many employees have had the virus and mounted an immune response against the virus and are presumed immune?
The more tests you can do, the better picture you will have of how the virus is affecting your workers and your facility. This means you can act fast if someone is exposed, slowing the spread of the virus and limiting its impact.
Every workplace is different and that means there is no one-size-fits-all approach to testing – but we know testing broadly and often keeps everyone safer. As we begin to return to something resembling normal life, employers can play a huge role in helping us understand and slow the virus by testing employees and protecting their workplace.

About Aperiomics
Aperiomics, an infectious disease testing company, has been providing testing for COVID-19 since March, working with municipalities, businesses, and other organizations to ensure testing is widely available. Most recently, Aperiomics has launched antibody testing for COVID-19 with a clinically validated test that demonstrates 98% sensitivity and 100% specificity. Click to email Aperiomics to find out more about testing your facility workforce for COVID-19.
As Chief Executive Officer and co-founder of Aperiomics, Crystal R. Icenhour, Ph.D. is leading the fight to ensure that no one suffers needlessly from infectious disease. Leveraging over 25 years of clinical research expertise, she helms Aperiomics' mission to harness next-generation DNA sequencing and artificial intelligence to identify every known pathogen – bacteria, viruses, fungi and parasites – using a single test. Icenhour's expertise on infectious disease testing has been featured in the New York Times, the Washington Post, and NBC's TODAY Show.