Healthcare and hospital professionals work in the most credentialed environments of all the professions. Going for training, additional certifications and credential renewal is par for the course. Facility managers in healthcare might want to share recent findings about FM training based on results from the Facility Management (FM) Training Outlook Survey that indicates the top challenges facing facility professionals and how organizations can improve retention and overcome staffing pressures.
Among the questions: Are professional credentials and qualifications as important in FM as in other professions? What value do they provide for FM staff and employers?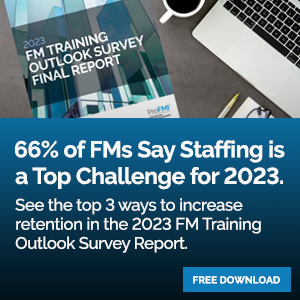 62% of FM managers say that credentials and qualifications are more important in 2023 than in previous years.
86% of FM professionals would pursue an FM credential if their employer supported them financially.
81% of FM managers say a credential or qualification is an influential factor in hiring or promoting FM staff.
81% of FM staff say FM training and credentials result in better credibility within the organization and with clients.
Further, the top 3 ways for organizations to retain facility professionals are to provide:
Better work-life balance.
Opportunities for professional development.
Increased compensation or benefits.
Since 2019, the Professional Facility Management Institute (ProFMI) and Building Operating Management (BOM) magazine have been conducting the Facility Management (FM) Training Outlook Survey to determine the need for facility management training and credentials from both the management and staff points of view. The latest survey was conducted in January through April of 2023 to identify top FM challenges and workforce trends, determine the current need for FM training and credentials, and gauge how sentiments may have shifted over time.
This study answered several key questions across the following four categories:
Building and retaining the FM workforce
The value of FM training
Addressing the FM skills gap
The importance of FM credentials and qualifications
Survey participants included readers of The McMorrow Reports and FMLink.
At this link, download the full FM Training Outlook Survey Report for 2023.