by Mark A. Bodenschatz, PE, ProFM, CSSP, Director, Penn State Facilities Engineering Institute
Facility Managers (FMs) face no shortage of challenges in 2022. The pandemic and its resulting fallout still loom large in the FM world, as with many other industries. Add to the list, tough competition in many industries, supply chain issues, growing labor shortages, and cyber and ransom attacks. However, imbedded in these challenges are opportunities for FMs to positively impact their organizations in 2022 and beyond.
As we wrap up the first few weeks of 2022, FM educator and Director of the Penn State Facilities Engineering Institute, Mark Bodenschatz, P.E., CSSP, ProFM is back to break down the top 6 things FMs will need to prioritize. Want to read Mark's 2021 breakdown? Read it here.
Priority #1: Mitigating COVID-19 pandemic risk
The onset of the Omicron variant of Covid-19 reiterates just how much we do not know about each new variant of this virus. While some are critical when experts change recommendations to combat a morphing virus, the fact is that experts are providing the best guidance available at any given time while actively gathering and evaluating data to improve that guidance. I personally appreciate and accept the nimble and changing guidance of the experts as it shows that progress is being made in understanding this virus. To be clear, I absolutely do not equate my opinion, or those within the general public, with that of the experts. I firmly believe our mindset must focus on the greater good and not our personal desires.
FMs remain on the frontlines of implementing strategies to mitigate the virus and its spread. Occupancy guidelines, cleaning protocols, staff practicing masking and distancing, and operation and maintenance of HVAC systems all affect the spread of the virus and will be important priorities for 2022. However, these decisions to mitigate the spread often come with financial and environmental costs. So now more than ever, a total cost of ownership evaluation is necessary to hone in on the right decisions.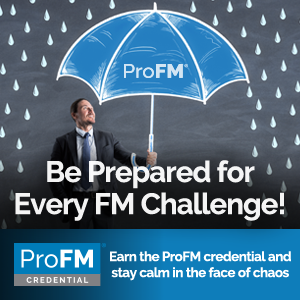 Priority #2: Managing global pandemic effects
In addition to addressing the direct spread of Covid-19, FMs will be tasked with managing the other results from the global pandemic. Primarily, these include supply chain issues, short-term and long-term inflation, and labor relations issues. All of these combine to impact capital construction costs; the value and cost of real estate; maintenance, operations, and utility costs; and the total cost of building ownership. We'll dive deeper into managing these effects in priorities #3, #4, and #5.
Priority #3: Combatting worldwide supply chain issues
There is no doubt that material shortages have fueled short-term increases in material cost in addition to lack of availability. Most experts continue to believe that high demand for materials is short-term and will subside when the supply chain catches up. If so, the temporary material price increases should subside as well, though maybe not to pre-pandemic levels. FMs will need to keep a consistent close eye on current availability and pricing as things continue to fluctuate in 2022.
Priority #4: Preparing for short- and long-term Inflation
Overall, most facility managers are likely to face the largest inflation they have ever seen in their careers. Budgeting higher for contingencies might be key to saving priority projects and their timelines. Thoughtful planning and prioritization will also be essential tools, as slowing production to accommodate a wait and see mentality may backfire. If the rate of inflation continues to increase, we may be back to days where advancing projects quickly, even accelerating design and construction, may be the best value proposition.
Priority #5: Attracting and retaining talented employees during "The Great Resignation"
FMs aren't alone in needing to tackle rising numbers of open positions and employees nearing retirement. However, making labor relations a forefront of 2022 strategy will be essential for many FMs. Current labor issues facing industries worldwide in 2022 include the great resignation as workers in large numbers choose to leave their positions, employers hiring more workers than ever before creating more demand, reduction in loyalty between employers and their employees, and general staffing shortages.
Of more consequence, these economic pressures vary by industry and even types of workers. For instance, wages in some service industries have significantly outpaced those in professional ranks. For the first time in their lives, many service workers are not only in extremely high demand, but have choices in employment, and are benefiting from the resulting increase in wages. Whether these stabilize and ultimately become equivalent across employee types remains to be seen.
Certainly, remaining a competitive employer depends largely on compensation packages (salaries and benefits) and overall workplace culture. Evaluating and adjusting to stay current and competitive for existing employees is far better than reacting when those employees come with another offer in hand.
Resiliency can also be built through hiring redundancy. This strategy comes with a price and possibly an inflated one. That said, such action does provide a closer connection to the market and value of existing employees. Those who are able to do this will adjust to this market with existing employees through equity adjustments, and ultimately help guard against and reduce (but not necessary eliminate) employee turnover.
Priority #6: Focusing on cybersecurity
Last, but certainly not least, awareness of and taking mitigation steps to prevent cyber-attacks remain relevant as we transition from 2021 to 2022. Engaging a cybersecurity professional to complete a comprehensive review and audit of protections such as firewalls through penetration tests, ensuring adequate procedures and employee vigilance against hacking and phishing schemes, and maintaining good computer hygiene are essential steps to prevent exploitation of vulnerabilities.
While many of these challenges and changes are new to our generation, they are not new. Those who continue to excel in 2022 will be lifelong learners who are trainable, curious, and able to discern fact from opinion and apply learned facts to the challenges they face daily.
If you're interested in training to help you better prepare for 2022, you can learn more about Mark's ProFM credential here. And if you'd like some extra help with your 2022 priorities, check out the free resources available to FMs here.