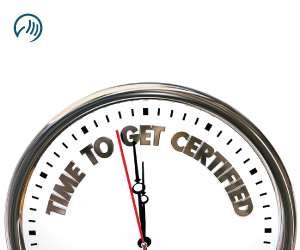 One way you can stay on top of cleaning industry trends to gain a competitive advantage for your company is by earning a certification. Proving you are a reputable, renowned professional cleaning company in the world can be tough, especially in today's online world where everyone claims to be an expert. Earning a certification is the best way to prove that you know what you're doing in your profession.
While there are cleaning certifications for any type of cleaning you can possibly imagine, here are the ones that will give your business a clear, competitive advantage.
Why Certifications Matter to Your Bottom Line?
Certifications provide you with a competitive advantage over other cleaning organizations. Other benefits of certifications include:
Attracting clients and customers by demonstrating your credibility and ability to maintain a clean environment.
Allowing your team to work better together which can lead to lower turnover rates, thus increasing profits.
Learning safe practices to avoid potential cleaning hazards or health risks.
Allowing you to use a cleaning organization logo on your company documents and website.
CIMS Certified Expert
The CIMS Certified Expert (CCE) certification helps organizations develop operational systems to enhance their cleanliness. In this program, the International Sanitary Supply Association (ISSA) prepares individuals to become certified according to the Cleaning Industry Management Standard (CIMS). This standard focuses on:
Quality systems
Human resources
Service delivery
Health and environmental stewardship
Management commitment
Cleaning Industry Management Standard — Green Building Certification
The Cleaning Industry Management Standard — Green Building Certification (CIMS-GB) takes green cleaning certifications to the next level. For your customers who have or who are working to obtain the U.S. Green Building Council's Leadership in Energy and Environmental Design (LEED) certification, the CIMS-GB is one of the options for compliance. Once you have this certification, your customers aren't just hiring a janitorial team; they're also qualifying for their own certification.
GBAC STAR™ Accreditation GBAC STAR is for individuals who are serious about using proper cleaning and disinfection protocols to prevent and mitigate infections and biohazards in a facility. GBAC STAR's three stars represent your ability to prepare, respond, and recover.
With GBAC STAR, you're not only demonstrating your commitment to protecting your employee and customer's health and well-being in a safe, responsible, and sustainable way, but also shaping a healthier and safer world for everyone, everywhere.
CMI Cleaning Professional 101 Offered by ISSA, the CMI Cleaning Professional 101 certification teaches the importance of cleaning and:
How it impacts health,
How to perform work safely,
The basic rules related to cleaning jobs.
Requirements to earn the CMI Cleaning Professional 101 certification include completing the Cleaning Management Institute (CMI) Cleaning 101 program.
Safety & Health Fundamentals Certificate The Occupational Safety and Health Administration (OSHA) offers the Safety & Health Fundamentals Certificate. In this program, participants learn about OSHA's policies, standards and procedures. They also examine general industry health and safety principles.
Upon completion, individuals will have a better understanding of workplace safety and health practices to reduce incident rates for employees.
Requirements for the OSHA Safety & Health Fundamentals Certificate include completing seven courses and at least four elective courses.
Certified Custodial Technician
The Certified Custodial Technician (CCT) title highlights a professional's training in the chemistry of cleaning and customer service. Students learn how to clean hardwood floors, carpeted floors and above-floor surfaces.
ISSA offers a basic version with coverage on daily maintenance tasks and an advanced version with a focus on project-style tasks. Each version comprises multiple modules on different cleaning subjects, such as basic cleaning of restrooms and shower rooms. To earn the CCT certification, individuals can purchase the course and complete the online exam.