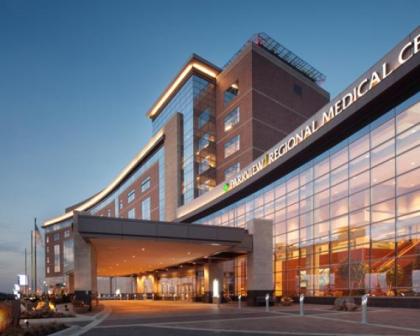 At the $536 million Parkview Regional Medical Center, in Fort Wayne, Indiana,  installing an efficient HVAC system was a top priority because indoor air quality is of the utmost importance to health facilities. Bright Sheet Metal was chosen to install the HVAC system and decided to use
SPRAY-SEAL from Carlisle HVAC Products
because of its efficiency and labor savings. The project included 32 miles of ductwork that needed to be installed and more than 100 miles of seams and joints that would need proper sealing. With a traditional bucket and brush method, this would have taken between 4,000 and 5,000 man hours to complete.
"We found that the Hardcast SPRAY-SEAL System is a much faster way to seal ductwork. It's been very efficient and time effective. In the future, Bright Sheet Metal has no intentions of going back to the bucket and brush. We will continue to use the Hardcast SPRAY-SEAL System. It's more efficient, more cost effective and it does a better job," says Ken Kendrick, Project Manager for Bright Sheet Metal.
Spray-Seal is an all-purpose high performance sprayable sealant for use on all types of metal duct, fiberglass duct board, duct fabric and flex duct. From
Carlisle HVAC
, it is distinguished by its ability to accommodate minor vibration and movement, Spray-Seal stays flexible and will not crack. Spray-Seal decreases labor substantially and increases productivity while using less material.