A survey from JLL Healthcare reveals that the convenience of telehealth is opening new avenues for patient access.
With little choice but to adopt virtual care options due to pandemic restrictions and interactions, telehealth adoption soared as patients sought convenience and more efficient care options. Virtual visits peaked at 52 percent of visits in the second quarter of 2020 and since then have stabilized to around 11 percent, according to May 2021 data from Chartis Group, up from a pre-pandemic utilization of less than 1 percent in early 2020. But telehealth is not replacing the physical office by any means. JLL Healthcare's new patient consumer survey results reveal that 62 percent of care visits were exclusively in person with no virtual care component. Of the respondents who noted having virtual care components, about 31 percent resulted in a physical office visit, suggesting telehealth's position as an augmentation to the physical office, rather than a replacement.
Physical facilities are still at the center of the healthcare ecosystem. Virtual care via telehealth is replacing some in-person visits, but nearly three quarters of the care still involved a physical location according to our survey results. Telehealth is actually leading to subsequent in-person care interactions that might not have occurred otherwise. Steady occupancy of 91 to 92 percent in the national medical office market over the past three years, coupled with slightly increasing rental rates, seem to bear out the durability of physical sites of care.

Jay Johnson, U.S. Practice Leader, JLL Healthcare
Overall, convenience wins, with 83 percent of patients traveling less than 30 minutes to access care and 40 percent travelling less than 15 minutes. Unsurprisingly, primary care and urgent care visits were most likely to have had shorter travel times. Visits to surgery centers required the longest amounts of travel, with 31 percent traveling 30 minutes or more. Patients continue to prioritize locational convenience over facility quality, which has remained true since 2020.
According to the 2022 survey, virtual components of care were more common in the Northeast and West (41 percent and 43 percent respectively), in comparison to the Midwest and South (32 percent and percent respectively). Specifically, 75 percent of behavioral health/psychiatry clinic respondents had a virtual component to care.
When asked if they would prefer telehealth visits in the future, Millennials and urban dwellers specifically are the most favorable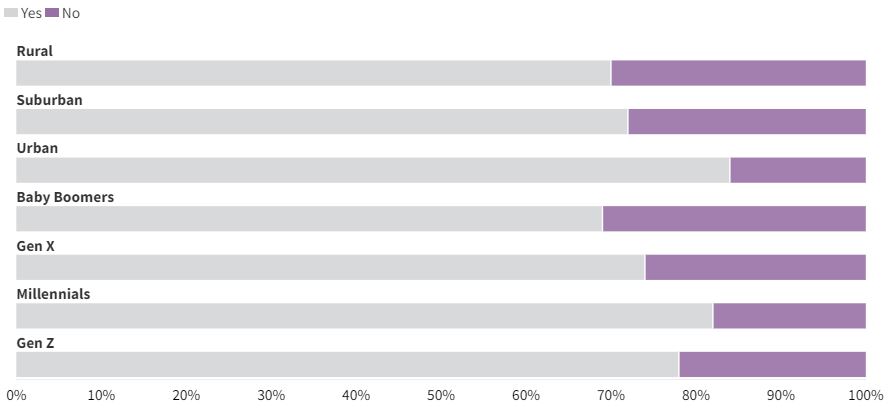 Seventy-six percent of all respondents who have had a telehealth visit since July 1, 2021 would prefer telehealth visits in the future. However, preferences in care differ based on patient community, with urbanites more likely than others to request a telehealth appointment for an initial consultation, suggesting that even in a dense urban community with more options for care available, convenience still prevails. Only 36 percent of urbanites traveled less than 15 minutes to a healthcare facility, compared to 45 percent of suburbanites, which also alludes to why telehealth is more likely to be embraced in urban settings.
Telehealth's convenience will make it here to stay as a facet of the healthcare industry, and in turn, its accessibility will result in more in-person care. Because of this, systems need to embrace telehealth and invest in strengthening the performance and capabilities of their technology platforms.

Richard Taylor, President, JLL Healthcare
The JLL Healthcare Patient Survey was conducted via Engine Insights with a nationally representative group of U.S. residents from January 3, 2022 to January 12, 2022. The number of respondents totaled 4,060, in which 52 percent were female and 48 percent were male.
JLL Healthcare provides a full range of real estate and facilities solutions for hospitals, physicians and other care providers as well as real estate investors that own and operate medical and seniors housing properties. JLL Healthcare helps clients plan, find, finance, buy, lease, sell, construct, optimize, manage and maintain the most-advantageous facilities anywhere in the US for all property types along the continuum of care, serving over 350 million square feet of healthcare property annually. Visit us.jll.com/healthcare to learn more.