Facility managers fighting the flu in their buildings will find these three Ecolab products helpful: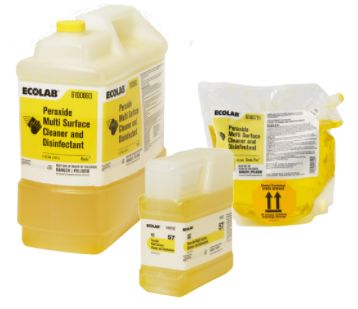 Peroxide Multi-Surface Disinfectant and Cleaner:  Outstanding multi-use product, cleans and disinfects while leaving surfaces streak free.  Simplifies stocking and operations for facilities by replacing separate glass cleaner, general purpose cleaner, and disinfectant products with one solution. This EPA-registered product quickly disinfects in 3-5 minutes (kills 99.999% germs) and kills Norovirus in as fast as 45 seconds. This disinfectant is recommended for cleaning hard surfaces and glass with no PPE required, leaving a fresh scent for your guests.
OxyCide Daily Disinfectant Cleaner: Specifically developed for the healthcare market, this sporicidal disinfectant is formulated for daily use and does not damage surfaces or leave residue behind. Efficacious against the Influenza virus, Clostridium difficile spores and 31 other organisms in five minutes or less.
Quaternary Disinfectant Wipes: Alcohol-free disinfectant wipe with 2 minute kill claims against 44 organisms, including the influenza virus. For use in critical areas where control of the hazards of cross contamination between treated surfaces is of prime importance.