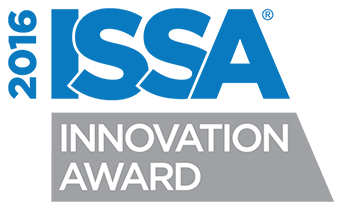 ISSA, the worldwide cleaning industry association, announced its 2016 ISSA Innovation Award Winners  during the ISSA/INTERCLEAN® North America 2016 trade show in October.
This year's ISSA Innovation Award Program featured more than 50 products and services from cleaning manufacturers and service providers. Participants were entered into one of five categories: Cleaning Agents, Dispensers, Equipment, Services & Technology, and Supplies & Accessories.
Individuals representing distributors, wholesalers and facility service providers throughout the industry reviewed what was cutting-edge in clean and placed their votes at www.issa.com/vote between Aug. 1 and Oct. 21 to determine the online category winners.
During ISSA/INTERCLEAN North America 2016 in Chicago, IL, October 25-28, exhibiting entries were on display in the show's Innovation Showcase area. After viewing the entries, attendees voted to determine Visitors' Choice award winners. Silicon Valley icon Steve Wozniak named the winner of the overall ISSA Innovation of the Year Award.
Below is a listing of this year's ISSA Innovation Award Program winners.
2016 ISSA Innovation of the Year Award
Autonomy by Brain Corp.
2016 Category Winners
CLEANING AGENTS
NanoSeptic Self-Cleaning Surfaces by NanoTouch Materials
DISPENSERS
Tork Image Design Line featuring Tork EasyCube Intelligent Restroom System by SCA
EQUIPMENT
Doodle Scrub EBG-9 by Square Scrub
SERVICES & TECHNOLOGY
Autonomy by Brain Corp.
SUPPLIES
Stingray by Unger Enterprises LLC
Visitors' Choice Award Winners
• i-suit by i-team
• eForce Scrubber by NSS Enterprises
• Tork Image Design Line featuring Tork EasyCube Intelligent Restroom System by SCA
• Doodle Scrub EBG-9 by Square Scrub
• Force by MotorScrubber