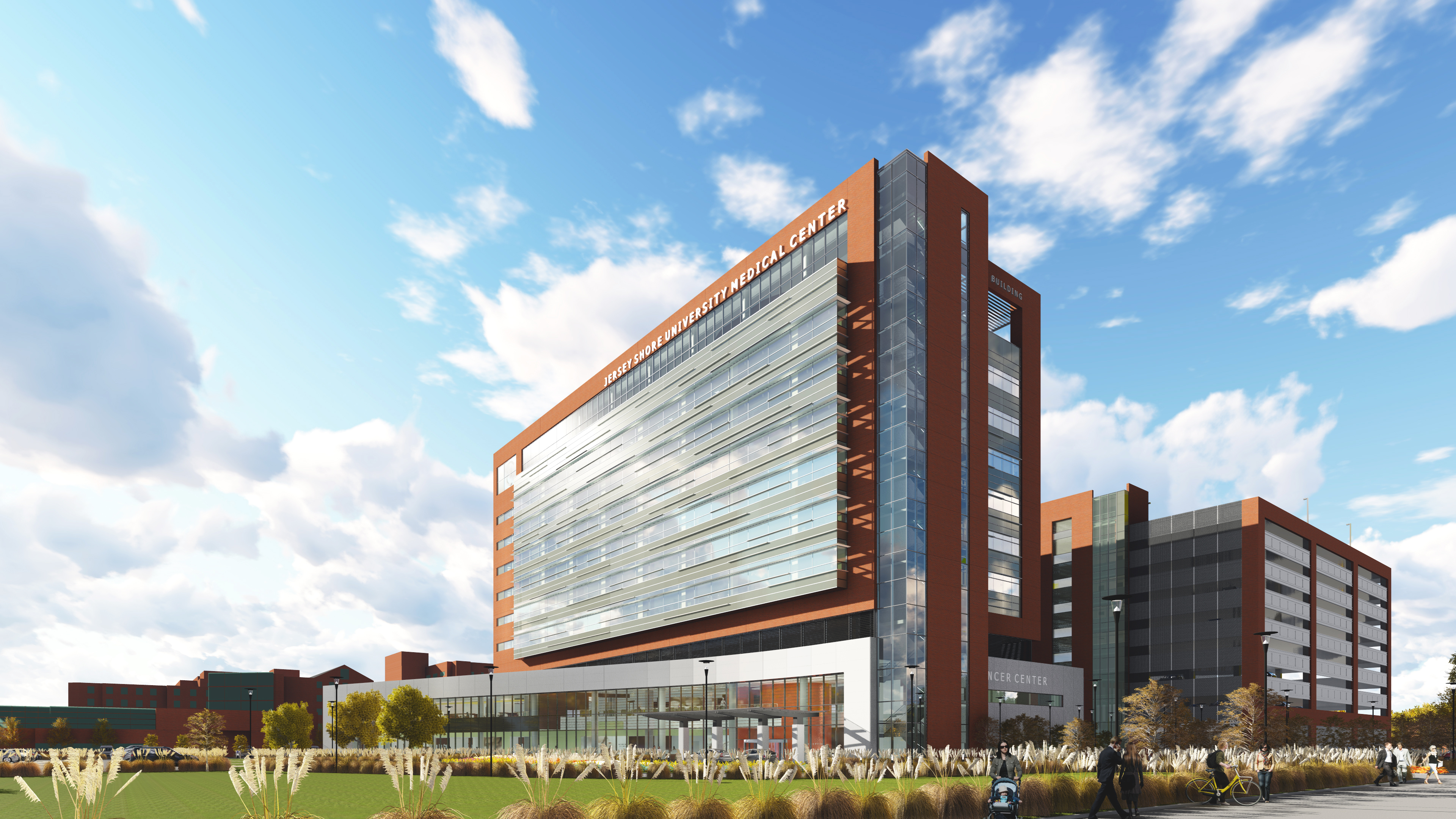 WHR Architects joined the topping out event for HOPE Tower at Jersey Shore University Medical Center (JSUMC) in Neptune, N.J., which is part of the Meridian Health family. The new $265 million dollar building development on the hospital's east campus will provide a new healing outpatient experience for the community.
Guided by a patient-centered approach towards care, and informed by the latest medical breakthroughs, HOPE Tower expands upon Jersey Shore's comprehensive services by providing a thoughtful and accessible health care experience. The development includes HOPE Tower – a ten-story medical office building housing a dedicated Meridian Cancer Care center, outpatient imaging services, a clinical academic center, an innovative simulation laboratory, and a nine-level parking garage building with more than 1,500 new parking spaces for patients, guests and team members.
"It has been a rewarding experience to collaborate with the JSUMC team again on the design of HOPE Tower," said WHR's Tushar Gupta, AIA, the lead designer. "Having worked on the renovation and expansion of the main hospital on the campus, which opened in 2009, we had a clear understanding of Jersey Shore's vision and goals for the new facility, which will transform the outpatient experience as the new hospital did for inpatient care." 
The new facility will create a distinctive architectural anchor for the east side of the campus and a signature tower for outpatient services. From the embracing curve of the Cancer Center on the first two floors to the iconic oval form that extends through all floors, unifying the building and crowning the top, the architecture, in its materiality and design, is open and inviting with a glass facade framed in the red brick and metal panel used throughout the campus.  A glass stair that runs the entire length of the building at the southeast corner offers long views out to the Atlantic. Waiting spaces located along the south side also enjoy an oblique view to the ocean. HOPE Tower's expected date of completion is late 2017.
HOPE Tower's 58,000 square foot Cancer Care center will offer comprehensive treatment options including surgical specialties, medical oncology, advanced radiation therapy and minimally invasive interventional therapies. The new center is designed for Jersey Shore's multi-disciplinary team of specialists who deliver coordinated and compassionate care treating a range of oncological conditions.   
Jersey Shore is committed to advancing medical knowledge, both as the region's only academic university-level teaching center and as a clinical research facility. HOPE Tower will serve as the home of Meridian Research Services and the system's medical education programs. Jersey Shore's Faculty – including physicians specializing in medical practice areas such as Surgery, Medicine, Pediatrics, and Obstetrics and Gynecology – will also be headquartered at HOPE Tower. With expert clinicians, a state-of-the-art amphitheater, and a high-tech simulation laboratory, HOPE Tower will foster the next generation of medical leaders and provide access to the most promising clinical trials and therapies.   
 "The demand for Jersey Shore's health care services continues to increase, and HOPE Tower enables our hospital to grow with the communities we serve," says Kenneth N. Sable, M.D., MBA, FACEP, president of Jersey Shore University Medical Center. "We've always focused on providing a patient-centered approach towards health care, and HOPE Tower allows us to expand our services in a modern, healing environment with access to leading clinicians and the latest medical breakthroughs."
WHR Architects has a strong and growing presence in the northeast region of the United States with current and recent facilities that include: Stamford Health's new hospital in Stamford, CT; and multiple projects for the Northwell Health System (formerly North Shore LIJ Health System.) 
Among WHR's other notable new healthcare facilities: Houston Methodist Hospital North Tower & Hospital Renovations and Memorial Hermann Pavilion 2, both in the Texas Medical Center in Houston, TX; Christus Santa Rosa, Children's Hospital of San Antonio in San Antonio, TX; North Carolina Heart & Vascular Hospital, Raleigh, NC; multiple projects for UCHealth in Colorado including Longs Peak Hospital in Longmont and UCHealth Memorial North, Colorado Springs.