The Allen Institute has opened its new headquarters in Seattle's South Lake Union neighborhood, the city's biotechnology hub. Located on the northwest corner of Mercer Street and Westlake Avenue North, the 270,000-square-foot life sciences building is home to the Allen Institute for Brain Science and the Allen Institute for Cell Science.
"Twelve years ago, we began as a small office building with big ambitions to understand how the brain works," said Paul. G. Allen, philanthropist and founder of the Allen Institute. "We started by building a map of the locations where all the genes in the mouse brain are expressed –something that had never been done before– and since then, our scientific goals have expanded dramatically. The move to this new, state-of-the-art complex is the next step in our effort to make an even larger global impact on research into the brain. I'm incredibly excited for what lies ahead at the Allen Institute and proud of the ground-breaking work being done by our growing and dedicated team."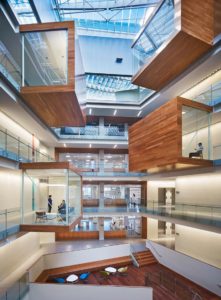 Architecture firm Perkins+Will designed the new facility around the Institute's trademark approach to big, team and open science. Labs, offices and open workspaces are organized in a series of "petals" grouped around a six-story light-filled atrium. Cantilevered into the atrium are glass walled collaboration "pods" outfitted with soft seating and whiteboards for spontaneous meetings and discussions.
"The architecture of this building reflects who we are as an organization," says Allan Jones, Ph.D., Chief Executive Officer of the Allen Institute. "Our unique operating model of team science, big science and open science combines the best qualities from the worlds of academia and biotech, using goals and milestones to ensure that our scientific investigations turn into useful resources for scientists around the world. The atmosphere in this building encourages the kind of cross-disciplinary interaction and collaboration that is integral to our success as an organization."
Teams at the Allen Institute will grow during the next several years. Currently at nearly 300 full-time employees, the new facility will allow the Institute to expand to roughly 500 full-time employees. The Institute's growth coincides with expanding scientific goals in brain science and cell science, including the expansion of the new Allen Cell Types Database, launched in May 2015, and the creation of the Animated Cell: a three-dimensional predictive model of cellular behavior.
"It has been a privilege to watch the Institute grow, and to witness the huge impact the Allen Institute for Brain Science's research and its public resources have had on the broader neuroscience community," says David Anderson, Ph.D., professor of biology and Howard Hughes Medical Institute Investigator at the California Institute of Technology, and Scientific Advisory Board member at the Allen Institute for Brain Science. "I look forward to the next phase of the Institute's growth and productivity in its beautiful new facility with great anticipation, and with a deep appreciation for Mr. Allen's generous and farsighted investment in science."