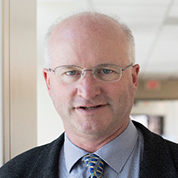 by Theresa Walsh Giarrusso
With U.S. COVID-19 hospitalizations jumping an estimated 46% from a month ago, strained medical facilities are looking for strategies to meet the overwhelming demand on clinic space and staff.
West Coast medical facilities managers tangled with these same threats back in the spring (and more with wildfires and smoke quickly following) and have much advice to offer their colleagues now. In September, VirtualCast 1 Hour interviewed four of the top West Coast medical real estate executives to find out exactly what they faced and how they coped. The full episodes, "Recalibrating Medical Facilities Amid Disasters," A Special 2-Part Report from California and Oregon," are FREE for healthcare provider employees & AMFP members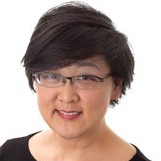 In this session, Joel Swift, Director Facilities Planning & Development, UC Davis Health, sat down with Heather Chung, Vice President & Healthcare Studio Leader, SmithGroup, to discuss how UC Davis pivoted during the pandemic. Swift is the Executive Director of Facilities Planning at UC Davis Health, which is one of five healthcare units of the University of California, serving the entire state. The UC Davis portfolio is 150 acres of main campus in Sacramento for health and that includes a main hospital, a clinical in-patient, out-patient, and relatively new school of medicine and school of nursing. UC Davis serves 33 counties in California. (You'll find more discussions with other regional healthcare leaders here.)
This discussion has been edited to the essence of the conversation and is just highlights. Healthcare provider employees and AMFP members can watch full episodes for free at this link.
Heather: Could you share some of the thoughts or experiences that your organizations had in the last six to nine months?
Joel: It came down very quickly. Initially, I had about a two-day warning that we were going to shut down. We have 53 project managers and contract folks and everybody operating on about $250 million worth of work under construction at that time. Plus, between $2 to 3 billion worth of projects coming down the pipes. … There are a lot of politics playing but internally, we gathered our folks together and said, "We are going to go virtual. And this is going to happen over a weekend." … In the end however, we are delivering four different clinics, other buildings we're starting and embarking on a major bed tower.
The positive is I think we are actually quite more efficient now. The negative is, we are just not as personal. … We were essential services to keep our projects moving and as a consequence, we kept the economy going cause there is so much going on
Heather: What lessons did you learn about flexibility and response?
Joel: We had some earlier lessons learned from the Camp Fire. It really came down to resiliency. How do we prepare for resiliency? The good news is we generally are in good shape on that. The bad news is we found out that our system was weak in other parts. … One of the other lessons learned across our whole system was flexibility in a hospital, and we are all working on that now. In fact, that tower was one of their major issues. How do you address the need for ICU beds and that serves as and the concept of acuity, adaptable hospitals is really critical? So we then add, a lot of assessment done over the years and really looked at what is our desired proportion, the best case, the worst case in looking at identifying the number of ICU beds as a proportion of the whole hospital. But then also, what is also a proportion of rooms that could switch if they had to?
Heather: Have you guys felt any other kind of impact of all of this disruption on the sides of the academic medical health?
Joel: Yeah, well, in multiple levels we are responding. . . One level, the telemedicine, we had some very modest group pushing that before the pandemic. And now, we are hitting 25 to 30% just by virtue of having to do telemedicine. … That is a really great step forward.
A totally different aspect of what we do because our mission as The University of California is sort of four. One is academics, of course, education. One is healthcare, obviously, with health and how we serve the community. And the other one is research because we are very much a research institution. The fourth leg really is the community, how do we work with our community? As a consequence of what we have been doing with Aggie Square, we are really pushing out into the community more. And looking at how we support our communities, how to interact with communities, how do we bring better jobs to our communities.
We are really rethinking how we make this a different approach to how a university interacts with its community and how we bring economic opportunities to our community. … And the pandemic has really only accentuated what it really means is that from the architectural and planning perspective is we will reduce the number of cars coming to our campus. If we can get more folks that take transportation, to walk to work, to live in the neighborhoods, and have a good well-paying job.
The episodes, "Recalibrating Medical Facilities Amid Disasters," A Special 2-Part Report from California and Oregon," are FREE for healthcare provider employees & AMFP members. Both parts of this episode are available now on-demand. You can watch at your convenience. If you are not an AMFP member or healthcare provider employer, you can view each episode for $30. Click here for all the episodes.