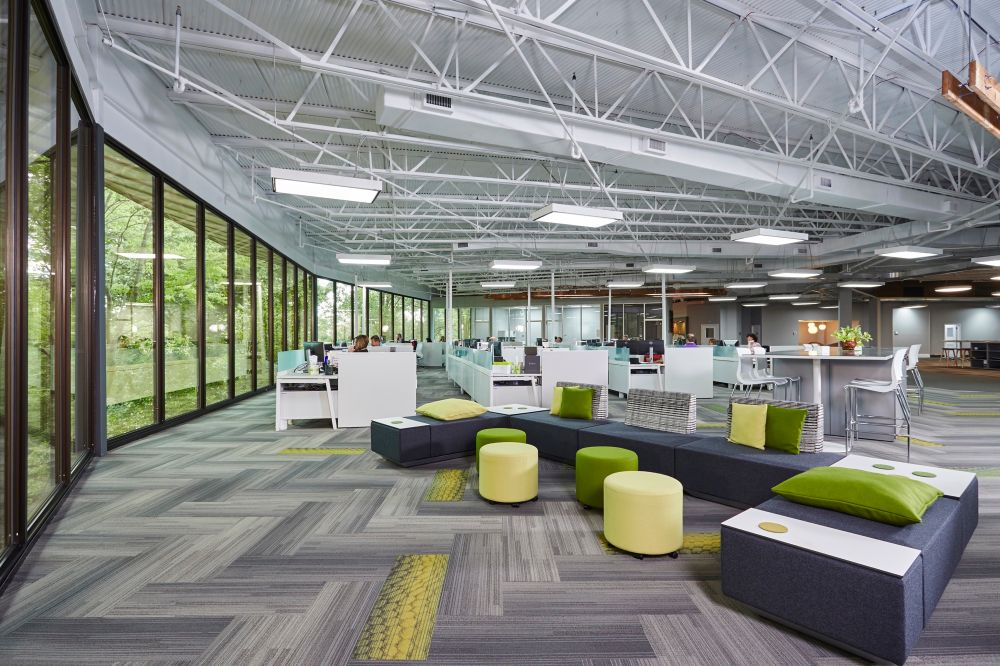 Mohawk's Light Lab reflects multiple corporate space design trends. The couches and poufs represent the home's influence at work, as well as the ability for employees to convene quickly for impromptu meetings. (Photo courtesy of Mohawk.)
by Theresa Walsh Giarrusso
Carpet and contract flooring companies are striving to use the same design techniques in their own facilities that their interior design partners and facilities clients are using. In February, McMorrow Reports visited the heart of Carpet Country –Dalton, Cartersville and Atlanta–and saw the influence of residential interiors and a relaxed approach to space use.
The home's influence in the workplace: Jeff West, Patcraft's vice president for marketing, says the residential and hospitality influences have been impactful for several years and will continue. Employees are moving back into offices from their homes. "They are used to working in different places in their homes. They want flexibility in the way they work," explains Shannon Cochran, vice president of Creative Design and Product Development at Patcraft.
Patcraft and Shaw Contract will feature many of these home and hospitality trends in their new office space — the Create Centre.  More than 150 employees are scheduled to move into the 67,000 square-foot-space in Cartersville in July. (Click for more on the Shaw Create Centre.)
Cochran says the space will feature "huddle rooms, pull-up stools, and banquet seating in a nod toward hospitality." She is excited about the outdoor work space complete with lounge furniture. She explains these residential moments make it feel less corporate.
These choices to work in a home-like environment also can be seen in the new Light Lab, Mohawk Group Design Center, completed in March 2016. Employees collaborate on comfy couches and movable poufs in earthy tones placed throughout the office space (see photo above) — which leads to our second trend . . .
No private offices, but space that works the way you want to: New corporate spaces contain very few, if any, private offices. Companies want their employees interacting. Corporations, such as BCG, believe in the effectiveness of casual collisions that take place in cafes and common areas.
Employees want impromptu conference space that they don't have to reserve when they spontaneously decide to meet.
Besides the aforementioned movable couches and poufs, Mohawk's Light Lab also features booths in the cafe area with large digital screens so anyone can charge up and enjoy impromptu show-and tell sessions. Similarly, the Shaw Create Centre will feature two-to-three-person conference rooms with varying degrees of privacy spread through its space.
Sometimes employees just don't want to be at their desks and want to work in public space. Cochran calls it the "Starbucks effect." She says many people can get in the "zone" in public spaces just like you see in coffee shops.
Entering Mohawk's Light Lab, one immediately notices the center stations with bar-height tables and chairs for designers to meet with clients and co-workers. We also noticed this design trend at Interface's Atlanta showroom. And sometimes employees just want to stand to work or have a different view of the world.
But if an employee needs some quiet space, the Create Centre will offer "focus rooms," and Light Lab has cozy cubby spaces where you can pull a curtain and get down to work.
Ancillary furniture with personality and different heights of worktables – Ancillary furniture should have personality please, says Cochran. It should bring warmth into the space and not be a sea of same. Designers want color, shape and style.
Mix floor products, types, textures and no transitions – When we visited the Shaw and Patcraft offices in Cartersville, the first thing we noticed in the shared lobby was carpet and LVT that blends together to create pattern. One moves from hard to soft with no transitions; this is a trend across corporate environments.
Patcraft's  Cochran says it's "interesting when you move from carpet to hard surface – changes the function of the space." She says you shift the dynamics of the floor.  She and West stressed the importance of no transitions between the hard and soft surfaces for visual aesthetics as well as safety.
Cochran says that Patcraft's Cube and Colour and Deconstructed Black are two great lines that explore texture and pattern.
John Stephens, vice president for marketing for Shaw Contract, is seeing many Shaw products exploring texture, including Extraordinary (see below) and ReThink, Shaw's new woven vinyl. The Shaw team loves ReThink so much it's being featured in its Create Centre.
Color – While each manufacturer differed some on color trends, several felt that colors were softening from the tech start-ups. Cochran explained, "Start-ups brought all this bright color to the office but now the palette is getting a little bit more sophisticated." She says it's becoming less saturated. Stephens agrees that colors are getting softer and warmer. Meanwhile, Mohawk's Senior Director of Creative Design & Development Mark Page says Europe is leaning toward brighter colors in its flooring.
Theresa Walsh Giarrusso is the senior editor and social media strategist with The McMorrow Reports.