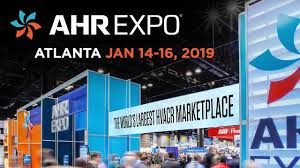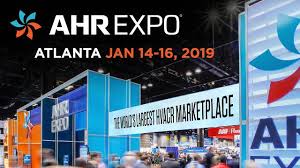 While the AHR Expo is known for being the world's largest HVACR marketplace, it also is a one-stop shop for industry education. Attendees can choose from hundreds of free seminars and demonstrations, as well as paid courses from the ASHRAE Learning Institute, professional certifications and other exams. It's not too late to sign up for these educational opportunities.
The 2019 AHR Expo will be held Jan. 14-16 at the Georgia World Congress Center in Atlanta. It will host more than 2,100 exhibitors attracting crowds of more than 60,000 industry professionals from every state in America and 165 countries worldwide. Registration is free for the show.
The McMorrow Reports is highlighting some free courses we are excited to attend. Click here to see the full schedule of free courses.
Monday, Jan. 14
New Deal Cybersecurity Summit
Mon. Jan. 14| 7:00 AM – 11:00 AM | B310
The New Deal for Buildings is hosting this Summit, bringing together industry thought leaders to review the current status of cybersecurity in the BAS industry, discuss the impending release of BACnet/SC and other initiatives, and formulate an appropriate posture for the BAS industry in the security-conscious IT space. The event will include breakfast, a chance to network, ask questions, and hear from a number of great minds in the industry.
BACnet 101: From an HVAC Perspective
Mon. Jan. 14| 9:00 AM – 10:00 AM | Thomas Murphy Section 1
PLEASE NOTE: This seminar was originally scheduled in room B314 but all seminars for that location have been moved to the Thomas Murphy Ballroom Section 1.
What is BACnet? Why do I need it? This session will answer your basic questions about BACnet, defining its purpose, origin, and basic characteristics. It will also explain how BACnet works within an HVAC subsystem as well as how it allows the HVAC system to interoperate with other subsystems within a BACnet-based BAS.
Monetization of Intelligent Buildings
Mon. Jan. 14| 9:00 AM – 10:00 AM | B313a
This session will present findings from CABA's $150,000 research project on how to monetize intelligent buildings. This research provided a comprehensive examination on how to monetize smart buildings from the perspective of building owners, developer, solution providers (OEM manufacturers and service providers) and other stakeholders. This research included: stakeholder analysis, business opportunities, technical barriers and opportunities, future market direction, issues, use-cases and industry recommendations.
Trends in the Global HVAC Market
Mon. Jan. 14| 9:00 AM – 11:00 AM | B312
BSRIA will present the latest global trends from the HVAC markets, identifying the global hot spots and the key drivers for growth for HVAC, Heating, Renewable and Intelligent & Smart control technologies. The presentation will give a global overview and detailed looked at the US and wider Americas markets.
Building and Drinking Water – Managing the Emerging Risks
Mon. Jan. 14| 11:30 AM – 12:30 PM | B315
Building owners and operators are facing rapidly escalating costs associated with the water system that supplies their buildings along with the efforts to hold them accountable for water quality and human exposure. This session recognizes that source water quality is a key concern for building owners. Best practices as outlined by ASHRAE and adopted by the CDC to specifically help mitigate the risks represented by incoming Legionella bacteria will be reviewed. Participants will gain practical tools for working with water suppliers to monitor and improve incoming water quality, along with guidelines on implementing programs to better manage water quality and exposure once the water has been delivered into the building for human consumption and equipment use.
Airflow Testing Accuracy in the Field
Mon. Jan. 14| 1:00 PM – 2:00 PM | B315
Advances in airflow instruments and technician certification have increased the accuracy of field airflow measurement in recent years. Test methods are now simplified through advancing instrument technology and skills are improving because of a steady rise in field airflow testing throughout the HVAC industry.
Alexa Has Left the Building – Because Building IoT is So Much More
Mon. Jan, 14| 2:30 PM – 3:30 PM | Thomas Murphy Section 1
PLEASE NOTE: This seminar was originally scheduled in room B314 but all seminars for that location have been moved to the Thomas Murphy Ballroom Section 1.
This session will outline the business case for implementing Building IoT (BIoT) and contrast the corresponding BAS system requirements with the expectations and implementation of IoT in the consumer world. Several BIoT system implementation approaches will be explored in terms of their efficacy, cost-effectiveness and impact on network security. In addition, current and near-term extensions to the BACnet standard that could support BIoT implementations will be presented.
HVAC System Cleaning 101
Mon. Jan. 14| 3:30 PM – 4:30 PM | B312
Proper HVAC system cleaning in accordance with ACR, the NADCA Standard, along with regular system maintenance, can help achieve optimal efficiency for existing HVAC systems. ACR, the NADCA Standard outlines several cleaning requirements that are important to follow to ensure HVAC cleaning is done properly and with high quality results. This session will review the benefits that can be achieved through proper HVAC system cleaning, general cleaning requirements as specified in ACR, the NADCA Standard and guidance on proper cleaning procedures.
Tuesday, Jan. 15
Providing Safety, Efficiency, and Value with Hydronic Snow Melting
Tue. Jan. 15| 9:00 AM – 10:30 AM | B315
Hydronic Snow and Ice Melting (SIM) systems are often the first thing to be value-engineered out of a project, long before the viability and cost is considered. Often, the true cost is lower than perceived and operating cost even more so. Hydronic SIM systems are often specified where a building's physical plant is already in place; simply adding additional piping and controls will provide years of reliable, low cost, and efficient snow removal. In this RPA sponsored course Lance MacNevin, PE with PPI, and Bo DeAngelo with Viega, LLC, break down:
What is hydronic SIM?
Setting expectations for SUCCESS!
Design strategies, best practices, and installation techniques.
The TRUE economics of SIM!
How to sell the value of hydronic SIM systems, and more…
NAFA Best Practice Guideline for Hospital & Healthcare Facilities – Updated to Include the Impact of SSPC 170 Updates
Tue. Jan. 15| 10:00 AM – 11:00 AM | B310
This session will detail NAFA's best practice recommendations for air filter applications in hospital and healthcare facilities, with an update featuring NAFA's guideline Airborne Infections Containment Rooms in Health Care Facilities. Also covered will be the impacts of ASHRAE SSPC 170 updates on the ventilation of healthcare facilities. Participants will learn: 5 different areas of a healthcare facility each having separate filtration requirements; typical application of air filtration versus "best practice" and information on Hospital Technician accreditation.
Global Market and Policy Trends for CO2 and Ammonia in Refrigeration
Tue. Jan. 15| 10:30 AM – 11:30 AM | B316
Natural refrigerant-based equipment are gaining ground globally due to the changing legislative landscape for f-gases and the evolution of technology. The presentation will evaluate the key market, technology and policy trends for CO2 and ammonia, presenting data on the number of installed applications and comparing the evolution globally.
Recruiting and Retaining Women in the HVACR Industry
Tue. Jan. 15| 1:00 PM – 2:00 PM | B310
Recruiting the next generation of HVACR contractors
Recruiting outside of the normal channels
Is your company a place Women want to work
Keeping top talent
Patti Ellingson and Becky Hoelscher from Emerson will lead a discussion on the hot topic of Recruiting and Retaining Women in the HVACR Industry.
HVAC Microbial Growth
Tue. Jan. 15| 2:00 PM – 3:00 PM | B313b
Microbial growth in a residential HVAC system is both a common and expected occurrence. A frequent misunderstanding is the position that the identification of any mold inside an HVAC air handler poses a threat to air quality. This presentation on the proliferation, succession and nutrient requirements of mold offers a valuable perspective on the occurrence of microbial growth inside an HVAC system. Excessive mold growth, as demonstrated in case histories, often indicates irregular HVAC system operation and maintenance. Normal HVAC operations are recognized as dust accumulation, local condensation and mold growth on papered surfaces. The complexities involved with HVAC operation that influence mold growth on integral mechanical parts and their influence on indoor air quality will be presented.
Reducing Your System Operating Costs by 40% with Closed Circuit Cooling Towers
Tue. Jan. 15| 2:30 PM – 3:30 PM | B310
Typically, the decision for HVAC system design is based on first costs. However, other factors such as lifecycle cost, environmental impact, and project location should be considered. Various alternative cooling systems will be examined from a Total Cost of Ownership perspective to illustrate these points. A comparison of open loop to closed loop heat rejection system designs will also be discussed, focusing on options that can significantly reduce lifetime costs, while increasing water savings and system reliability.
Low GWP Alternative Refrigerants for Cooling – Skills Needs and Solutions
Tue. Jan. 15| 2:30 PM – 4:30 PM | B315
This workshop will give you the opportunity to learn about the skills challenges of using low GWP refrigerants more widely. It will explore the safety, reliability, environmental and containment issues related to new low flammables (HFO) as well as natural working fluids such as carbon dioxide, hydrocarbon and ammonia. Based on extensive European experience of training this workshop will introduce free e-learning, booklets, measurement tools and practical training and certification programmes that are being developed as a global resource from the EU "REAL Alternatives 4 LIFE" project. The project addresses knowledge, awareness, and skills barriers to the rapid and widespread adoption of low GWP alternative refrigerants by providing reliable, unbiased, consistent and up to date training materials linked to an extensive train the trainer programme.