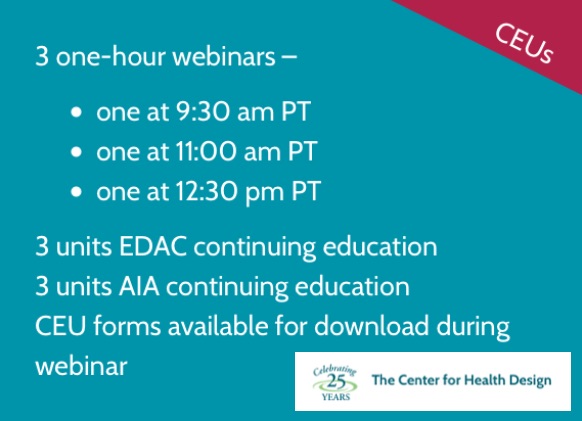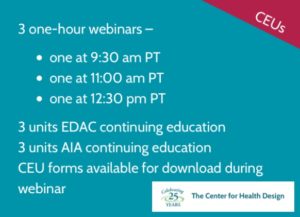 Did you miss Center for Health Design's (CHD) recent Design for Patient and Staff Safety: A Systems Approach Workshop in Chicago? Or did you attend the workshop but wanted to provide your staff with some of the key learnings as well? For anyone who wants to learn more about a systems-based approach to patient and staff safety, CHD has developed this Safety Webinar day that features three of the workshop speakers and their presentations. You can attend each webinar as an individual or as a group or you can purchase all three as an individual or group.
To attend all three webinars as an individual is $175 or as a group is $400 (excludes any member discount). Or, to attend one or two of these webinars, the rate is $65 per webinar or $150 per webinar as a group. Attendance is free for Affiliate+ members.
9:30 AM Pacific Time 
"Medication Safety Considerations from a Systems Perspective"
– Jonas Shultz, MSc, EDAC, Human Factors Specialist, Health Quality Council of Alberta
This webinar provides a systems approach to enhance medication safety using Human Factors strategies. Specifically, it will highlight various considerations, evaluation strategies, and previously completed projects which aim to optimize tasks being performed, information and equipment used, and the design of environments for individuals involved in the medication use process.
11:00 AM Pacific Time
"Patient and Staff Safety:  Where Does One Begin and the Other One End for Patient Handling?"
– Tamara James,  MA, CPE, CSPHP, Ergonomics Division Director at Duke University and Health System
Join us to hear about a systems perspective on patient handling as it relates to patient and staff safety, including organizational strategy, policies/procedures, models of care, staff "behavior"/buy-in, and the design of the environment. A successful safe patient handling and mobility program requires buy-in, an effective materials and equipment system, and guidance on the appropriate equipment solutions to enhance patient mobility. Best practices and key success factors will be discussed at this session.
12:30 PM Pacific Time
"The Reduction of Healthcare-Associated Infections through the Built Environment: The Infection Prevention Prototype Patient Room"
– Alyssa Rotman, Healthcare Designer, NBBJ
This webinar brings outcomes from a built prototype inpatient room at Brigham and Women's Hospital, designed expressly for infection prevention. Review which strategies, materials, and technologies were deployed and learn the process for their selection, including the input from infection prevention officers. Attendees will view data on how the room, constructed and tested in the spring of 2017, is performing in terms of microbe suppression and ease of cleanability. See which interventions appear to be most successful and which strategies will be applied to the next version of the prototype.
Presenting Faculty
Jonas Shultz, MSc, EDAC, Human Factors Specialist, Health Quality Council of Alberta
As a Human Factors Specialist with the Health Quality Council of Alberta, Jonas Shultz has 10 years' experience working in medical human factors. He has provided human factors expertise to a variety of healthcare organizations, including Alberta Health Services, Health Canada, ISMP Canada, as well as The Center for Health Design and Clemson University's Center for Health Facility Design and Testing in the United States. He is also an adjunct lecturer with the Department of Anesthesia, Cumming School of Medicine with the University of Calgary. The majority of Jonas' work has focused on evaluating the design of built environments for healthcare, such as hybrid operating theatres or ambulances, minimizing human error during medication administration, and testing the usability of medical devices. Jonas has published his work in peer reviewed papers and has been an invited speaker at numerous national and international organizations and conferences in Canada, the United States, Australia, and Saudi Arabia.
Tamara James, MA, CPE, CSPHP, Ergonomics Division Director, Duke University and Health System
Tamara James is the Ergonomics Division Director at Duke University and Health System.  The Division is responsible for hazard evaluation and training of over forty-five thousand employees involved in every aspect of a medical and teaching institution. James is a certified professional ergonomist and a certified safe patient handling professional who received a master's degree in Human Factors Engineering from George Mason University in Virginia.  Her bachelor's degree is in Industrial Engineering from the University of Iowa.
James is a faculty member (Assistant Professor) in Community and Family Medicine.  She started the ergonomics program at Duke over 20 years ago and developed and implemented Duke's safe patient handling (SPH) program nearly 12 years ago.  In 2005 Duke was awarded the Audrey Nelson Best Practices award for Safe Patient Handling at the National Safe Patient Handling and Movement conference. She served on the board of directors for the Association of Safe Patient Handling Professionals (ASPHP) from 2012-2014. She has assisted numerous healthcare organizations with developing safe patient handling programs and provided assistance to organizations with ineffective SPH programs. She has also published over 35 peer-reviewed articles in ergonomics-related journals.
Alyssa Rotman, Healthcare Designer, NBBJ Boston
Passionate about creating spaces that support wellness by providing comfort, clarity, and personal connection, Alyssa Rotman is an architectural designer with 10 years of experience in healthcare design. Her collaborative approach helps clients to create holistic healing environments that are both patient-centered and user-focused. Her belief is successful spaces are designed to be adaptable to evolving client needs and advances in patient care. Recent projects have included a renovation and expansion of the Brigham and Women's Emergency Department, an inpatient unit at the Beth Israel Deaconess Medical Center and new pediatrics and urgent care centers for Steward Health Care System. Central to her efforts is her commitment to patient safety, and Alyssa continues to work closely with Infection Prevention officers through the design and construction process. Alyssa most recently collaborated with Partners HealthCare, Boston area Architects, and Infection Prevention officers in the "Infection Prevention Room" challenge and prototype design originally sponsored by HAIO.