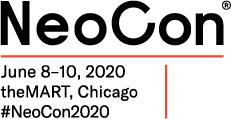 Statement posted by theMART on March 20, 2020: After consultation with leaders and partners within the commercial design industry, theMART has decided cancelling NeoCon 2020 is the best course of action considering the on-going COVID-19 outbreak and the unknown duration for social distancing and other measures.
The next NeoCon will be NeoCon June 14-16, 2021.
We thank all of our NeoCon participants for their loyalty and support, and we look forward to bringing the commercial design community back together in Chicago for NeoCon 2021. Additional updates, including creative new ways to connect the community in the interim, will be communicated soon.
Check for updates on the site: NeoCon
Please continue to monitor these agencies' websites with the most up-to-date information on the coronavirus: