The Houston studio of Perkins&Will is unveiling design plans and renderings for dual projects located at LSU Health Shreveport. The new Center for Medical Education is a modern, student-focused academic teaching and research building. Perkins&Will was also tasked with designing the Center for Emerging Viral Threats (CEVT), which was designed with a separate entrance on the third floor of the facility while also being accessible from the Center for Medical Education. Construction is expected to be complete on both the Center for Medical Education and CEVT by fall 2023, and open to students for the 2023-2024 academic school year. Perkins&Will was awarded the bid through the State of Louisiana's competitive process. Coleman Partners Architects is Perkins&Will's joint venture partner on the project.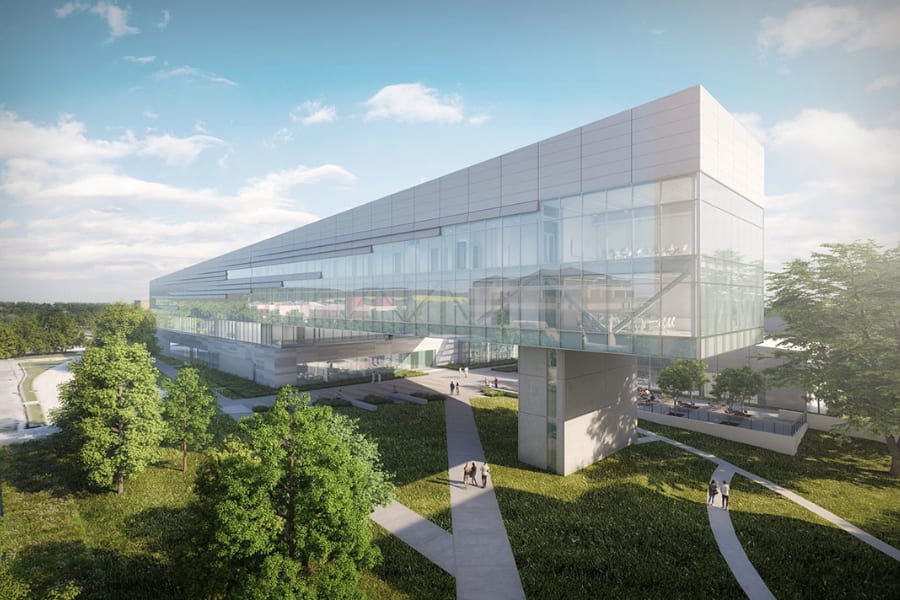 The Center for Medical Education and CEVT jointly serve to support each other, LSU Health Shreveport students and researchers, and residents of Louisiana, who have long been facing a shortage of healthcare providers. This transformative project represents LSU Health Shreveport's first new construction in more than 10 years and provides an opportunity to unify the campus layout in a meaningful way. The placement of the new Center for Medical Education serves to better link the nearby School of Allied Health Professions to the larger campus.
LSU Health Shreveport encompasses three schools: the School of Medicine, the School of Allied Health Professions, and the School of Graduate Studies. Students from all three schools will be united by this dynamic new space. The goal of the Center for Medical Education is to attract and engage medical students and faculty from across the country and around the world, providing them with the facilities they need to succeed in academics and research alongside thoughtful amenities to promote recreation and wellness.
Design inspiration begins before entering the building. Students and visitors will approach the building via a unique, shaded plaza, bordered by landscaping and trees. A striking feature of the architecture is a long span superstructure floating high above the entry plaza. Student, faculty, and visitors will enjoy the prevailing breezes under the shade of the upper-level form. Upon entering, they are met with multiple floors of blended instructional and recreational spaces, all enhanced by large windows and streaming natural light.
As an educational institution, the center is home to large classroom spaces, clinical skills labs, and simulation suites — all designed to encourage collaboration, active engagement, and innovative thinking. Notable features include:
250-seat tiered active learning classrooms with state-of-the-art audio-visual technology.
500-seat auditorium with unique 'in-the-round' layout providing an immersive experience and increased occupant engagement.
Medical Education spaces includes Standardized Patient exam rooms for live clinical simulation and training, Clinical Skills labs for practice and training with procedures and instrumentation, and Simulation training classrooms with hi-tech, immersive educational technology.
To address student wellness, the center features a selection of curated amenities and opportunities meant to enhance the overall experience. Highlights in the wellness category includes individual and group fitness spaces, meditation rooms, nutrition and cooking classes, a multi-activity center, dining concepts, and group assembly spaces.
The CEVT occupies a prominent space within the Center for Medical Education building. With a specialized focus in addressing both current and future viral threats, the lab in the CEVT will provide cutting-edge diagnostics, analysis, and research capabilities. The laboratory is designed to evolve as research demands. Upon initial completion, lab space will be dedicated to bacteriology, clinical pathology, serology, and virology components, with dedicated support spaces for media prep, cell culture, and amplification equipment.
The Houston studio of Perkins&Will brought expertise in the area of laboratory design to bring to fruition a project of this technical scope, with its high-level biocontainment and safety considerations. The CEVT lab features include:
Biological Safety Level (BSL) 2 and 3 laboratory space for the study and diagnosis of pathogens of various risk levels.
Facilities to perform studies using small animal models for Risk Group 2 and 3 pathogens.
The BSL-3 facility will allow for the study and diagnosis of high-consequence diseases that can be transmitted via aerosol with no treatment or vaccine available.
Together, the Center for Medical Education and CEVT will elevate LSU Health Shreveport in both medical educational and essential research, with the potential for long reaching and significant impacts for the health of Louisiana and beyond.